Best Beer Dispenser in the UK – A 2021 Review & Guide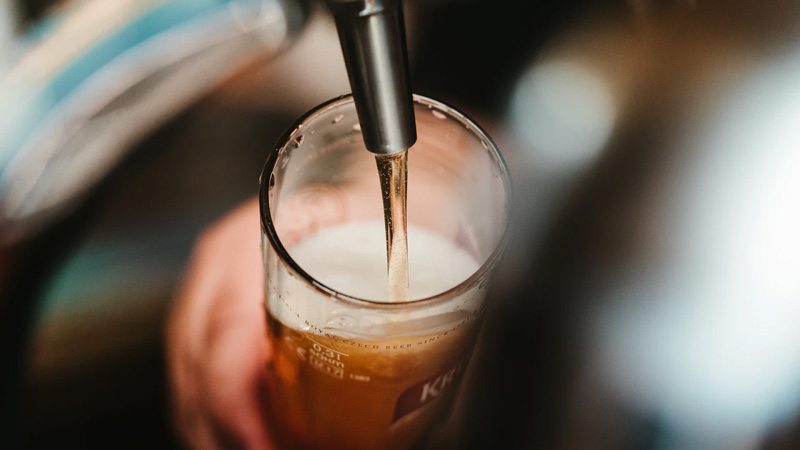 Being able to enjoy draught beer at home, just like you would at the pub, is a dream come true for any beer drinker – even if it's alcohol-free beer. But draught beer is more than just a luxury; that draught beer you serve at home will cost you a fraction of what you'll otherwise pay in a bar or restaurant.
And if you think that you need to invest in bulky equipment, think again. There are plenty of professional-level home beer dispensers that perform just as well as the one used by the pros.
So let us help you achieve your dream of drinking the perfect pint at home with our comprehensive guide on the best beer dispensers in the UK.
Best Beer Dispenser in the UK
Keg Capacity: 8 litres
Keg Compatibility: special Blade beer kegs
Dispensing System: gravity
Serving Temperature: 2C
Dimensions: 47.1 x 29 x 59 cm
The Blade Beer Pump is a compact dispenser that serves pub-quality draught beer without any hassle or fuss. It's a tabletop appliance, so you have plenty of flexibility to place it anywhere, from your kitchen to your game room. Visually, it features a stylish metal exterior that will fit well into any setting, even a professional pub.
Despite giving pub quality results, the Blade beer pump is surprisingly easy to install and use. You simply plug the unit in and place the special Blade beer kegs, and you're ready to serve. There's no CO2 cartridges or canisters to worry about (or any other equipment for that matter)
The pour of the Blade dispenser is excellent, with just the right amount of temperature and carbonation. And this was fortunately maintained right until the last pint.
Speaking of kegs, it's important to note that the Blade home beer pump system uses its proprietary keg. Each has 8 litres worth of beer or around 14 full pints. Major beer brands like Heineken, Affligem, and Birra Moretti are available, but it's honestly pretty limited. It can be a turn-off if you're a craft beer drinker who wants to try a new brew every month. However, if you're happy sticking to just one beer brand, then Blade is a pretty good deal.
Overall, we would highly recommend the Blade Professional Beer Pump. It's one of the easiest ways to get pub quality draught beer at your home without any effort.
Pros
Takes up very little space
Easy to use and set up
Pours beers at the right temperature and carbonation
Cons
Limited beer brands available
One of the more expensive beer dispensers on the market
Our Rating: 4.8 / 5.0
Keg Capacity: 6 litres
Keg Compatibility: special PerfectDraft keg
Dispensing System: gravity
Serving Temperature: 3C
Dimensions: 49.4 x 26.1 x 44.4 cm
The PerfectDraft beer dispenser is a draft beer machine from the well-known appliance brand. And it shows from its modern visual appearance. It's sleek and gorgeous with a combination of jet black and metallic interiors, something you'll be proud to display in your den or home bar.
The PerfectDraft is an all-in-one system that aims to deliver fresh draught beer at home with as little effort as possible. It requires no CO2 canisters or cartridges and handles both the chilling and serving of the beer. The keg itself is housed inside the unit and elegantly placed out of sight.
The beer poured by this home dispensing system is excellent. It can maintain the serving temperature at a consistent 3C, and you can check it too in the unit's LCD screen. And despite not using any CO2 gas, it can keep the keg of beer fresh for up to 30 days – perfect for casual, everyday drinking.
One feature that we love about the PerfectDraft is something that's sorely lacking in even professional setups – a beer gauge! This tells you how much beer you have left, so you know when it's time to slap in a new keg. It's a game-changer for big parties, as it ensures an uninterrupted flow of beer.
Like other proprietary systems, PerfectDraft uses its own beer kegs and is sadly not compatible with standard kegs you'd find in a pub. The good thing is that there are over 40 PerfectDraft beer kegs to choose from, in a variety of styles, so you're not likely to run out of brews to drink. And it includes not just mainstream beers like Heineken and Stella Artois, but more craft brands like Goose Island and Tiny Rebel.
Overall, the Philips PerfectDraft is one of the best beer dispensers in the UK that's great for both personal and party use.
Pros
Over 40 beer brands to choose from
Beer volume and temperature gauge
Easy to use and set up
Cons
Multiple beer kegs need to be pre-chilled if you plan to tap more than once per day
Our Rating: 4.9 / 5.0
Keg Capacity: 2 litres
Keg Compatibility: special Torp 2 litre barrels
Dispensing System: gravity
Serving Temperature: 2C
Dimensions: 45.5 x 23.5 x 33.5 cm
The Sub is one of the most compact beer dispensers in the UK, with a space footprint that's smaller than a piece of A4 paper. Because of this, the Sub is an excellent beer dispenser for bringing to parties and gatherings.
The smaller size of the Sub also leads to its most significant drawback – keg size. This beer dispenser can also handle up to 2-litre kegs at a time (using the Sub's proprietary Torp kegs). That amounts to just around 4 pints. For bigger crowds, you might need to do a little keg switching and pre-chilling to keep the beer flowing.
Fortunately, despite its size, the pour quality of the Sub is at par with other professional draft systems. The small unit is capable of chilling beers fast, and maintains them, down to a perfect 2C (you can speed this up even faster if you pre-chill your beer kegs in the fridge; not a problem thanks to their small size). Aside from Heineken, you also have a choice from over 25 different beer brands that come in Torp kegs, so you have plenty to try.
Overall, the small size of the Sub makes it much more suited for serving yourself excellent draught beer at home.
Pros
Super compact dispenser can be placed anywhere
Chills beer fast and maintains them
Portable
Cons
Limited beer volume of only 2L per keg
Our Rating: 4.6 / 5.0
Keg Capacity: 5 litres
Keg Compatibility: standard 5L party and fresh beer kegs (plus adaptors to fit other keg types like Heineken)
Dispensing System: CO2 cartridges
Serving Temperature: 3C
Dimensions: 27.2 x 47 x 48 cm
The Klarstein Beerkules is the perfect compromise between a home and professional beer dispenser. While it has the size and ease of use of a home unit, the Beerkules also uses CO2 gas to push beer as the pros do. The result is perfectly served beer with just the right amount of carbonation.
At the heart of the Beerkules is its UltraFast Cooling technology, capable of chilling a full keg to serving temps in just under 4 hours. And you can easily adjust the temperature of the beer, from 2 to 12 C, with either manual adjustments or any of the six presets. Are you serving a high alcohol Belgian beer? Crank it up to around 8C to enjoy all the subtle aromas and flavour characteristic of these kinds of brew.
The Beerkules also uses CO2 cartridges, instead of having to use canisters. They pretty much deliver the same effect, plus cartridges have the advantage of being compact. You do need to buy more when you run out, and they can be more expensive to replace than refilling a CO2 canister.
Because it uses CO2, you now have another layer of control with your pour – pressure. You can adjust the gas pressure up and down to control the level of foam in the beer. For example, we like to turn the CO2 off when a keg is newly tapped to prevent too much foam, then adjust it up slowly as the keg is consumed.
Other nifty features of the Beerkules include the beer volume gauge (always a welcome sight during parties!) and a universal connector for compatibility with both fresh and party kegs.
All in all, the Klarstein Beerkules is one of the best beer dispensers we've ever used. It's a home setup that gives you a pro-level of control over the quality of your pours.
Pros
Compatible with all 5-litre party and fresh beer kegs
Uses CO2 cartridges
Adjustable cooling and pressure
Cons
CO2 adds a bit more complexity when dispensing the beer
Our Rating: 4.9 / 5.0
Keg Capacity: 5 litres
Keg Compatibility: standard 5L party and fresh beer kegs
Serving Temperature: 2C
Dimensions: 49.5 x 27 x 48.5 cm
The Royal Catering Beer Dispenser has about the same functionality and features as the highly-regarded Beerkules, but at roughly a hundred quid cheaper.
Like the Beerkules, Royal Catering is compatible with your standard 5L party and fresh kegs, as well as Heineken kegs thanks to the provided adaptor. It also uses CO2 cartridges (three are provided free) to help push the beer out while maintaining the right level of carbonation. The dispenser also features variable temperature control, allowing you to serve beer warmer or colder as you desire.
However, the Royal Catering dispenser does take longer to chill kegs compared to the Beerkules. It's also missing a few features like the beer gauge. Some users have also reported that it's not as user friendly.
Nevertheless, Royal Catering still dispenses excellent pub-quality draft beer every time. And with a less expensive price tag, it can be a worthwhile to buy for personal home consumption.
Pros
Compatible with all 5L party and fresh beer kegs
Adjustable serving temperature
CO2 cartridges
Good value for money
Cons
Our Rating: 4.4 / 5.0
Keg Capacity: 5 litres
Keg Compatibility: special BeerTender kegs
Serving Temperature: 4C
Dimensions: 27.4 x 45.2 x 50.5 cm
The Krups BeerTender is yet another beer dispensing system with its own proprietary kegs (similar to the PerfectDraft and Blade). These come in 5L sizes and mostly features the beer brand Heineken. There are other BeerTender compatible beers like Desperados and Affligem, but the variety is much less compared to PerfectDraft.
Performance-wise, though, the BeerTender performs just as well. The beer is chilled and maintained down to 4C, and is then served with perfect carbonation without using any CO2 tank or cartridge. You can easily monitor the cooling status of the BeerTender with an "active" or "standby" indicator.
Everything works well… most of the time.
The problem with the BeerTender is that some kegs can either get too foamy or not have the right amount of carbonation. It can be the case that kegs are agitated during delivery. Regardless, there's very little you can do to remedy this problem.
Nevertheless, despite these occasional caveats, the Krups BeerTender is still a good beer dispenser to have at home, especially if you're after a more budget-friendly unit.
Pros
Maintains an ideal serving temperature of 4C
Sleek and gorgeous design
Removable tap handle
Cons
Our Rating: 4.3 / 5.0
Keg Capacity: up to 50 litres
Keg Compatibility: any type of keg of up to 50 litres
Dispensing System: CO2 canister
Serving Temperature: -1C to 3C
Dimensions: 66 x 54 x 130 cm
For the closest experience to a true draft beer pour, the Klarstein Big Spender Kegerator is an excellent pick. Like any kegerator, it replicates how a pub or brewery would tap and serve their beer.
The Klarstein is nothing more than a mini beer fridge fitted with a draft tower on top. The internal volume of the kegerator is 173 litres, enough space to fit a full-sized British keg up to 50L. Come serving time, hook the beer both to the tap and to the CO2 canister. Turn on the CO2 gas and start pouring perfect draft beer.
The Big Spender kegerator is the best beer dispenser system for complete flexibility. You can fit any keg from any commercial brewery or pub in the world, thanks to the various coupler types you can order with the unit. You also have free rein to adjust CO2 pressure and temperature to achieve the perfect pour for a variety of beer styles (some beers are higher carbonated than others).
On top of that, the Big Spender doubles as a regular fridge. You can chill bottles of beer or wine while you're dispensing draft beer. It's the perfect all-in-one solution to serving alcohol at your next party. It even has caster wheels for easy hauling around the venue.
The big drawback is that kegerators like the Big Spender do require a fair amount of maintenance and set up to make it work. You may need to play around with the CO2 pressure a bit to achieve a good pour. The beverage lines also need to be cleaned regularly, or else they will add off-flavours to the beer.
Nevertheless, if you're looking to serve beer the exact same way the pros do, the Klarstein Big Spender is the way to do it.
Pros
Compatible with any type of keg
Doubles as a bar fridge for chilling bottles and cans
Complete control over the quality of your pours
Cons
Larger than other, more compact dispensers
Takes more set up and maintenance time
Our Rating: 4.7 / 5.0
Keg Capacity: up to 50 litres
Keg Compatibility: any type of keg up to 50 litres
Dispensing System: air compression (no external CO2 support)
Serving Temperature: 2C
The Pygmy Draught Beer Chiller is a portable draft system that uses the jockey box method for cooling the beer. That means warm beer is cooled as it passes through the draft system so that it achieves optimal temperature once it arrives in your glass.
The advantage of the Pygmy is that you can tap a warm keg. It's ideal for hosting large outdoor parties since there's no need to pre-chill any of the kegs. It's also more energy-efficient compared to refrigeration because you're cooling beer a little at a time and only when needed. You can also easily place the Pygmy on a tabletop without having to lift the keg with it.
The Pygmy is compatible with almost all types of beer kegs – the ones that pubs and restaurants use. You can easily swap the coupler to support keg types from other countries.
This beer dispenser also has a flow regulator near the tap so you can adjust your pour to prevent over-foaming. Pushing the beer is possible with a built-in air compressor, so there's no need to hook an external CO2 tank.
Pros
Compatible with all keg types
No need to pre-chill kegs
Flow control
Cons
Beer lines need to be cleaned thoroughly
Our Rating: 4.8 / 5.0
Capacity: up to 750 ml
Compatibility: any can or bottle up to 750 ml
Serving Temperature: 2C
Dimensions: 58.93 x 25.4 x 44.45 cm
The Fizzics system is a unique way to dispense beer from, not kegs, but bottles and cans. Like us, you might think, why would you go through all that trouble when you can easily drink the beer from the can or bottle? Or, you know, pour it into a glass?
The answer is in the Fizzics's proprietary Micro-Foam technology, developed for over four years with brewers, drinkers, and experts. Essentially, it converts canned or bottled beer into a nitro-style pour by using (believe it or not!) sound waves. What you get is a creamy and smooth beer with enhanced flavour and aroma. IPAs are fruitier and more aromatic, stouts are richer, and Pilsners are crisper.
So, unlike a typical beer dispenser, Fizzics actually makes your beer a lot better.
Visually, Fizzics is compact, having a size no bigger than a pitcher and weighs just under 4 pounds. The entire thing is battery powered (optionally, you can plug it in via USB) so you can serve beer in the middle of a pool party without the need for a nearby outlet. It's also quite durable, made with corrosion-resistant materials that will last for years.
So is it worth getting a Fizzics? The problem is that, because you're serving from a bottle or can rather than a keg, it can get tedious to serve beer to a larger crowd. In this regard, traditional draught systems still have an advantage.
However, if you want to elevate your drinking experience, the Fizzics system deserves a place in your kitchen or man cave. It's worth getting one even if you already have a draft system.
Pros
Actually improves flavour and mouthfeel of your beers
Can be used with any beer or can
Durable and corrosion-resistant
Cons
Inefficient when serving larger crowds
Our Rating: 4.7 / 5.0
How a Beer Dispenser System Works
A beer dispenser system starts with a keg of beer. A keg is a self-contained canister pressurized with carbon dioxide (CO2) gas that helps maintain the beer's carbonation and freshness until serving time. It's similar to how beer bottles or cans work; in fact, you can look at a keg as nothing more than an oversized beer can.
Unlike a can, however, you can't just open a keg and pour beer from it. You need to hook it up to a dispensing system. The dispenser pushes beer from the keg and into the tap faucet, using either a CO2 gas canister or gravity.
Of course, beer needs to be served at the proper temperature. This is usually fridge temperature (around 4C), but it depends on the style. A beer dispenser does this in one of two ways.
One is when the beer is cooled on its way to the tap from the keg. This is how most home tap systems do it, and usually involves the beer passing through refrigerated coils en route to the tap faucet. The benefit to this is that you can tap a warm keg and still get cold, properly served draft beer.
The other is when the entire keg is chilled to the proper temperature. Beer dispensers that do this are called "kegerators", or "keezers". Most homemade kegerators are nothing more than a beer fridge fitted with a beer tap tower on top. More sophisticated systems used in larger establishments might make use of a walk-in freezer to chill a larger volume of beer kegs.
Things to Consider When Buying a Beer Dispenser
Size
The size of your beer dispenser pretty much determines how big or small of a keg you can fit into it, and therefore how many servings you can expect. Most home systems accommodate a 5-litre keg, which roughly translates to 10 pints of beer.
What size you go for will really depend on you. If it's mostly for personal consumption, then even the smaller dispensers (like the Sub) is all you'll ever need. But suppose you regularly host a party at your flat. In that case, bigger systems might be more worthwhile, accommodating up to full-sized keg, which is around 50 litres.
Gravity vs Gas Powered
Beer dispensers draw beer out from a keg in one of two ways – through the pull of gravity or the push of carbon dioxide (CO2) gas.
Gravity is the simpler of the two. As the name suggests, it relies on the pull of gravity (plus a little of the pressure inside the keg) to dispense the beer, much like how a water dispenser works. It's relatively easy to use – simply tap the keg in and open the faucet to pour.
The drawback of this system is that the beer will have a very limited shelf life the moment you tap it (in a matter of hours or days), and it must be consumed before it loses its fizz. That's because beer starts to go bad the moment it gets into contact with oxygen in the air. And speaking of fizz (or carbonation), it tends to lower as you pour, leading to flat beer in the final few pints.
Gravity-powered dispensers are perfect for parties, where the beer is expected to be consumed at a relatively rapid pace. Most mainstream beers like Heineken and Stella Artois also use a gravity-fed dispenser for their kegs. So if you like their stuff, you might be locked on to getting gravity dispensers.
Gas-powered dispensers use CO2 gas to push the beer from the keg to the faucet. This is the preferred and professional way of dispensing in almost every pub, bar, and restaurant that serves draft beer.
The advantage of this method is that the carbonation of the beer is preserved since CO2 is the same gas that gives beer its fizz. Hooking up your keg to a CO2-powered dispenser also helps prolong the shelf life of your beer, even after you've tapped the keg.
The main con of CO2 beer dispensers is that they're more expensive and trickier to set up, use, and maintain. You'll need either a CO2 tank or cartridges in smaller systems and both of these need to be replenished after some time. Getting the perfect pour also involves a little bit of tweaking with the CO2 pressure and other factors.
CO2 beer dispensers are for you if you're after the best draft experience that replicates what you'll get in a pub. Some draft systems are also visually gorgeous and perfect for your home bar or man cave. Also, if you mostly drink craft beer kegs or brew your own, CO2 dispensers are the only way to tap one.
Compatible Kegs
What brand and type of beer you drink will also dictate the kind of beer dispenser you buy. That's because some beer dispensers are only compatible with specific kegs. Most dispenser systems, like Blade, are only compatible with certain beers using that system's kegs and nothing else.
For a more flexible array of beer choices, a dedicated draught dispenser is recommended. These usually accept the standard British kegs (10L, 30L, and 50L sizes) that every major pub and restaurant in the country uses.
Temperature Control
A common misconception is that beer should be served iced cold, but this is simply not the case for all beer types. Darker, more flavorful beers like porters and stouts benefit from being served relatively warmer (around 5C – 8C) to help bring out all the wonderful flavours from the brew.
If you want to enjoy a variety of beer styles at their intended serving temperature, look for a beer dispenser that allows you to control the temperature. The only exception is if you plan to drink only mainstream lagers like Heineken or Stella Artois, which are designed to be served as cold as possible.
Foam Control
Controlling the amount of foam in your pour is essential if you continuously experience beer that's too foamy. This sometimes happens when the keg is agitated during delivery, or if the dispenser is faulty. Also, note that warmer beer also tends to be foamier (since colder beers can keep their carbonation much better).
Foam control can be achieved in one of two ways. One is controlling the amount of CO2 gas, which is only possible if the system uses CO2 to dispense the beer. The other is flow control, which is a feature in some tap faucets. It's an adjustable nozzle that increases or decreases the beer that flows when you dispense; a slower flow can help minimize foam.
Coupler Type
The coupler refers to the part of the beer dispenser that connects to your keg. When you "tap" a beer, it means you hook the coupler to the mouth of the keg.
The problem is that there's more than one type of coupler. In fact, there are several, and which one you use depends on the beer you want to tap and the country you're living in.
In the UK, the main coupler types are S-Type (also called a Sankey Keg coupler) and the G-Type (or Grundy Keg coupler). Most mainstream brands use either of these two coupler types. For example, Carlsberg and Kronenbourg both use S-Type, while Carling and Tennents use G-Type. A less commonly used coupler is A-Type, which is the coupler type used by Guinness and Hoegaarden.
If you're importing and tapping American kegs, then you'll need a D-type coupler. If you fancy a few German lagers straight from the source, then you should seek the M-type.
Now, the good news is that you can easily switch the coupler for some beer dispensers with the one that you need. Before buying a keg, make sure to research online and see which coupler type it uses.
Read next: The Best Gin Glasses in the UK