The Best Budget Gaming Chair – UK Buyer's Guide and Review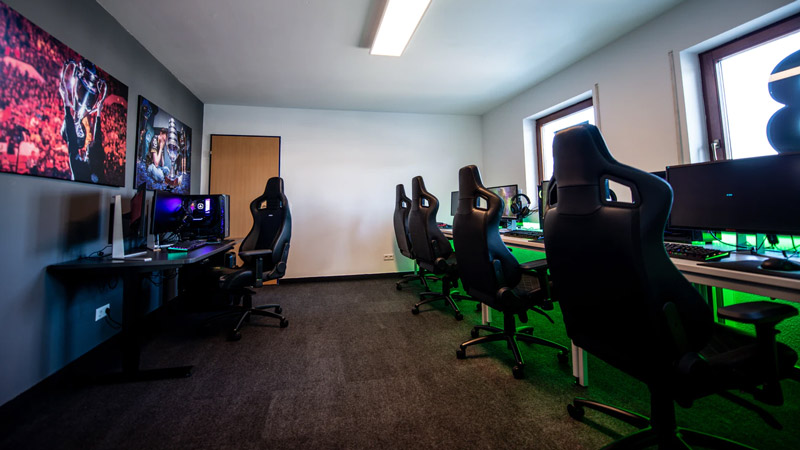 Gaming chairs are more than just feeling like a total badass conquering other people on a session of Fortnite. They're essential for ensuring your health and well-being. The best gaming chair will promote good posture and minimise any body aches from prolonged gaming sessions.
Admittedly, shopping around and buying a gaming chair can be an intimidating experience. There are lots of things you need to consider, and you can be in a lot of pain if you buy the wrong one.
To help you out, we've run down the best budget gaming chair you can buy in the UK. Because we believe a comfy chair doesn't need to cost a fortune.
The Best Budget Gaming Chair UK
In this guide, we cover only budget gaming chairs under £200 in the UK.
Dimensions: 82.8 x 66 x 29.4 cm
Type: PC gaming chair
Weight Capacity: 125 kg
Height Adjustment: 10 cm adjustable
Armrest: 4D Adjustable
The JL Comfurni Gaming Chair looks comfortable at first glance, and it turns out that it is. The padded fabric with the cross diamond pattern certainly adds to this perception. Aside from the extra soft cushion, it also has a lumbar pillow that can support either your neck or your waist
This gaming chair is easily adjustable to make it fit onto your body shape and size. The backrest is reclinable by up to 170 degrees, so you can lean back comfortably when you're playing a game or just resting in between matches.
The entire chair can be adjusted by about 10 cm, so you can find the perfect height when sitting in front of the computer. As for your arms, they can rest naturally on the armrest, which can be adjusted in four directions. The only minor complaint is that the armrests are slightly loose, so they tend to move around when you're resting on them, but not so much that they become an issue.
For the base, the 360-degree rotating wheels give freedom of movement while having a solid foundation that can support weights of up to 125 kg.
The build quality of the JL Comfurni chair is decent and sturdy enough. Aesthetics wise, it's pretty simple with nothing going on for it. Because of this, it also makes a good office chair as well, especially if you choose the black variant (by the way, it does come in many different colours to fit your gaming rig).
Overall, the JL Comfurni is a very comfortable and reasonably ergonomic gaming chair with all the basics covered. However, not much else going is on with it. For something simple and straightforward, though, this one fits the bill quite nicely.
Pros
Adjustable lumbar pillow and backrest
4D adjustable armrest
Comfortable cushion padding
Cons
Armrest adjustment is slightly loose
Our Rating: 4.4 / 5.0
Dimensions: 65 x 83 x 83 cm
Type: floor rocker (console gaming chair)
Material: faux leather
Armrests: fixed
Height Adjustment: N/A
Additional Features: 2.1 surround sound system with subwoofer
If you love sitting on a bean bag while playing console games, but want a more incredible experience, the X-Rocker G-Force Sport fits the bill nicely. The brand is known for its iconic floor rocker chair, and this is their latest entry.
Visually, the X-Rocker G-Force Sport is a piece of edgy gaming equipment with its predominantly black seat accented by orange highlights. The gaming chair is generally compact and won't take up much space on your bedroom or den.
Comfort-wise, the G-Force Sport fortunately delivers. The high-quality faux leather feels comfortable and soft to the touch. Spills can be easily cleaned, so it's perfect for use by younger kids or gamers who like to snack a lot while playing. Beneath that are foam paddings that cushion you nicely. The backrest is naturally curved for maximum lumbar support.
The G-Force Sport also has padded armrests that act as an anchor point to help with seating stability. It's built for long hours of lounging around – be it while playing a game or watching an entire TV series.
A highlight of X-Rocker chairs is its excellent built-in surround sound, and the G-Force Sport is no different. It features a 2.1 audio speaker system (two mounted on the headrest) and a built-in subwoofer to make every game you play as immersive as possible. Connecting the sound to your console is done via the RCA ports and is compatible with all major consoles like the PS4, Xbox One, and Nintendo Switch.
Overall, the X-Rocker G-Force Sport is a well-made and surprisingly comfortable all-around gaming chair.
Pros
Built-in 2.1 surround sound system
Comfortable padding and faux leather
Compact size doesn't take much space
Cons
Fixed armrests
Limited adjustability
Our Rating: 4.7 / 5.0
Dimensions: 67.5 x 74 x 7.84 cm
Type: floor rocker (console gaming chair)
Material: faux leather
Height Adjustment: N/A
Additional Features: 2.0 surround sound system
The Hydra 2.0 is one of the entry-level models of the iconic floor rocker chairs by X-Rocker. This is a stripped-down version of the G-Force Sport, but it's nonetheless equally capable and comfortable.
This floor rocker retains the material and curvature of the other X-Rocker entries but does away with the armrests. Initially, we thought this would take away some of the stability, but it was surprisingly not the case. However, you'll find that it can limit the postures that you can do without the added support.
The Hydra 2.0 also uses a faux leather finish with comfortable foam padding underneath, which delivers the same comfort you would expect from X-Rocker. The lumbar support is there as well and helps relieve some of the aching even with extended sessions. We also appreciate that you can personalise the Hydra 2.0 with various colour palettes to choose from, which match colours of the major gaming consoles (green for Xbox, blue for PS4, red for Nintendo, and grey for neutral)
What the Hydra 2.0 has over its other X-Rocker siblings, though, is foldability. This gaming chair can be easily reduced down into a compact shape for easy storage, giving you much more flexibility on where to place it. The generally smaller frame is also great for kids and young teens.
Despite the price and size, it's good that the Hydra 2.0 still retains its surround sound system. It's a simpler version, though, without the added immersiveness of a subwoofer. But in terms of sound quality, this is definitely up to par.
Overall, the X-Rocker Hydra 2.0 is the best budget gaming chair for young kids and aspiring gamers.
Pros
Built-in 2.0 surround sound system
Good lumbar support
Comfortable faux leather
Cons
Our Rating: 4.5 / 5.0
Dimensions: 52 cm x 57 cm x 1.27 m
Type: PC gaming chair
Material: PVC leather
Weight Capacity: 120 kg
Recline Position: up to 160 degrees
Height Adjustment: up to 10 cm
Armrest: 4D adjustable
For gamers who want maximum value for money, the GT Omega Racing PRO Synthetic Leather is the best budget gaming chair to get. For the price, this model features excellent comfort and wide latitude for adjustments.
The GT Omega Racing Pro is an orthopaedically designed gaming chair with exceptional lumbar support, with a removable headrest and lumbar cushion thrown in for good measure. The chair design "hugs" the back and shoulder for the utmost in comfort. The PVC cold cure moulded foam ensures excellent cushion and comfort.
As for adjustments, the GT Omega Racing Pro has plenty. The seat can be reclined up to 160 degrees, an angle that's good enough to sleep in. The height can also be adjusted up to 10 cm to accommodate a wide variety of body heights. Even the armrest can be moved and rotated in four directions. All of these are controlled with levers that can be locked into place.
The GT Omega Racing Pro isn't a pushover when it comes to build quality, either. The base is made of high-quality aluminium that's both lightweight and durable, with steel tubing for exceptional support.
Overall, the GT Omega Racing Pro gaming chair is the right balance of affordability and comfort, with adjustability and style thrown in.
Pros
Extremely comfortable
Lots of ways to adjust the chair to fit your body
Stylish
Cons
Armrests are a bit too firm
Our Rating: 4.6 / 5.0
Dimensions: 51.5 x 51.9 cm (seat size)
Type: PC gaming chair
Material: PVC leather
Weight Capacity: 120 kg
Height Capacity: 200 cm
Anda Seat is known for its luxurious, top-of-the-line elite gaming chairs (such as its Fnatic Edition). Fortunately, they came up with a budget gaming chair that barely made it to the affordability tier – the Jungle Pro.
The Jungle Pro is a gaming seat designed by gamers for gamers. It prioritises ergonomics more than anything else, with a backrest and seat that properly contours to your body. The material used is PVC leather, which is stain and scratch-resistant. Underneath that is a thick high-density foam for proper cushioning. There are also adjustable headrest and lumbar pillows for added ergonomics and comfort.
Like any good ergonomic gaming chair, the Jungle Pro offers lots of adjustment options. The seat can be reclined back up to 160 degrees (with five different lock positions), allowing you to nap or rest after a long gaming session. Height-adjustable armrests help relieve wrist and muscle strain.
The foundation of the Jungle Pro uses 22mm diameter steel frames, sitting on top of a 5-star base with 60mm wheels. Aside from being able to rotate 360 degrees, it also glides through the floor silently and effortlessly – great for gaming in the middle of the night.
All in all, the Anda Seat Jungle Pro gives you the benefits of a more luxury gaming chair, without the hefty price tag.
Pros
Excellent adjustability
Good comfort overall
Silent and sturdy wheels
Cons
While comfortable, the chair is not that breathable
Our Rating: 4.7 / 5.0
Seat dimensions: 52 x 54 x 8.5 cm
Type: PC gaming chair
Material: faux leather
Weight Capacity: 113 kg
Recline Adjustment: 90 – 135 degrees
Affordable yet ergonomic, the Intimate WM Heart gaming chair is a good seating solution for gamers who don't want to spend too much dough. Assembly doesn't take long, either, and can be put together in 20 minutes or less.
The seat of the Intimate WM Heart uses high-density foam, known for its soft firmness and resilience. The extra-wide seat base (where your thighs rest) has a convex shape, reducing the overall feeling of tightness.
A head pillow can be adjusted up or down that helps support your neck and back while gaming. It's filled with the same high-density foam as the seat itself, providing superb softness. The same is true with the lumbar cushion situated near the small of your back, which helps relieve stress from sitting down too long. 2D armrests are padded for comfort and help support your arms while typing or using a mouse.
The only caveat is that this gaming chair can only support up to 113 kg of body weight, significantly lower than other chairs in its tier. The chair can also only be reclined up to 135 degrees (compared to 160 degrees from other chairs).
Despite this, the Intimate WM Heart is still a fantastic, value-for-money purchase that gets the basics right.
Pros
Affordable price below £100
Comfortable and ergonomic
Good range of adjustability
Cons
Lower weight capacity compared to other chairs in its class
Our Rating: 4.3 / 5.0
Dimensions: 70 cm x 70 cm x 1.35 m
Type: PC gaming chair
Material: faux leather
Weight Capacity: 150 kg
Recline Adjustment: up to 180 degrees
The mfavour gaming chair is our pick of the best all-arounder, with a stellar price to boot. Our favourite feature of the mfavour is the recline angle, which can be tiled back by up to 180 degrees. That's right – you can push this seat back into a horizontal position so that you can rest or take a nap in comfort.
The gaming chair also has a tilt function that gives you more freedom of movement while you play. A tension control helps you fine-tune the amount of tilt to your liking.
Materials wise, the mfavour gaming chair uses PU leather that feels like the real thing and is just as comfortable and cool. It's wear-resistant and durable, as well as being easy to clean. High-density foam is used as padding, giving the chair much of its cushion.
The mfavour gaming chair is pretty ergonomic, with adjustable head pillows and lumbar cushion. The 2D armrest provides excellent support, and is height-adjustable, too. Finally, the height can be easily adjusted via a level at the bottom.
If you're worried that the low price of the mfavour gaming chair will compromise its build quality, rest easy. It uses only high-quality, durable steel that gives superb stability to this chair. Sturdy, noise-free wheels allow full 360-degree movement of the chair.
All in all, the mfavour gaming chair is a reasonable budget pick if you want an all-purpose seat that you can practically live in.
Pros
Can recline up to 180 degrees
Ergonomic and comfortable seat with head and lumbar pillows
Good price
Sturdy frame
Cons
Limited height adjustment
Our Rating: 4.8 / 5.0
Type: PC gaming chair
Material: synthetic leather
Weight Capacity: 150 kg
Height Capacity: 150 cm
Recline Adjustment: up to 160 degrees
The Diablo X-Ray is one of the coolest-looking gaming chairs you'll encounter. It's certainly visually striking with a pristine white colour scheme. Red and black accents are laid around the design intelligently, topped with the iconic Diablo logo near the headrest.
Fortunately, the Diablo X-Ray is more than just looks, as it's exceptionally comfortable as well. The seat can be reclined up to 160 degrees, with steps in between whether you want to take a nap or sit upright to work. The chair also has a tilt mechanism so you can comfortably rock and sway as you play.
The cushion of this gaming chair can be best described as "perfectly elastic", which easily conforms to the contours of your body. This forces your body (gently, of course!) into the best posture for maximum relief. On top of this is a synthetic leather finish that provides excellent air circulation.
The ergonomics of the Diablo X-Ray is excellent as well. It has a lumbar and head pillow that can be adjusted independently of each other to fit your body shape and size. 2D armrests give ample support to your arms and elbows as you dominate other players online.
In the end, if you want a gaming chair that will be the envy of your multiplayer buddies, the Diablo X-Ray is the best budget gaming chair with that X-factor.
Pros
Visually striking design
Tilt function
Ultra-comfortable and ergonomic chair
Cons
Armrests feel flimsy compared to the rest of the gaming chair
Limited height adjustment
Our Rating: 4.7 / 5.0
Do I Need a Gaming Chair?
Gaming chairs are special ergonomic seats designed for gamers who sit down for long periods playing in front of a computer or console. They are built to support your back and help it maintain the proper posture while you're sitting down. Other features, like armrest and breathable fabric, are there for your comfort as well.
If you do even a few hours of gaming during the weekends, a gaming chair is crucial for your overall health, comfort, and well-being.
Of course, some gamers just want gaming chars purely for the coolness factor. Indeed, many models in the market have over the top and edgy designs that can certainly make you feel like a pro-gamer while you're battling it away online.
Despite their name, however, gaming chairs aren't just strictly for gamers. They can be fantastic for employees too, whether at home or in the office. They're also great as therapeutic chairs for those who have chronic back pains or need extra support sitting down.
Generally speaking, if you want an ergonomic and comfortable chair while doing something, gaming chairs are for you.
Things to Consider When Buying the Best Gaming Chair UK
It's vital that you be very picky when picking a gaming chair. The best chairs are those that feel like they're built just for you and your posture. It should feel comfortable even when you're sitting in it the entire day. If there's even the slightest body ache, then it's not worth buying, even if it's the most incredible looking chair in the world.
The bottom line is: buy for comfort and ergonomics first, and other features second.
Here are a few things you need to consider with gaming chairs:
Ergonomics
An ergonomic chair is a general term for how much comfort the gaming chair gives you, both psychologically and physiologically. The most important thing to remember with ergonomics is that it should fit with the person. It's, therefore, a highly personalised thing.
The most crucial thing with an ergonomic chair is that it should minimise or eliminate body pains and aches while you're sitting down. It should help you maintain the correct posture and movement while playing. It can even improve your gaming performance by giving you a faster reaction time.
In a way, all of the other considerations on this list should all go back to ergonomics. So you as you go through the rest of the factors in this guide, always keep this in mind.
Chair Materials
Gaming chairs come in a variety of materials, each with different pros and cons. Mostly, they determine how comfortable or breathable your chair is once your skin gets into contact with it. Some material types are also naturally more durable than others
Here are some of the more common materials you'll encounter:
Genuine Leather
Genuine leather (the real deal, and not imitation leather) is probably one of the most luxurious and durable materials you can get in a gaming chair. As in other types of upholstery, leather lasts longer than any material type and tends to improve with age. If you see a leather chair with lots of cracks, it's most likely faux leather.
Leather is a breathable fabric that's excellent at regulating moisture, making it ideal for reducing body sweat. You'll notice this when you sit down on a leather seat, as it will immediately feel cool to the touch.
As you can expect, genuine leather is expensive and is only seen in the most high-end of gaming chairs. But if you want the best in comfort and longevity, a leather gaming chair is a fantastic investment.
Synthetic Leather – PVC
Synthetic or faux leather is an artificial material that's made to imitate the look and feel of real leather. There are many approaches and techniques for doing this, and each yields varying results. Despite the negative connotations of synthetic leather, it does have some advantages over the real thing.
In the gaming chair world, you'll often see two types: PVC leather and PU leather.
PVC is generally the least expensive faux leather material you'll see in gaming chairs. It's made of a leather substitute coated with polyvinyl chloride (PVC). This additive simulates the soft and flexible nature of leather.
PVC leather has excellent durability and is fire, water, and stain-resistant. The last one is especially useful for gamers, as you can easily clean food and drinks that accidentally spill onto your chair (gamers have to eat, right?). It's also a cheaper material overall.
The drawback of PVC leather is that it's not as breathable as other types. It can get sweaty and uncomfortable for you, especially if your room tends to get a little warm. It also has inferior durability, and you'll notice that it peels much easily.
Synthetic Leather – PU
The other kind of synthetic leather is PU leather. It isn't purely artificial but is instead a hybrid of split leather and polyurethane coating (or PU, hence the name). Split leather is the term of the leather that's left behind after getting the more valuable top layer used in genuine leather.
Because PU leather uses portions of genuine leather, it does a reasonably excellent job of acquiring some of the benefits of the real deal. Compared to other faux leathers like PVC, PU leather looks much like the genuine article. It's also more breathable and durable than other artificial materials (although not at the level of genuine leather).
PU leather is an excellent middle ground that's found in mid-tier gaming chairs, and sometimes even in high-end budget ones.
Fabric
Fabric is a common material often used in office and budget gaming chairs, but don't let that fool you into thinking that this is an inferior chair material. Fabric certainly has its perks.
One of the biggest reasons to get a fabric gaming chair is breathability. This type of material allows maximum air circulation, more so than leather or any other. This means it feels much cooler on your back, and so you sweat less. Fabric chairs are also softer compared to leather, and some find them much comfortable overall.
The big con of fabric is that it's less durable than genuine leather, and even synthetic leather. They offer zero resistance to water and stains so that a misplaced soda can will spell disaster for your fabric gaming chair.
Generally, if you prefer a softer and more breathable chair (and you can keep liquids strictly off-limits), then fabric chairs can be a better choice for you.
Mesh
Mesh is a specialised material that's just as soft as fabric, but far more breathable. Mesh chairs, in fact, are one of the most breathable and comfortable chairs you can ever sit on. They're fantastic if you live in a hotter climate, or if your gaming room gets hot during the summer months.
The biggest drawback of mesh chairs is that they're notoriously difficult to maintain. Mesh is a delicate material, and cleaning it requires a specialised cleaner. Because of this, mesh is also one of the least durable materials around.
Maximum Height and Weight
As we said, the best budget gaming chair is one that fits your body perfectly. That's why you should also consider your height and weight when buying one.
The chair's weight capacity, in particular, is a crucial thing to consider since you don't want your chair to give way. Most standard chairs can safely support up to 150 kg. If you're heavy set, an XL gaming chair might be a better option. These can support up to a maximum of 250 kg.
Your chair's dimensions are essential to know since you want it to fit onto your gaming space with lots of buffer room to spare. Also, check if the seat can accommodate you if you have larger thighs or buttocks.
Type
Gaming chairs can be generally split into three different types. For our purposes, however, you only need focus on two: PC gaming chairs and console gaming chairs.
PC gaming chairs are what everyone thinks of whenever they hear the word "gaming chair". They look similar to office chairs and can be substituted for that purpose. By the way, PC gaming chairs are also called racing chairs but are in no way related to racing games whatsoever. This is because their design closely resembles the seat of racing cars.
PC chairs are designed for use near a desk (as you would with a mini PC or laptop), so they're always height adjustable. They feature the iconic 5-star base with a pedestal top, with the ability to swivel around for maximum movement. Their most important features are the armrest (to support your arms as you use a keyboard/mouse) and a high headrest to prevent straining as you stare onto a screen.
Console gaming chairs, on the other hand, are built with the console gamer in mind. Since they need to be seated at a distance from the TV screen, console gaming chairs are usually immobile L-type seats that are placed semi-permanently on the floor.
These type of gaming seats offer more posture options and are reclinable by default. It allows the gamer to adjust the chair to his or her liking – from upright postures to entirely laid back positions. In many ways, they're more akin to luxury "La Z Boy" sofas.
By the way, if you're curious about the last type of gaming chair, it's racer simulator seats. They're built for – you guessed it – racing games and imitate the feel of being in the cockpit of a racecar. We don't cover them here because they're a specialised type of chair
Style
Gamers are all about style when picking their gear, and gaming chairs are no exception. You have plenty of looks to pick from, from simple chairs to racing-style equipment. They also come in various colours that you can match with the RGB colour of your gaming rig.
Armrests
Armrests give your arms a natural resting place while you play, especially if you're a PC gamer. They're not as crucial as console gamers since you have more latitude when handling a game controller, but they're still nice to have.
The best armrests should be height adjustable, and ideally width adjustable as well. This is often specified as either "2D" or "4D" armrests, which tells you in how many directions the armrest can move (2 directions for height, and 4 directions including width).
Build Quality and Stability
Your gaming chair's build quality is essential, especially if you spend days-long gaming sessions. The crucial areas you need to check are the chair's frame and base.
A good base needs to be as wide as possible so that it has ample foundation to support your chair. Aluminium bases are ideal, as they're both sturdy and light. You also want wide wheels for extra support – aim for at least 3″.
As for the chair's frame, metal is the way to go. They're durable, forming a robust and stable base. Plastic can be cheaper, but they're not as sturdy.
Not as crucial but just as important is the filling used inside the gaming chair. A cold foam filling is the absolute best, as it prevents your chair from flattening out even with prolonged use.
Adjustability
Remember that people have different body shapes and sizes, so the ability to adjust the chair to your body's size and posture is critical to an ergonomic gaming chair.
When possible, go for a chair that has a wide range of adjustment levels. Also get one that allows you to adjust as many different aspects – the backrest, the neck support, the armrest. The more you can customise the chair to you, the more comfortable it will feel.
Lumbar Support and Pillows
Lumbar support is essential because it can help cradle the curvature of your back and neck. They help promote good posture, minimise spine strain, and promote good air circulation. That's why the best ones should cover all of these areas.
In cheaper models, lumbar support is done with the use of a small pillow placed in the small of the back. While not as effective as a proper lumbar chair, they do a pretty basic job.
Other Useful Features
Apart from these gaming chair basics, there are plenty of extra features worth looking at. Some chairs have USB slots, which allow you to charge your controllers or any other device you might have. Surround sound speakers are also fantastic for giving an excellent audio experience even when you're comfortably sunk onto your chair.