8 Best Camping Stoves 2021 | UK Buyer's Guide & Reviews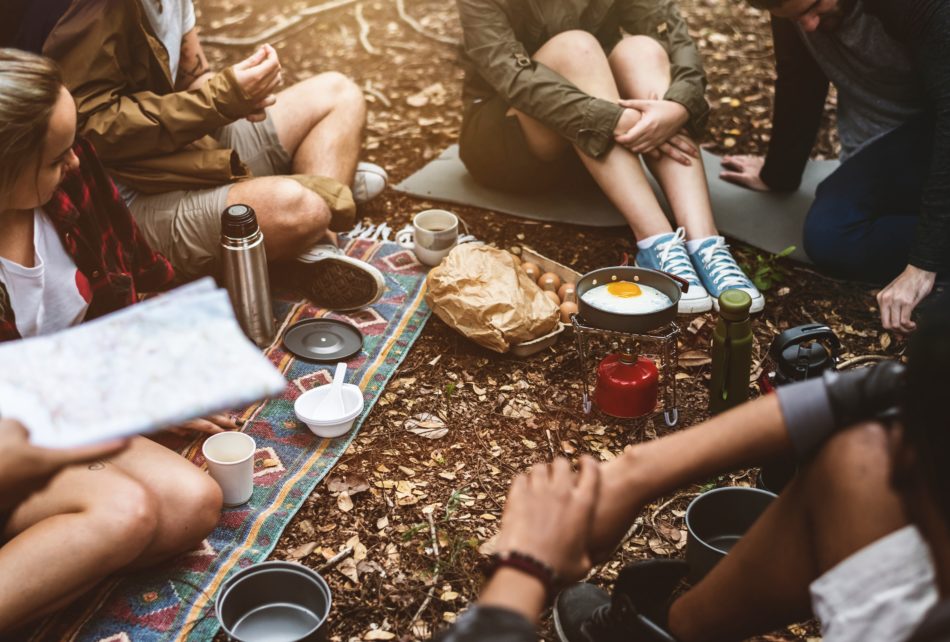 There's nothing better than spending a day trekking and adventuring through the great outdoors then relaxing back at camp with something cooking away on the camp stove.
You, your friends, and your family all regaling about your skills after you've whipped up something perfect for the outdoors and washed down with a warm drink.
The right camp stove can be found whether you are a hardcore bushman, heading to a festival, and everyone else in between. Portable camp stoves are perfect for heating hot drinks, cooking full meals and there are plenty of different options out there to choose from depending on your needs.
If you are after some help with choosing the right one for you then just take a look at our buying guide and our list here of some of the best gas cookers on the market. There are plenty to consider from lightweight to larger double or even triple burners for cooking up a feast for a large group.
The Best Camping Stoves in the UK – Reviewed
This versatile gas stove is compact and easy to transport and can be used at picnics, while camping, out in the back garden, or down at the beach. The stove runs off a CP 250 cartridge for up to an hour and a half of cooking time and it can boil water in around five and half minutes. It is a cordless cooker that comes in a carry case made of strong plastic and can accommodate large pots and pans. It is easy to clean and has a piezo ignition so there is no need for matches to get it going.
Check Price Now
This is a durable and strong gas cooker made from aluminium and stainless steel and features foldable stands to assist with stability. The cooker is light yet it is powerful and can heat a litre of water in only 3 minutes and burns efficiently to save your gas. It is easy to use, simply screw in the gas canister and ignite the flame with the ignition switch, and its low centre of gravity will keep it stable. It is suitable for using cookware up to 18L in capacity so it can feed a substantial group of people if required.
Check Price Now
This great little gas stove is perfect for all kinds of outdoor activities from hiking to hunting to camping. It is windproof and offers a 3200W Split Furnace design that can boil 1L of water in only two and a half minutes. It folds down for ease of carrying and comes with a handy carry box to easily pack in a bag. It runs on butane gas, is made from copper and stainless steel yet the stove weighs only 280g. Easy to use – just screw in the gas can and ignite for cooking.
Check Price Now
If you are particularly space conscious then this might be the perfect gas stove for you. This unit screws directly onto a pierceable cartridge easily and is ready for use. One canister will last around two hours and it will boil water in around seven minutes. While not as powerful as the other gas cookers mentioned previously it will certainly get the job done and get you fed if there aren't too many people in your party. The key selling point of this gas stove is its small size and ease of transporting through the outdoors.
Check Price Now
This great little piece of kit has everything you need to keep fed outdoors. The set includes a stove, small pot, large pot, spoon, fork, tank bracket, cup (stainless steel), cup protector, carabiner, and two carry bags. This kit is perfect for whatever activity you are pursuing outdoors and the whole lot can be easily folded up and stored in your bag. Versatility is the name of the game with this kit, even the carabiner, for example, can be used as a screwdriver, knife, or bottle opener.
Check Price Now
The Benross group craft top quality products for the home and beyond and this portable gas stove is no exception. This lightweight gas stove is ideal for those out fishing, camping, or at a festival for example and comes with a handy carry case. The stove comes with controls to easily control the heat, and a pressure system with an auto cut out for added safety and reliability. It uses butane gas canisters that are easily attached and ignited just as easily with a switch so there is no need for matches or lighters to get it going. This is a great gas cooker that provides a safe and reliable means of preparing cooked food outside.
Check Price Now
This gas cooker has the look and feel of a home barbecue but which can be broken down and transported in a carry bag wherever you want to go to easily. It is ideal for caravanning, hiking, fishing, sports events, any outdoor activity really. The cooking surface is interchangeable so you can use a stove top or a griddle for varying your cooking styles. It is powered by gas canisters that will last from one hour forty minutes to three hours depending on the size. It ignites easily with a piezo ignition system and will boil water in four minutes and eighteen seconds. This is a great gas cooker that gives the look and feel of grilling or frying food up on a barbecue wherever you go.
Check Price Now
This gas stove is good for those need to cook for a larger group of people and who will appreciate the double burners running at 1.8kW. It also features a central grill at 1.5kW and comes with a grill pan. The cooker has a folding lid that keeps it protected during transit and which can double as a windbreak if needed. Ignition is easy with the piezo system and the temperature levels can be controlled with the dials. This gas stove is perfect for cooking up delicious hot food for a larger group of people and allows for a wide range of meal types and cooking styles.
Check Price Now
Camping Stove Buyer's guide
Let's take a look at what options are out there when looking for the best camping stove for your needs.
Backpacking Stoves
These stoves are the smallest and lightest stoves that fit easily into a backpack, but despite their size, modern versions are able to strike an impressive balance of size, weight, and power. This means that they may be perfect for solo treks or for a small handful of people.
Personal Cooking System (PCS)
These stoves are the smallest and most compact that you will find and allow for the burner to be attached right on top of a gas canister. If you won't be doing much more than boiling water for hot drinks or rehydrating meals for one then this might be the right system for you. They usually don't have simmer options which makes it hard to cook things without burning them so if you are looking to cook rather than just heat things then this probably won't suffice.
Gas Cookers with Separate Stove and Canister Attachments
These are larger than a PCS but are still small and can be broken down to pack in a relatively small space. This system will usually have a simmer option and a bigger burner area that can be used with a variety of pot sizes making them more useful and versatile. These gas cookers usually have either legs that are collapsible or they screw on top of a gas canister. Having a gas canister that attaches remotely reduces the convenience factor but can make life easier in bad weather. These cookers can be combined with accessories such as ground and windshields to help with retaining heat.
Double Burning Gas Stoves
These are better suited to getaways where you won't be far from your vehicle. This is because they are much bigger than other styles and have a wide base and are solidly built. This size and stability mean that they are suitable for bigger pots and pans which allows for bigger and more complicated cooking. They are portable but unsuitable to be lugged around in a backpack or by hand. Depending on how many people you will be cooking for these stoves come with a single or double burner, a grill, and more.
In general, you will need to think about what sort of cooking you want to do, the sort of food you want to eat, how many people you will be cooking for, and how portable the gas stove needs to be. As you'd expect the more convenient to transport then the harder it will be to prepare large elaborate meals, and the bigger it is the better the food quality will be but the harder it will be to transport.
There is also a range of accessories and extra features that can be added to your cooker or come with certain models. These are things like legs that unfold, simmer option, and panels for wind protection.
Fuel
There are several fuel options for running your stove but gas is the most popular and most common so we will stick with gas in this review. Most gas stoves attach to the gas canister by being screwed on in some way so make sure your cooker is compatible with the gas canister that you buy. One thing you need to keep in mind with regards to gas canisters is their temperature. If they get too cold they run less efficiently. If you are in a cold environment you can keep them wrapped up by day and night to prevent them from getting too cold. Likewise, if a gas canister gets too hot it can increase the pressure inside the can.
Conclusion
As you can see there are a lot of great options out there to help you find the best gas cooker for your needs. To recap, make sure that you have made an honest assessment of your needs and requirements before choosing a gas cooker – what sort of food you want to cook and for how many people. Then once you have a clear idea of that then it becomes a matter of working through the great selection that is out there to find the right one.