Best Dry Herb Vaporizer: UK Guide & Review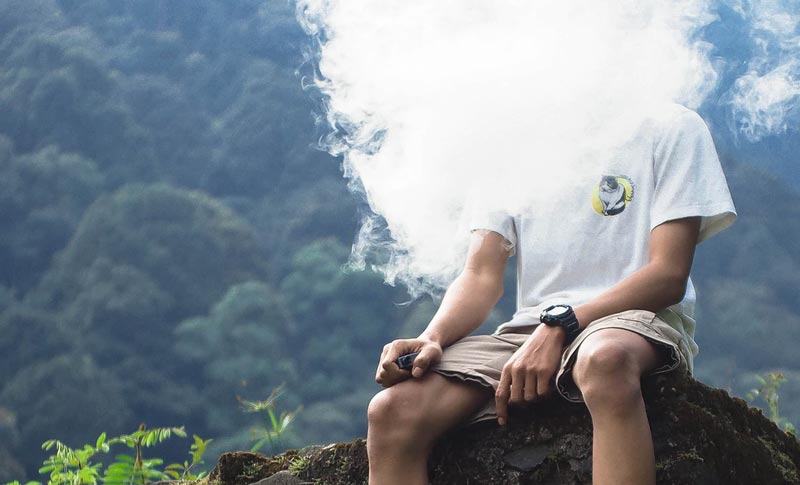 Many people are turning to vaping, with vape pens and vape mods, as a healthier alternative to smoking. Inhaling pure vapour, or steam, eliminates the risk of the harmful fine particles that form smoke irritating your throat and entering your lungs.
Vaping still provides a stimulating high with an intense, full flavour that easily surpasses that of smoking. It is also discreet, virtually odourless and won't affect anyone who might be nearby.
The herbs you can use in a herb vaporizer are literally cooked by one of two different heating mechanisms until they release their flavours as vaporised steam.
Conduction roasts the herbs as they sit in direct contact with the heating element and can begin to burn and produce smoke if the temperature is not regulated sufficiently. The best dry herb vaporizer usually has a slightly more expensive convection system to keep the herbs airborne as they bake on all sides to produce a stronger flavour.
Variable temperature control allows you more freedom to customise your inhalations.
Other factors to look out for include battery power and recharging times and whether the oven chamber is easy to clean.
When you first use a vaporizer, there may be a plastic taste to your herbs, but this is usually a result of the manufacturing process and should disappear completely if you run the unit a few times with or without any material in the chamber.
This mid-priced cylindrical vaporizer is small enough to carry in your pocket or bag for discreet vaping at any time. The stylish matte black unit is manufactured from lightweight aluminium and stainless steel with a food grade rating that won't taint the flavour of your herbs.
It features New Baking Technology that relies on a circulating air flow to provide 360 degree heat for evenly cooked material resulting in pure steam without burnt embers or smoke. Four convenient heat settings range from 205 to 225 Celsius although you'll need to experiment to find out your preferred amount of heat.
An inbuilt timer alerts you once your session has reached three minutes to prevent overuse. The 2,000mAh battery can last for up to fifteen sessions before it needs recharging through a USB port.
Pros
High-quality, sturdy construction
Remains comfortable to hold even when heated
Easy to use
Cons
Mouthpiece is small enough to lose
Small filters are awkward to fit
Our Rating: 4.6/5
The IOUQ vaporizer uses a conduction heating mechanism. A Smart temperature range that begins at just 93 degrees Celsius bakes herbs at a much gentler pace to prevent scorching. Its maximum heat output is 220 degrees Celsius. However, even on the lower settings, the exterior can often become uncomfortably hot to hold.
Heating up takes around five minutes although on a lower setting you might not reach an adequate supply of vapour before your session ends. When in use, the vaporizer automatically shuts down once the timer reaches around three minutes.
There's a 2,200 mAh rechargeable battery that uses a standard USB port. Easily affordable, it's a compact model with intuitive controls that could help any beginner to easily vape.
Pros
Choice of low heat setings
Automatic shut off to save battery power
Uncomplicated to use
Cons
Can become too hot to hold
The chamber is fairly small
Our Rating: 4.3/5
This slim, pen style vaporizer has a strong casing of anodised aluminium. It is lightweight and very comfortable to hold. One of its main features is a magnetic mouthpiece that's made from jewellery grade zircon. It's a less familiar material, but it doesn't appear to affect the taste of the herbs.
The temperature ranges from 100 to 240 degrees Celsius and it is digitally controlled for greater precision. The pre-set timer gives you a reminder that your session of approximately three minutes has come to an end.
Powered by a 2,600mAh rechargeable battery, the baking mechanism cooks herbs thoroughly without burning to produce a smooth, mellow vapour. The ceramic chamber is easy to access and clean.
Pros
The magnetic mouthpiece stays securely on the vaporizer
Digital temperature control
Really good baking technique
Cons
Needs frequent recharging
It taks a few sessions to feel at ease with the mouthpiece
Our Rating: 4.5/5
This compact, rectangular vaporizer measures 11cm by 5.6cm. The superior convection mechanism uses a constant hot air flow to evenly heat the herbs. It reliably produces vapour with a satisfying high, full of intense flavour.
The temperature range of 170 to 220 degrees Celsius has four settings. You can customise them further by using Soft Mode for mellow flavour or Enhanced Mode for an extra rich taste.
A powerful 2,300mAh battery heats the vaporizer to the correct temperature in just thirty seconds and each session lasts for up to five minutes. After a few test runs, an impressive average of ten sessions were achieved for every recharge.
Pros
Excellent air convection heating
Large ceramic chamber
Thirty second heat up time
Cons
High price category
Not so effective if you overfill it
Our Rating: 4.8/5
The stylish vaporizer boasts an advanced Rapid Heating mechanism that reaches its required setting in thirty seconds. It directs moving hot air through the ceramic chamber to provide a satisfying high of pure vapour.
The 2,200mAh battery powers a temperature range of 215 to 232 degrees Celsius and comes equipped with three heat settings. Unfortunately, it only lasts for four or five sessions before needing to be recharged.
The silicone mouthpiece might not be everyone's preferred option, but it's easy to clean and doesn't affect the vapour's flavour. Magnetics effectively keep the lid in place as well as ensuring the battery is held securely at the bottom of the vaporizer.
Pros
Rapid thirty second heating time
Vibrates when ready to use
Strong construction
Cons
Limited temperature range
Low number of sessions between charges
Our Rating: 4.5/5
This affordable vaporizer uses a convection airflow mechanism to effectively separate the herbs as they bake. There are four versatile temperature settings ranging from 190 to 220 degrees Celsius.
At 1,600mAh, the battery power is considerably lower than the majority of vaporizers, but it's purposely designed to operate at a low voltage. An indicator light informs you when your battery power is low. Recharging can last up to 2.5 hours.
This stylish, bevelled vaporizer is manufactured from anodised aluminium making it durable and lightweight. The vaporizer vibrates to indicate it's ready for use and each session last five minutes.
Pros
Washable mouthpiece
Thirty second heat up
Android micro USB port
Cons
Frequent recharging required
Only suitable for very small quantities of material
Our Rating: 4.5/5
This is one of the most expensive portable vaporizers you can buy. It uses Smart technology with Bluetooth connectivity for superior customisation through an Android app. It allows you to alter the temperature by one degree at a time for a unique vapour taste.
The vaporizer heats your herbs whenever you lift it to your mouth and immediately cools when you put it down. The amount of vapour produced appears to be fairly adequate.
It lasts for around eight to ten sessions between recharges and comes complete with two mouthpieces and a half pack magnetic chamber lid.
Pros
Versatile for dry herb and concentrate use
Sturdy construction
Ten year warranty
Cons
Best for dedicated, experienced users
Expensive
Our Rating: 4.2/5
This mid-priced vaporizer uses convection and an adjustable airflow to produce a smooth, rich vapour. The temperature ranges from 70 to 220 degrees Celsius and is digitally controlled for customisable accuracy. The mouthpiece is plastic.
The ceramic oven chamber has a larger capacity than many comparable vaporizers and has a fast heating up time. Each session has a sixty second limit with the option to press for more time, but get the sequence wrong and the vaporizer can lock.
The battery is removable to help save power, allowing you to use a spare instead of waiting for it to recharge. The vaporizer often becomes far too hot to hold comfortably.
Pros
Effective heating mechanism
Versatile temperature range
Large chamber
Cons
Low number of sessions before battery runs out
Uncomfortably hot to handle
Our Rating: 4.3/5
This low to medium priced vaporizer has a sleek, sturdy casing of anodised aluminium. The rotating ceramic mouthpiece fits snugly into the top of the vaporizer and is designed to help cool the vapour as you inhale.
The temperature range is 120 to 225 degrees Celsius and you can adjust it to find your ideal baking limit in stages of five degrees. The ceramic chamber includes a micro-chip sensor to automatically provide consistent heat. It reliably produces a large amount of vapour.
There is an optional vibration function that indicates when your herbs are cooked. There's also an OLED panel displaying the temperature and the amount of remaining power. The 2,200mAh battery can be conveniently recharged through a micro USB port.
Pros
Fast and efficient heating mechanism
Easy to use and clean
Impressive amount of vapour
Cons
Battery recharge can be lengthy
Filter awkward to fit
Our Rating: 4.7/5