The Best Electric Radiators in the UK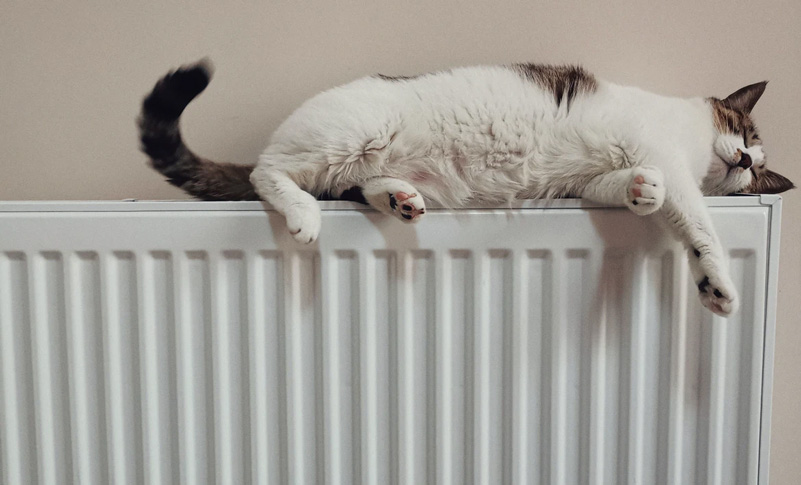 Buying the right electric radiator is more crucial than you think.
Consider what will happen if you don't. It won't be able to heat up a room, thus defeating the object of buying one. Furthermore, it will overwork the radiator, resulting in a higher electricity bill.
To help you out, we've outlined some of the best electric radiators you can buy, in our opinion. We'll also let you in on the things you need to consider when buying one, so you'll feel much more confident picking the right electric radiator for you.
Best Electric Radiators UK
Power Output: 2000W
Type: Convector
Dimensions: 47 x 8 x 78 cm
Fit: Freestanding and Mounted
Timer: 24 hour daily / weekly programming
The Warme Electric Heating Panel is a sleek and modern departure to the traditional radiator you're so used to seeing. Indeed, at first glance it looks more like a TV than a radiator!
The jet black appearance is a perfect fit for any home with modern décor. You can either mount it on the wall or use it as a freestanding appliance with the included feet.
Luckily, the Warme isn't just for show. This unit has a maximum power output of 2000W, making it suitable for heating a standard room of up to 22 square metres.
This heating panel has various modes such as Frost Free and Comfort, but the one we would suggest using the most is the Economy setting. You can set the desired target temperature, and the Warme will automatically turn itself on/off to maintain it, perfect for saving on electricity.
One distinct advantage is the progammable timer. You can set a weekly schedule for when you want the heating panel to turn on and off every day, plus your desired mode and temperature. You can conveniently schedule the unit to turn off when you're not around, and on when you come back home. Aside from the convenience, you can also save a lot on your electricity bill.
The Warme is fully controllable via WiFi using your smartphone. You can set everything there from the timer to the mode, wherever you are! We also loved how we had a 'mobile' thermostat so we can quickly check the room's thermostat without having to physically go into that room. Great for remotely monitoring the room temperature of a baby nursery.
Overall, we think that you will be delighted with the performance and visual appeal of the Warme Electric Heating Panel. Our tip is to ditch the control panel (which can be challenging to use) and just use the smartphone app instead.
Pros
Stylish and modern design
Fully programmable 24/7 timer
Convenient WiFi app
Cons
Control panel can be challenging to use
Rating: 4.7 / 5.0
Power Output: 2400W
Type: Convector
Dimensions: 83 x 40 x 10.7 cm
Timer: 24/7
Warranty: 2 years
Fit: Freestanding or Mounted
The Devola Eco is an electric convector heater that's reasonably priced, both in upfront and operational costs. It has the standard white look of most convector heaters, not unlike that of an air conditioning unit.
The Eco is economical thanks to its accurate built-in thermostat, which can detect temperature changes within 0.5C. Because of this, it is fantastic at maintaining the room's temperature, for example, you should find that a bedroom will never deviate more than 2C during a cold December night, keeping it nice and toasty.
Further adding to the Eco's efficiency is the timer, which can be programmed up to an hour, every day, for a week. Try running it at a lower power during the day and increasing the temperature a bit at night – you should find that this will save you quite a lot on your electric bill at the end of the month!
It also has an Auto Open Window Detection which turns itself of automatically when the air drops by 5C, which is what happens when you open a window. Honestly, it's a minor nuisance when someone accidentally opens a window, and the heater turns off!
Unlike most heaters, what we like about this one is that it can be used in the bathroom. It's rated at IP20, which makes it resistant to splashes and the damp conditions of a bathroom. You have the option of either using the feet and to have it free standing, or mounted on a wall.
Overall, we love the cost efficiency of the Devola Eco 2400W. At an average cost of less than a £100 and with economical features to boot, it will keep you warm and toasty without burning your wallet.
Pros
Fully programmable 24/7 timer
Splash proof
Accurate thermostat
Cons
Programming can be awkward
Rating: 4.8 / 5.0
Power Output: 3000W
Type: Electric Panel
Dimensions: 25 x 77 x 60.5 cm
Timer: 24 hours
Fit: Freestanding (with wheels)
The Dimplex Cadiz Eco gets our vote for being one of the best portable electric radiators out there. This compact unit packs quite a punch and has useful features as well. Fitted with wheels, it's a unit that's meant to be used all around your home.
It's an oil-free radiator so it's more energy efficient and lighter, great for a unit that you can easily haul around. It also heats up faster since there's no oil or fluid to warm up.
The Cadiz Eco has an output of 3000W, more than enough power to warm up even the coldest of rooms. Indeed, you could even find that your living room feels almost as if you are on a beach and comfortably wear shorts and t shirts while at home.
The great thing with this heater is that it can radiate heat on either side. You can control them independently. So say, if it's against the wall, then you can just turn one side on. If you need to quickly raise a room's temperature, turn both sides on for maximum exposure.
This radiator uses a simple thermostat setting. You just set the desired temperature on this unit, and it will turn itself on and off to maintain that. It can detect and adjust in 1C increments, making it reasonably accurate. Everything can be accessed with the included remote controller.
The timer is simplistic, though, and can only be programmed for 24 hours. That might seem a lot, but in the world of electric radiators that have 24/7 programming, it might seem limiting.
But this is just nitpicking. Because overall, the Dimplex Cadiz Eco is a fantastic portable electric radiator. It's powerful enough to heat up any room and can confidently replace your plumbed-in radiator.
Pros
Powerful 3000W heat output
Warms up faster
Light enough to haul around
Twin panels which can be controlled independently
Cons
The timer is limited to 24 hours
Rating: 4.9 / 5.0
Power Output: 2000W
Type: Electric Heating Panel
Dimensions: 92 x 43 x 8 cm
Timer: None
Fit: Freestanding or Mounted
Warranty: 1 year
The NETTA Slimline Electric Radiator is a cost-effective solution for you if you want an elegant radiator without many of the bells and whistles. Consequently, this is also among the cheapest you can buy given the heat output it can produce.
The NETTA is designed to be visually stunning because of its simplicity. The stark white panel is minimalistic, with no panels or adornments to get in the way other than the brand name. All the controls are conveniently placed in a side panel, away from view.
The controls themselves are analogue, using old school dials and switches. With the move of everything to digital these days, it's a breath of fresh air and is actually more comfortable to use and intuitive than a digital panel.
At 2,000W, the NETTA can quickly heat up a standard room or flat. You can pick between two heat settings – full power and eco mode, which only operates at half output. Everything is controlled via a thermostat dial, which is entirely accurate as far as we can tell.
The only drawback that prevents this from achieving high marks is the lack of a timer. It could've been a simple addition. But for the price, there's nothing to complain about. However, if you're keen on lowering your costs down as much as possible while having convenience, the lack of a timer may be a deal-breaker.
But on its own, the NETTA Slimline Electric Radiator is an excellent choice for the price. If you're after a straightforward heater that looks great in your house, at a budget, this is your unit.
Pros
Simple controls
Elegant visual design
Good heat output
Cons
Rating: 4.5 / 5.0
Power Output: 2000W
Type: Convector
Dimensions: 58.6 x 40.8 x 13.8 cm
Fit: Freestanding
Timer: none
The Donyer Power Convector Radiator is the cheapest electric heater we've encountered. You get a substantial 2000W power output at a fraction of the cost of most other units in the market.
Despite the cheap cost, this electric heater is actually a hardworking little unit. It can warm up small to medium-sized rooms of up to 30 square metres quite nicely, without overworking itself.
Room temperature is controlled via a thermostat that you can easily adjust with a convenient dial. All we can say is that it's reasonably accurate and should keep your room to within 2-3 degrees of your setting. It's easy and quite simple to use, possible a little too basic in fact. There are no other features like a timer, but you do get what you pay for.
This radiator is a freestanding unit. Even though it doesn't have any wheels (which is a shame, really), it is reasonably light enough to make moving it around your home a possibility. In fact, we find the Donyer Power to be suitable for those on a budget living in smaller flats or spaces.
Fortunately, there are still safety features installed in the unit to make it not risky to use. It has anti-toppling protection and overheating protection, where it shuts itself off if it falls over or if the temperature reaches a critical point.
So if you're looking for a cheap and easy way to add some heating power to your home, the Donyer Power Convector Radiator is a no-brainer option. Use it for a smaller flat or as a complement to your central radiator.
Pros
Very affordable
Excellent heating output for the price
Anti-toppling and anti-overheat features
Cons
Rating: 4.4 / 5.0
Power Output: 2500W
Type: Thermal Inertia (oil)
Dimensions: 50 x 24 x 62 cm
Timer: 24 hours
Fit: Freestanding
The PureMate 2500W is a fantastic thermal inertia radiator that uses oil as its fluid of choice. Because of this, it can retain heat much better even if the unit is turned off.
This radiator has a maximum power output of 2500W, which is surprising considering its compact size and relative cost. You can switch between three power settings (1000W, 1500W, and 2500W) so you can generate just the right amount of heat without wasting energy.
For an oil-filled radiator, the PureMate heats up quite fast. It can reach a surface temperature of 95C within a minute or two of booting up, and you can really feel the air drastically warm up to a comfortable level.
The wheels on the base of the PureMate make it easy to transport this radiator around the house. Finally, it has an analogue 24-hour timer that can be set in 15-minute intervals.
So if you're looking for a value-for-money electric radiator, the PureMate 2500W is a viable option. It's a great unit to have if you're on a tight budget, as you only need one unit for the entire house, rather than having to buy one for each room.
Pros
Easily moved around the house
Amazing price point
Heats up fast
The timer is in 15-minute intervals
Cons
Rating: 4.7 / 5.0
Power Output: 2000W
Type: Convector
Dimensions: 140 x 37 x 8.4 cm
Fit: Mounted
The Adax Neo Electrical Panel is a radiator that's as smart as it looks. It features a Norwegian design, known for their minimalistic and elegant forms. The electric panel is white all throughout with just an LCD panel on its upper right corner. It's unassuming and blends well with any decor.
The Adax Neo is an intelligent and economical heater thanks to its Adaptive Starter technology. It goes beyond merely measuring room temperature, and actually considers the impact the heater has on the room. It will then calculate the optimal time it needs to be on to achieve the desired temperature, using the lowest amount of energy possible.
Apart from this, it has all the features you'll ever need from a premium electric radiator. The 24/7 timer allows you to program the unit to turn on and off at your desired times. It also has a child lock to prevent tampering by young children, an anti-asthma mode to help reduce allergens in the air, and open window detection. It's also rated IP20 and is LOT 20 compliant.
Overall, this is an electric radiator that's both exceptional in both appearance and function. The Adax Neo can help reduce your electric bill, heat up your room, and even improve the look of your home.
Pros
Exceptional design
Intelligent heating
Chock full of useful features
Easy to install
Cons
High cost per watt output
Rating: 4.8 / 5.0
What to Look For in an Electric Radiator
Power Output
Electric radiators are primarily measured by their watt (W) output, which tells you how much heat they can produce. Consequently, it also tells you the size of the room that it can accommodate.
To figure out the correct wattage for the radiator, you need to take your room's measurement into account. As a rule of thumb, you need around 100 watts per square metre of floor area. That figure assumes a house with standard ceiling height and regular insulation. If you have space with a higher ceiling, it's better to factor in the room's cubic metre measurement. In this case, you're looking at 65 watts per cubic metre.
You should also take into account the wattage of your existing radiator if you have one. Simply subtract its wattage from your room's required wattage. That's the power output you'd need to buy.
When in doubt, it's better to buy an overpowered radiator than an underpowered one. Why? Because if your watt rating isn't enough, you'll end up overworking the radiator and increasing your electricity bill. An electric radiator with excessive wattage can simply turn itself off when the target room temperature is reached.
Type of Radiator
There are many different types of radiators, each differing in how they produce and distribute heat.
The first type is a convector heater, which relies on the natural movement of air to raise the room's temperature. Cold air enters the radiator and gets heated up, which causes it to rise up as it is replaced by cold air in a continuous process. This is known as convection. Some units are equipped with a fan to speed this process up.
Convector heaters have the advantage of heating up a room very quickly but do so in an uneven way. They also cause the air to dry out and help spread dust around the room. It's best suited for smaller rooms or hallways. They're also best used together with a humidifier to counteract the drop in humidity.
The second type is an electric heating panel, which uses heated aluminium panels. This radiates heat out towards the surrounding air, in a process called radiation. The pros of an electric heating panel are that it can heat a room evenly, producing a very comfortable warmth. Areas near the radiator, however, become disproportionately hotter, so careful placement is vital.
The last type of radiator is called a thermal inertia radiator, which relies on a heating element to store and radiate heat. They are the most cost-effective option and are fantastic at retaining heat without using too much energy. Their main drawback is that they can take a while to heat up.
Heating Element Used
Thermal inertia radiators can be classified based on the heating element they use. Each has its own pros and cons, and situations where they're preferable.
Dry stone radiators use ceramic stone as the primary heating element. Such materials are capable of producing intense heat quickly and can spread the heat around an area much faster. They're also great at retaining heat, helping keep room temperature very comfortable. Thus, dry stone radiators are best used for larger rooms with high ceilings or open areas. However, the main drawback is that they tend to be very bulky.
Thermal fluid radiators make use of a liquid or gel with thermodynamic properties. In other words, these are substances that can naturally retain heat. Because of this, these types of radiators can heat up a room without having to overwork, making them incredibly energy efficient. They also have the advantage of distributing heat much more evenly over a wide area. Thermal fluid radiators are the choice for cost-efficient heating of large rooms.
Dry thermal radiators are the best choice for most regular sized rooms and offices. They're usually made of metals like aluminium. The most significant advantage of dry thermal elements like this is that they can quickly heat up and cool down. Thus, temperatures can be adjusted rapidly and accurately. Dry thermal radiators also tend to be smaller and more compact, making them even more attractive for home and office use.
Freestanding vs Mounted
Electric radiators can either be permanently mounted on your wall, or freestanding units that can be wheeled around the house. What you choose has nothing to do with the heating output, but more with if you have space in your house.
Mounted electric radiators are usually slim and compact units that are no thicker than a picture frame. They are designed to be permanently attached to the wall. You can either plug them in a standard socket or have them hard-wired by a qualified electrician.
Mounted radiators are perfect if you have a crowded space, or free space is valuable. Since they're attached to the wall, they won't take up room. However, you need to make sure that the wall can support the weight of the radiator, especially if you have plasterboard walls.
Freestanding models, on the other hand, are just like any appliance that can be placed around the room. Most types are fitted with wheels, so you can conveniently move them around from room to room around your house.
This type of radiator on wheels is great if you want to heat up different parts of your room. For example, you might want to bring it to the living room during the day and on to your bedroom at night. They're cheaper than having to buy a separate heater for each area of your house.
If you prefer a freestanding model, make sure the wheels are sturdy enough. You should also consider carrying handles so you can transport the radiator in between floors.
Exterior Materials
The vast majority of electric radiators will have some plastic components in addition to metal materials, particularly the end panels. Plastic parts do bring the cost down and look good when new, but they do degrade and turn yellow over time.
If you want to maintain the look and quality of your radiator, go for ones with full metal bodies as much as possible. It's also better for the metals to be powder-coated than painted to make them last longer.
Temperature Control
The best electric radiators are fitted with a thermostat that allows the unit to control how much heat it should be producing. The thermostat should be able to accurately measure the room's temperature, so it can, in turn, adjust the ambient room temperature much more precisely.
Ideally, thermostats should be able to detect temperature changes in 0.1 increments. If not, then a significant drop in temperature will make your radiators work harder than usual to maintain room temp.
Timers
Timers are a convenient and cost-effective feature that any decent electric radiator should have. It allows you to set a specific time at which the radiator will turn itself on or off. For instance, you might want to switch the radiator when you're away from work during the day, then switch it back on before you come back home.
Timers can be as simple or sophisticated as you need. Most timers are simple dials that turn the heater on or off during the specific time. Others offer more advanced programming modes where you can schedule complex routines for the radiator. Some can even automatically detect your preferences and do the scheduling for you.
Whichever timer you choose, you should consider the range of interval. Range tells you how many hours in advance you can schedule the radiator; aim for 24 hours. Interval tells you the increment at which you can set your timer to. Hourly increments are the standard, but half-hour increments are even better.
Safety Limiters
Limiters are a safety feature that automatically turns the radiator off if the temperature of its surface gets too hot. It's a precaution to prevent your radiator from overheating and causing injuries to small children.
Enclosed Radiators
When buying an electric radiator, make sure it uses enclosed elements. This limits their exposure to the air, avoiding black marks on your wall. Some "open" electric radiators are cheaper but have a more significant risk of blackening. If you plan to buy one, make sure you're only using it temporarily.
Design
The design of your electric radiator plays a significant role, especially for wall mounted types. Since they're going to be permanent fixtures, it would be great to have them fit in with the rest of the décor.
Slimmer electric radiators are the best choice here, as they sport contemporary designs for more modern homes. Their thinner designs are also less intrusive and more elegant. Some even have "designer" patterns on their façade like glass.
Of course, you can also opt for the "traditional" radiator if you like that look. It's great for older homes where you want to maintain the house's visual appeal. Alternatively, it's also the right choice if you're replacing an already-existing radiator in your home.
Warranty
Like any electric appliance, warranties are an essential consideration when buying. They are a rule of thumb for judging the overall quality and durability of the unit. Radiators with more extended warranties give you better peace of mind, knowing that if they do breakdown, you'll be covered.
Most electric radiators have separate warranties for the unit itself and the electronic components. The former will usually have more extended warranties in the range of 10 – 30 years. The latter have naturally shorter lifespans, so they have expectedly shorter warranties. On average, expect around 2 years for electronic parts.