Best Head Torch in the UK: A Guide & Review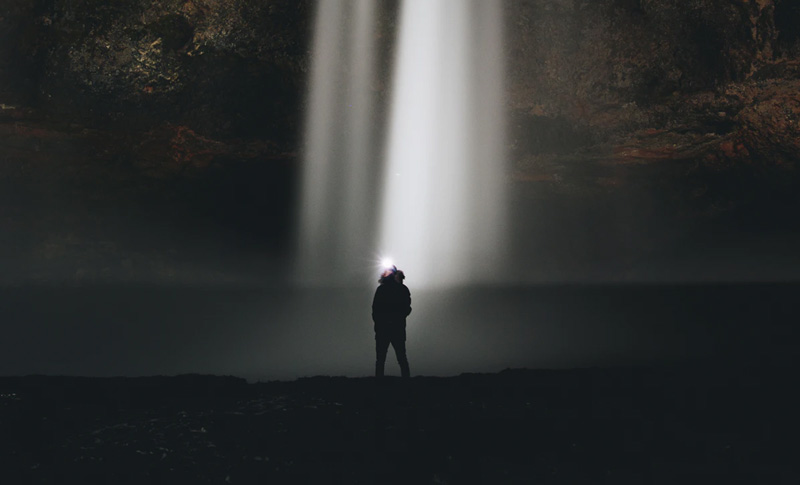 For an outdoor enthusiast, a reliable head torch is essential.
Having a bright source of light guiding you spells the difference between reaching your destination safely or getting lost in the process. Nothing's worse than your head torch dying out on you in the middle of the night out in the wilderness.
Whether you're out exploring or simply hiking out at night, we'll run you through some of the best head torch options money can buy. We'll also guide you through the key features you need to consider when buying one.
Best Head Torch 2021
Brightness: 6 – 200 lumens
Weight: 35g
Battery Type: rechargeable lithium-ion 680 mAh
IP Rating: IPX4
Battery Life: 2 – 50 hours
The Petzl Bindi is an excellent lightweight head torch for general use. It is very well suited for running, because of its almost negligible 35g weight.
Despite its lightness, the Bindi is capable of high brightness output, able to achieve 200 lumens if required. However, for optimal use of its battery life, it's best to stick with the lower lumens settings. A quick button press will allow you to toggle between brightness settings.
The Bindi is therefore much more suitable for urban runners, or on trails without many obstacles. It's also fantastic as a backup option to your main head torch, in case it runs out of juice in the middle of the wilderness. It's certainly light enough to carry in your backpack; you won't even notice it's there.
The band of the Bindi is elastic, so fitting is easy and secure. It also has a reflective band, as an additional precaution when you're running on the streets. As it's a thin band, it won't soak up as much sweat, which is another useful advantage for runners.
It has limited protection from water splashes as per its IPX4 rating.
Overall, we love the Petzl Bindi for being one of the more versatile head torches around. It's perfect for a wide variety of users, from runners to hikers for use as a backup option.
Pros
Exceptionally bright for its size
Light and easy to fit
Reasonable price
Splash resistant
Cons
The micro USB port is non-traditional, so it is easy to plug it in the wrong way
Rating: 4.8 / 5.0
Brightness: 2,000 lm
Battery Type: 18650 Rechargeable Battery
IP Rating: IP44
Battery Life: 4-6 hours
The OMERIL is a powerful Cree LED head torch, able to put out a whopping 2,000 lumens of brightness. It's suitable for almost every kind of application you can think of, from jogging in the neighbourhood to hiking in thick forests.
The fit is very comfortable. The straps contour nicely to the head and the back artery balances the entire torch nicely. It is easily adjustable enough to get into a nice fit. The weight is more on the heavy side, in our opinion, but fortunately isn't to the point that it would cause neck strain.
This head torch is exceptionally bright, and the quoted 2,000 lm really does it justice. There are 3 light modes to choose from, although the maximum is really too bright for anything but a dark cave.
The lamp has a number of adjustments, chief of which is the zoom function. You can alter the beam to make it narrower or wider depending on your needs. You can also tilt the base of the lamp by up to 90 degrees.
The overall build of the lamp base is exceptionally durable, as it's made of hardy, solid aluminium, and it is rated at IP44, making it resistant to both water splashes and dust.
Charging is a simple task too, as you can do it via USB connection to anything from a power bank to a laptop.
Overall, the OMERIL is an ultra-bright head torch at a super surprisingly low price point. If you're on a budget but need all the brightness you can get, go with this head torch. Useful for a wide variety of situations.
Pros
Very affordable price
Ultra-bright 2,000 lumen Cree LED
Durable and splash-proof with IP44 rating
Cons
Rating: 4.6 / 5.0
Brightness: 6000 lm
Weight: 280g
Battery Type: lithium-polymer batteries
IP Rating: IPX5
Battery Life: 7 – 8 hours
Beam Distance: 400 metres
The Victoper Wesho is a rugged head torch that has exceptional lighting power.
It is fitted with a three-LED system – one main LED and two auxiliary LEDs on either side. This is controlled by 4 different lighting modes, each using a part of all of the LEDs. In addition, it has a strobe mode which flashes the LEDs for signalling purposes. The whole torch can be tilted 90 degrees, perfect for aiming the light lower onto the ground.
What we can tell you is that this head torch is super bright, especially when all three LEDs are cranked up to maximum output. The light beam is much brighter and longer than most head torches available. The battery life isn't too bad, either, with around 8 hours on average on a full charge (which takes 4 – 4.5 again, not too bad).
The Victoper Wesho head torch is rated IPX4, making it capable of resisting rain and other inclement weather. Great when hiking or mountaineering, regardless of the weather conditions.
The overall fit of this head torch is comfortable, although, with three LEDs, it can get heavy and bulky. It's easy to adjust, though, which is a good plus.
Overall, we think that you will be very pleased with the Victoper Wesho. It has all the brightness you'll ever need even in extreme conditions, plus it can withstand the worst of storms with its IPX4 rating.
Pros
Super bright 6000 lm LED torch
Three LEDs with 4 different modes
Relatively long battery life
Cons
Can be heavy and bulky for some people
Rating: 4.7 / 5.0
Brightness: 1700 lumens
Weight: 458g
Battery Type: 18650 lithium batteries
IP Rating: IPX4
Battery Life: 7 hours on the brightest setting
The RUNACC LED Head Torch makes use of 7 individual LED lights to provide the brightest and widest illumination out of any head torches currently available.
The lighting modes allow you to switch between 3, 4, and all 7 lights on to vary the amount of brightness you can achieve with this head torch. It can be rotated by up to 120 degrees, giving you exceptional flexibility on the light's direction. Beam distance can reach up to 200 metres, great for dark trails.
The illumination of the RUNACC LED is exceptionally bright, and can be compared to the floodlights of a football stadium. The sidelights are smaller and dimmer but do provide some support lights. In addition, the headgear features a red safety light at the back, so cars and other people can see you from a distance and avoid you.
The entire torch has a solid build and is heavy when you first handle it. But surprisingly, it's not uncomfortable at all when you wear it. The straps contact your head smoothly, and it should feel snug.
Because of its wide coverage area, the RUNACC LED Head Torch is fantastic for nightly activities like running or biking. It can even help with critical tasks like search and rescue. All in all, it's a bright head torch built for safety.
Pros
Wide coverage area with 7 LED lights
RED LED light at the rear for safety
Decent battery life
Cons
Rating: 4.6 / 5.0
Brightness: 300 lumens
Weight: 66g
Battery Type:
IP Rating:
Battery Life: 5 hours
Beam Distance: 60 metres
The Petzl Zipka is a unique head torch that seems to be pared right down to basics. This brand is known for lightweight head torches, and it's the same with the Zipka.
Indeed, this is the most minimal head torch you can wear. It's nothing but a torch lamp secured with elastic bands. Fit it to your head, and you'll feel like you're wearing nothing. It's really minimal.
Aside from your head, you can fit the Zipka's elastic band over almost anything. You can place it on your wrist as your main flashlight, or even hang it on a pole or log if you need a steady source of light. It's exceptionally flexible and versatile.
However, the thin headband has its limitations. Because it doesn't have thick straps, it will not attach as well to certain surfaces such as a helmet. Excessive movement can also cause the Zipka to slowly move around until completely dislodges itself from your head.
The Zipka's brightness is decent, but its beam distance isn't very far, therefore it is only really suitable for close proximity tasks. You can use it for running trails but is mostly suitable only for those with fewer obstacles.
But for the flexibility and lightness, the Petzl Zipka is a good addition to your head torch arsenal. Best used as a general-purpose head torch, or as a backup in the field.
Pros
Flexible – can be placed anywhere
Lightweight and compact
Decent brightness level
Cons
Rating: 4.4 / 5.0
Brightness: 2300 lumens
Weight: 174g
Battery Type: 18650 3000 mAh battery
IP Rating: IPX8
Battery Life: up to 45 days on the lowest setting (1 lm), 110 minutes on the highest setting
Beam Distance: 153 metres
The Olight H2R Nova is not just a great head torch, it is also a versatile light tool.
It essentially functions like a flashlight that's mounted onto headgear. This set up gives you lots of flexibility in using the H2R Nova – wear it whilst out running, then take it out and hold it in your hand for more precise lighting. You can also hang it onto the included pocket clip.
The H2R Nova uses a powerful Cree LED for a powerful dose of illumination. The light is balanced and soft with nice transitions in between, making it suitable for close-range lighting tasks. The Nova also turns on/off gradually, helping to protect the eyes from sudden changes in brightness.
The Nova runs on a single rechargeable battery, which is amazing given the power. The device uses a unique magnetic charging system.
As for durability, the H2R Nova is rated at IPX8, which goes beyond splash protection and can actually survive being submerged in water. The torch is also built like a tank and can survive falls of up to 1.5 metres in height.
So even if the H2R Nova is not the brightest head torch around, it still scores high marks in versatility and durability. That makes it a fantastic tool to have when camping or hiking.
Pros
Detachable handheld torch
IPX8 waterproof rating
Bright Cree LED lighting
Cons
Good only for close lighting situations
Rating: 4.7 / 5.0
Brightness: 2500 lumens
Weight: 299g
Battery Type: 18650 rechargeable battery
IP Rating: IP55
Battery Life: 8 hours
The LeTour Head Lamp is made for illuminating a much wider area with its larger rectangular LED panel. It can produce up to 2500 lumens from a larger surface area. The result is a wider beam that can go up to 120 degrees. The flood pattern of this headlamp is so wide, it can easily illuminate our whole backyard.
This is a torch head that's great for clearly lighting your immediate surroundings, so you can easily track your trail. The drawback is that it has a limited distance it can beam to. But for the right situations, this headlamp is invaluable.
Aside from full lighting mode, you can also use the headlamp in low lighting mode to save on battery life. For emergency situations, you can switch to red and blue strobe to act as a distress call or warning signal.
The LeTour Head Lamp is versatile enough to be used in a wide variety of situations, but it's particularly useful when fishing. The wider illumination effectively broadens your viewing angle, allowing you to easily spot catches.
So if you need a head torch that can light up your immediate surroundings effectively, pick the LeTour Head Lamp.
Pros
The wide and ultra-bright illuminated area
IP55 rated waterproof level
Warning light at the back
Cons
Rating: 4.8 / 5.0
What to Look For In A Head Torch
Brightness
Choosing the right brightness is key to buying the perfect head torch, and should be your number one consideration. This is dictated by the activity that you intend to take part in with the head torch. You'll need different brightness levels when you're mountaineering compared to when you're just camping.
When you're looking at their specs, you'll often see brightness listed in lumens (lm), which is a universal way of describing brightness.
Head torches vary in brightness from 10 lm to 500 lm. The higher the lumens, the further the distance it can illuminate and the better you can see in the dark.
Talking in lumens, however, isn't very intuitive because we're not used to it. So people end up buying an underpowered or overpowered head torch.
To give you an idea, it's useful to compare lumen values to certain activities.
100 – 150 Lumens is the bare minimum, in our opinion and is used for a wide variety of close up tasks such as cooking or reading a book. This brightness is suitable when you're walking around camp and not so much when you're out exploring at night.
If you want to do some trail running at night, you can switch over to 150 lumens. However, that will only be suitable for paths that are open and not too remote.
Overall, 150 lumens is good for an all-purpose head torch. You can use it in a wide variety of standard situations like running at night or doing repairs in a dark basement.
300 lumens is your target brightness level if you're out navigating through a trail. This is your all-around head torch for the vast majority of exploration in fair to good conditions. It illuminates the path enough so you can see the trail features to help you navigate.
For bikers and runners, 300 lumens is also sufficient brightness for cars to see you far enough away for them to avoid you in advance.
400 – 500 lumens is for hiking in extreme conditions such as deep snow. Winter limits your visibility, so you need to see as much of your surroundings as possible to help you keep to your trail. For mountaineering, you need all the brightness you can get. Go for 500 lumens in this case.
Type of Head Torch
Head torches can be broadly classified based on the lighting technology they use, whether its LED or halogen bulbs.
Single Bulb uses a single Krypton or halogen bulb as the primary light source. They are the traditional, older technology that has surprisingly excellent light beam distance.
Their main drawback is that they produce a lot of heat. In addition, the life of both the battery and the bulb isn't very long. Hence, they're suited for short uses, such as during power outages at home.
Single LED uses LED technology to power up the head torch. They are much brighter and longer-lasting than bulbs. Some are fitted with efficiency features like a lens to help magnify the beam, increasing the perceived brightness with minimal increase in battery usage.
Multi LED uses multiple LED light sources, offering you plenty of options from increasing the light output to emitting different coloured lights for certain situations. Red, for example, is used as a distress signal, while green is optimal for reading maps in the dark.
Both single and multi-LED head torches are good for general purposes, from camping to hiking. Just pick the right lumens to match your needs.
Cree LED offers some of the brightest head torches anywhere, having a lumens value up to six times brighter than regular LEDs. They're perfect for use in the most demanding of situations.
Beam Adjustments
Lumens is just one part of the equation when it comes to brightness. The shape and intensity of the light beam itself are another. A head torch can have a more perceived brightness, for example, if the beam is narrower instead of wider.
Some head torches will allow you to adjust the beam depending on the situation. Being able to switch from a narrower beam to a wider beam is great for handling various situations.
Most head torches will list the beam length or the maximum distance that a focused beam can travel. It can be as short as a few metres to as far away as a hundred metres in front of you.
As a rule of thumb, a beam distance of 50 metres is a good minimum to aim for most purposes. If you're running a trail at night, you might want to increase it to 150 metres or more.
Tilt
It's great to have a head torch with an LED or bulb that you can tilt independently. This prevents you from having to crane your neck to shine a light on something of interest.
Battery Life
Battery life is another important factor when buying a head torch. This will usually dictate how long you can use it for and, therefore, how long your expedition is going to be.
Brightness and battery life are like two opposing ends of a seesaw. The brighter it is, the shorter the battery life and vice versa. That's why you really can't go all gung ho and pick the brightest head torch you can. Balancing them is an important decision for you to make.
Battery life is hard to quantify for head torches since their longevity greatly depends on how brightly it is used, and for how long. In general, battery life will be just around 2 – 3 hours at the highest lumen setting, while it can last for up to 90+ hours on the lowest (< 100) lumen.
Rechargeable vs Replaceable Batteries
When possible, it is always best to buy a head torch that uses a rechargeable battery. You'll save tons of money in the long run, especially if you use your head torch regularly. In addition, you'll reduce your carbon footprint and help save the environment.
Lithium-ion batteries are the best option, giving maximum battery life.
The only reason you might want to pick replaceable batteries is if you don't have access to a reliable source of electricity to charge. Going on a remote expedition for extended periods is a good example. In this case, it might be more convenient to use replaceable batteries.
The third type of battery is a wind-up battery. With these manually powered head torches, you wind up a crank to charge the battery. While they can only last for around 30 minutes, you can use them indefinitely, making them great as a backup.
Weight
One factor most people don't think about is the weight of the head torch. A lot of buyers only focus on brightness and very long battery life, not realizing that it all makes the head torch much heavier. And since you're wearing it on your head, it can cause unnecessary strain on your neck.
Mobility is crucial, so you need to test this first when buying a head torch. Look for a good weight distribution with the headgear. If this is an issue, some units can separate the battery unit, which you can then place in your pocket, therefore reducing the weight somewhat.
Light Output
This describes how bright a head torch is throughout its battery life. In a way, it's a feature meant to maximize your battery life.
By default, they would have an unregulated light output, meaning there's no feature in place to actively manage it. The result is that the brightness will tend to fade as the battery level goes down, especially when used at the highest setting.
Head torches with regulated light output use technology and techniques to make the brightness of the light as consistent as possible throughout use. Try to purchase a headtorch with this feature if possible.
A newer addition is reactive lighting technology. With this, the head torch can automatically adjust its light output depending on the brightness of its surroundings. It is similar to how your smartphone adjusts its screen brightness differently during daytime and night time. This is the best option for fully maximizing battery life as the head torch only uses the brightness required.
Weatherproof
As the headtorch is primarily used outdoors, weatherproofing is a vital feature. If you're particular about this feature, you should look into the Ingress Protection (IP) rating of the unit.
The IP rating is expressed in the format "IP[X][Y]". The first number X indicates how dustproof the unit is (from a scale of 0 – 6), while the second number indicates how waterproof it is (from 0 – 8). Head torches at the highest waterproof level (8) can be safely submerged up to 1 metre in depth.
For example, a rating of IP64 indicates total dust protection with resistance to water splashes.
If you see 'X' in the rating, it means the unit has not been rated for dust protection, however, with a sufficiently higher waterproof rating, it will be safe to assume that it's dustproof as well. So for a rating of IPX6, it means total protection from both dust and liquids.
Operation
There's no shortage to how you can turn on or off your head torches, from automatic sensors to switches. What you go for will depend on your preference and situation.
Personally, we always go for the traditional button. It's designed to always work well. More complex technologies do have the risk of breaking down easier.
Whichever you choose, make sure you can operate your head torch whatever the circumstances. Ensure that you can turn it on even with your gloves on, or whatever it is you're wearing in the field.