What's the Best Induction Hob? A UK Buyer's Guide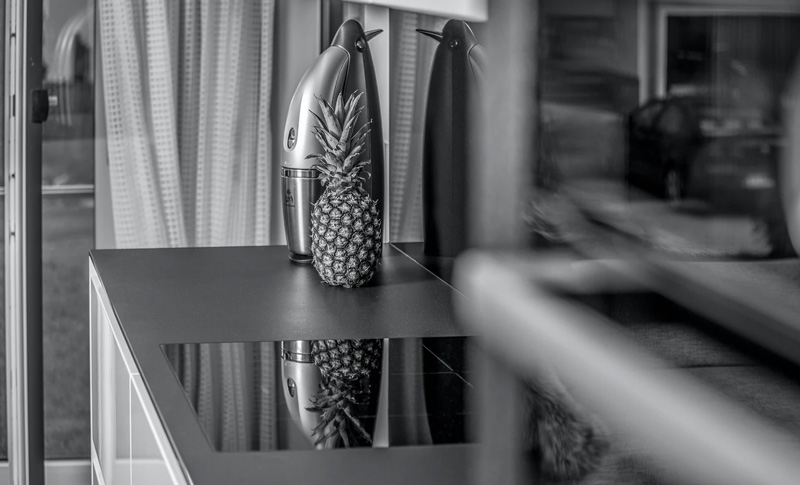 Induction hobs, along with a quality cooker hood, are one of the best and most convenient appliances in today's modern kitchen.
This wonder appliance uses the power of electromagnetic fields to produce heat, instead of the much riskier gas. Sleek, safe, and fast, they make cooking at home that much easier.
However, not everyone is familiar with an induction hob, let alone how to buy one.
That's why in this post, we will be offering you some recommendations on which induction hobs to buy, as well as some key features you should consider.
Best Induction Hobs in the UK
Type: Portable
Zones: 2 independent zones for pans 12 – 26 cm
Power Output: 2800W total (1800W left zone, 1000W right zone)
Temperature Range: 60C to 240C with 10 power levels (20C per level)
Timer: 4 hours
The Aobosi Induction Hob is an excellent portable option for those who want the functionality of induction but wish to retain their existing gas oven.
The hob itself is visually pleasing, with a beautiful black coating and glossy sheen. The surface is also made to be quick to clean, a definite plus for this model.
It provides a good range of temperatures up to 240C. The range of control is also excellent, and the 20C incremental levels are sufficient for most casual chefs. In terms of performance, it's as good as induction hobs go, matching the power of a permanent induction hob.
The Aobosi has two zones, which is excellent for a portable option, and it doesn't take up too much space. They can even be controlled independently, each having their own control panel and LED screen. This also means you can turn both of them on without worrying about reducing the overall power each gives.
The LED panel is large enough to be easily read at a distance. The touch controls are also responsive and don't need excessive force to push and the 4 hour timer is an excellent addition.
A minor drawback is that the unit doesn't completely turn off when you press the switch. It still displays 'Lo' on the LED panel, which only disappears if you unplug the unit. The built-in cooling fan also produces a fair bit of noise while in use.
But nevertheless, the Aobosi is a fantastic pick for your first induction hob. It is excellent for smaller apartment spaces, or as an outdoor kitchen for your back garden.
Pros
Standard safety features
Two independent cooking zones
Easy to clean and maintain
Good power output and temperature range
Cons
Doesn't turn completely off (needs to be unplugged)
Rating: 4.6 / 5.0
Type: Portable
Zones: 1 zone for pans 12 – 25 cm
Power Output: 450W to 2100W with 9 levels
Timer: 2 hours
Presets: 6 (heat milk, stew, stir fry, deep fry, boil, manual)
Tefal's Everyday Induction Hob is a great budget option for those who want to try out induction cooking for the first time. It is flexible enough to be used in almost any situation, from extending your cooking space to taking out on a camping trip. The Tefal hob is a great portable option because it uses the standard 13-amp socket.
As the name suggests, the Everyday Induction Hob is made to be versatile enough for your daily needs. The 6 presets themselves are enough for most cooking situations. You can use it for everything from boiling water to stir-frying. The heated milk preset is especially useful as it will not overheat milk in any way.
The way the Tefal regulates temperature, however, is by turning the elements on and off. It can't achieve gradual heating, unlike most units. Hence, you'll notice that a pot of water will constantly go between boiling and stopping. The lowest heat setting is also not as low as you might like it to go.
For more precise cooking, this might not be suitable, however it excels at bringing anything to a high temperature exceptionally fast. For an affordable induction hob, it's surprisingly powerful.
Equally great about the Tefal is the ceramic surface, which is resistant to scratches. It's also easy to clean, making maintenance of this hob easy as pie.
If you're after an affordable induction cooker for everyday cooking, the Tefal Everyday is undoubtedly a fantastic option.
Pros
Affordable price
Exceptional heating power for the price
The surface is scratch-proof and easy to clean
Cons
Provides less control and precision
Rating: 4.3 / 5.0
Type: Built-in
Zones: 4 zones, with cookware sizes from 15 – 26 cm
Power Output: 3000W with 9 levels
Presets: none
Amps: 13
The Gionen 3000W is one of the most convenient built-in induction hobs you can buy. This is because it uses a standard 13-amp plug that can be plugged in to any conventional socket. There's no need to hire a technician or electrician to hard wire it in. All you need is a clear space in your kitchen, and you're good to go.
This hob provides you with an excellent 3000W power, spread across 4 zones, however if you find this limiting, you can upgrade the unit to beyond 3000W. You would need an electrician to upgrade the hob to 32 amps, making hardwiring necessary, but it's an excellent option to have, nonetheless.
The Gionen has minimal touch controls with a simple LED panel that displays the power levels. While information is sparse, it does make this induction hob striking and elegant, with nothing to get in the way of the gorgeous black sheen.
The controls themselves are sensitive to touch, making it easy to adjust temperatures with a swipe. It's here that you can also access the standard features like keep warm, boost, and pause.
The hob has 4 zones which accommodate standard-sized pots and pans. An exciting feature of the Gionnen, however, is the bridge zone. With it, you can combine two zones together so you can fit larger or longer pans into the two zones.
Overall, if you want a robust induction hob without the added expense of an electrician, you can't go wrong with the Gionnen 3000W induction hob.
Pros
Bridge zone mode for fitting larger pans
Plugs directly into a standard 13-amp socket
4 zones
Cons
Underpowered with 4 zones, unless upgraded to 32 amps
Rating: 4.6 / 5.0
Type: Built-in
Zones: 4 zones
Power Output: 2000W for zone 1, 1200W for zone 2, 2000W for zone 3, and 1200W for zone 4, each having 9 levels
Timer: 99 minutes
The NOXTON Induction Hob is one of the more affordable built-in induction cooker tops for your home. While it's not as convenient as those that use a 13-amp plug (it needs to be hardwired), the lower cost of this unit can easily offset the added expense of getting an electrician.
Performance-wise, this is a fantastic induction cooker top. There are 4 zones that can be controlled independently, so you can expect the power output and heat to behave as expected, even if you're using all 4 zones. There are two zones that are larger than the other two, great for bigger pots. The controls themselves are minimal, and it is effortless to use.
The NOXTON comes with stellar features like a residual heat indicator, telling you if the hob is still hot and therefore unsafe to touch. You can set the timer to a maximum of 99 minutes, which doesn't seem enough, especially if you're into low and slow cooking.
Despite this, if you're looking for a budget induction hob to try out, the NOXTON is a particularly useful model to try. It has the features you'll need, including the essential safety features. Best of all, it comes at a relatively affordable price point.
Pros
Good heat/power output
Independent zones for consistent cooking
Affordable price
Cons
The timer can only be set to 99 minutes (1.5 hours) max
Rating: 4.7 / 5.0
Type: Portable
Zones: 2 zones for cookware 10 – 26 cm
Power Output: 1800W with 9 intervals for left hob, 1000W with 5 intervals for right hob
Temperature Output: 60C – 240C with 10 power levels
Timer: 3 hours
AMZCHEF Double Induction Hob is a slim model that can double up as both a portable and a semi-permanent fixture of your kitchen.
It is divided into two zones, each with varying amounts of power. The left zone can achieve a higher temperature with up to 1800W and is perfect as your main hob for high heat cooking. The right zone can reach 1000W and is suitable for preparing sauces or soups.
Aside from power mode, this induction hob can also be used in temperature mode. The latter is much more intuitive as it allows you to set the precise temperature of your cook, up to 240C in increments of 20C. This flexibility is excellent for you to pick your preferred mode, but we often use temperature mode because it's easier to understand.
The controls are very responsive and a joy to use. They're very intuitive as well with clear, easy-to-understand labels. A large LCD display lets you see either the power output or temperature at a glance.
The surface of the AMZCHEF is more durable than most, using a sturdy crystal glass plate. While you still shouldn't smash a pan over it, you'll be glad that it's more than capable of handling a heavy pot of stew. Another plus is that it's easy to clean.
The AMZCHEF also cools down efficiently, thanks to dual fans and an exhaust system that distributes the heat throughout quite nicely.
Ultimately, you'll find the AMZCHEF induction hob to be a great all-around electric hob. It can fulfil the role of both a portable option or the central hob in your kitchen—all for a relatively reasonable price.
Pros
Zones are very flexible when it comes to the pot size
The glass surface is much durable than most induction hobs
Offers both power and temperature mode
Cons
More expensive as a portable option
Rating: 4.7 / 5.0
Type: Built-in
Zones: 4 zones, with 1 bridge zone
Power Output: up to 2600W maximum, 3600W with bridge zone
Dimension: 59 cm x 60 cm x 6 cm
The Cookology CIB605 is a powerful and versatile built-in induction hob that can be had for a very reasonable price.
It is composed of 4 zones, with the 2 zones also having a bridge zone. The larger combined space allows you to accommodate larger or square pans such as a griddle. It can also reach a whopping 3600W, allowing you to heat and sear larger quantities of food much faster. The upper left zone is the most powerful, achieving 2600W and is excellent for high-temperature methods like frying.
Indeed, the CIB605 gives you a lot of space and zones to whip up even a large meal. The temperature output tends to be high, however, but that's a small drawback of this unit – the lowest temperature is still high. So if you're after a bare simmer, it might be challenging to achieve that with this unit.
The good thing is that the CIB605 is packed with a host of safety and functional features. Child Lock is useful if you have a toddler running around the house, and Residual Heat Indicator is helpful, so you don't burn yourself touching a still-hot zone. Automatic switch-off also helps you conserve energy by having the unit shut down automatically if used for extended periods.
All in all, the Cookology CIB605 is an excellent built-in induction hob. It has all the zones you'll ever need, plus a bridge zone if you're cooking large batches. Add in safety features and a reasonable price point, and you have a winner.
Pros
Four zones and a bridge zone are great for giving you flexibility
Good power output for fast cooking
Lots of safety features
Reasonable price for a 4-zone induction hob
Cons
Hard to achieve low temperatures
Rating: 4.8 / 5.0
Type: Built-in
Zones: 5 zones, with 1 bridge zone
Power Output: 8400W combined from all 5 zones
The Russell Hobbs RH90EH7001 is a full-sized, 90 cm induction hob that has 5 fully independent zones.
Each zone is of varying size and power output, achieving maximum power of around 1200W – 2200W on average. Two of them are dual zones, composed of an inner ring. This is great when working with pots of different sizes, as the hob will automatically use a lower heat setting on smaller pots, thus saving you energy.
Visually, the Russell Hobbs is very striking with gorgeous Schott glass amidst a very minimalistic interface. The entire thing is very elegant. The control is touch-based, and so far very sensitive to use. The only complaint is that the panel is too small, and so are the touch icons, which makes it a bit difficult to adjust settings on the fly, especially for those with larger fingers.
The Russell Hobbs comes standard with safety features like child lock and residual heat indicator. It has a useful timer, as well.
While not exactly cheap, this Russell Hobbs induction hob is nevertheless for the home cook who wants a lot of options in his or her hand.
Pros
5 zones
The gorgeous visual style is perfect for any kitchen
Safety features
Cons
The maximum power output of each zone is slightly lower than other induction hobs
Rating: 4.9 / 5.0
Advantages of an Induction Hob
It's energy-efficient
Cooking with an induction hob is much more energy-efficient than a gas hob. The latter heats up the surrounding air in addition to the pan. This wastes a lot of energy, not to mention it heats up your kitchen unnecessarily.
Induction hobs only heat the pan itself and nothing more, making it incredibly efficient. And you'll end up saving on your electricity bill in the long run.
It's safe enough for kids to use
Safety is one of the most paramount advantages of an induction hob. You're not dealing with fire, which can often cause injuries. Plus, there's no danger of leaving the oven open, leading to a dangerous gas build-up in your house.
Induction hobs don't pose any dangers apart from the hot surfaces of the pan. They also have plenty of safety features that further make them less risky to use. That's why induction hobs are my appliance of choice when teaching my kids how to cook.
It's fast
Because they are energy-efficient, induction hobs are incredibly fast at heating your pots. On average, expect your food to heat up in half the time with the hob working at full power. A water kettle, for example, can take as little as 3 minutes to boil on an induction hob, compared to a full 8 minutes it usually takes on a gas hob.
You have much more control.
Control is the name of the game with induction hobs, allowing you to increase and decrease the temperature in precise increments.
Not only can you fine-tune your cooking, but you can be consistent as well. Unlike a hob that becomes hotter and hotter the longer you leave it, an induction hob maintains your pot's temperature.
So you can, for instance, figure out that 1000W for 1 hour is perfect for your beef stew. You can now do it every time and achieve the same results.
Induction hobs can create a sort of a learning curve, though, as cooking times you're used to using suddenly don't work anymore. It might lead to overcooked or burnt food if you're not careful!
Disadvantages of an Induction Hob
It's much fragile than a regular hob.
An induction hob is made of a glass surface that breaks much more easily than the cast iron or steel parts of a regular hob.
Anything heavy placed on them can crack the hob, which is an all too common occurrence in cooking. Extremely high temperatures (such as when air is trapped between a hot lid and a warm cooking surface) can also cause the glass to crack.
You'll probably need new pans.
Unless you have used an induction hob before, you'll probably need to get new pans. Induction only works with pots or pans that have a magnetic base, such as cast iron or stainless steel. Chances are high that you'll have some cookware that meets this requirement, but probably not all.
So if you want to maximize your cooking with an induction hob, you might need to buy new cookware.
It can interfere with a pacemaker.
The induction hob generates an electromagnetic field to produce heat. This same field, however, might interfere with a pacemaker, seriously risking the health of that person.
The British Heart Foundation suggests a distance of 2 feet away for people with pacemakers. Not exactly convenient for the chef. If you have a senior living with you that has a pacemaker, you need to be extra careful.
They have higher upfront costs.
Induction hobs tend to be much more expensive than a regular gas hob, so this needs to be considered as well. The upside, of course, is that it will help lower your electricity bills in the long run.
It can't do specific cooking techniques.
The lack of flames mean that some cooking methods are impossible on an induction hob. Stir frying is one of them. You also can't toss and mix food around in a wok, as the wok needs to remain in constant contact with the hob at all times.
Things to Look For When Buying an Induction Hob
Temperature and Wattage
This is the number one factor when buying an induction hob, as it directly affects how much heat it can produce. This is usually rated in the wattage of the induction hob (in kilowatt or kW), which of course is a measure of power output.
However, you'll be surprised to know that the maximum wattage has little to do with how hot the induction hob can go. A 2000W induction hob can achieve the same max temperature as a 1500W hob.
Lower power cookers, of course, have the advantage of being more energy-efficient. However, be careful as using a high watt induction for shorter periods consumes roughly the same electricity as operating a low watt cooker for a longer time.
Therefore, choosing the range and intervals in between wattage/temperature is much more important than picking one based on the maximum wattage attainable. Smaller intervals allow for better control while you're cooking. Aim for a range of 60C to 220C, with around 10 power levels in between. In addition, a good induction hob should have temperature presets based on standard cooking methods like boiling or frying. This allows you to cook food perfectly with one touch without having to manually adjust.
Portable vs Built-in
Induction hobs can either be installed permanently in your kitchen or available as portable hobs you can take anywhere.
The latter options are especially convenient if you want to cook anywhere in the house, such as during back garden BBQs. It's also a cost-effective solution if you don't have the budget or prefer to keep your existing gas cooker.
Permanent induction hobs, however, are much larger and can support more pots at the same time. If you want to fully embrace induction cooking, this is the better option to get. Note that you might need the services of a qualified electrician.
Number of Zones
Zones are simply the areas where you cook with the induction pan. It's analogous to the burners in a traditional hob.
Induction hobs come with varying number of zones, but the average is around four zones – two large ones (more than 21 cm) for bigger pots, and two small ones for saucepans. This should be more than enough for the average kitchen at home.
If you need more, there are five or six zone models available, which often include a 'keep warm' area.
There are also bridge zones, which are two zones that can be used together. Doing so will effectively increase the pan size that you can place there, as well as increasing the power output. This feature is excellent for cooking in large batches, or if you want to use a rectangular pan like a griddle.
Then there are the newer types of hobs with one large zone. They give you the flexibility to place any number of pots and pans anywhere as long as they fit. However, these hobs are not as conventional and are still quite expensive.
One additional point to note is that pairs of zones often share power output in an induction hob. This is often the two right zones and two left zones. So turning both of them on at the same time will only produce half the heat output in each.
Size of your Pots
If you're not aware yet, not every pan will work in an induction hob. They need to have a base made with a magnetic metal, such as cast iron. Fortunately, it's easy to test this. Just grab a magnet and place it at the bottom of your pot. If it sticks, you're good to go.
Just as important as the type is the size of the pot. If it's too big or too small, then the induction hob can't detect it and won't turn on. Most models will list the maximum and minimum size it can support. You need to check how big your existing pots are and compare them.
Safety Sensors
Even though there are no dangers of fires or gas build-up with induction stoves, you still need some safety features. It's for avoiding damage to your cookware or the hob itself.
Most induction hobs have a safety sensor that detects the temperature underneath your pan or pot. If it gets too hot, it's often a sign of leaving it empty for long periods, which can eventually damage it. Hence, most induction stoves will automatically turn the power off.
Sensors will also detect if the induction hob is overheating, or if the induction pan is removed. It will then turn itself off in both cases, both as a safety feature and for helping you save electricity.
Safety Shutdown Feature
Induction hobs will have a maximum time that they can remain on for. Once this time is up and if you haven't changed the temperature setting yet, it will turn itself off automatically regardless if you have finished cooking or not. This is a safety feature and not a flaw.
How long an induction hob will stay on depends on the model and the chosen wattage. The lower it is, the longer the stove will stay on. This is usually around 8 – 10 hours on average.
If you plan to use your induction hob for low, slow cooking (like with stews, for example), it's worthwhile buying a model with a more extended safety shutdown feature.
Auto Heat Regulation
Some induction hobs have presets to help manage the heat output depending on what you're cooking. This is useful, for example, if you want to reheat food quickly. Here, the induction hob will often start with the highest setting, then gradually lower as the food begins to warm up.
Induction hobs with this feature often have a preset temperature that it will gradually return to. If you're cooking a stew, for example, you can use it to bring it to a full boil quickly, then set a temperature you would like it for a long simmer.
Timers
A timer feature is an incredibly convenient and welcome addition to an induction hob. It basically allows you to set a time for when the unit will either lower the temperature or turn itself off.
This is perfect for slow cooking dishes like stew without you having to watch over it like a hawk. Simply set the timer according to the recipe, then go about with your day as you check on it once in a while.
Child Lock
A child lock feature disables every other button, and function in your induction hob, save for the on/off switch and is designed to prevent children from messing around with the controls while you're cooking something.
While you shouldn't leave your children and the pot unattended, a child lock feature is still a useful safety net to have.
Overflow Control
Some induction hobs can detect if excessive food or liquid is spilt on its surface – often an indication of an overflow. It will then turn itself off to prevent further dangerous spillages from occurring.
This is useful for cooking things that have a tendency to overflow, like thick soups and stews.