Best Multivitamin for Men 2021 – Reviews & Buyer's Guide
More men in the UK are turning to multivitamins as a source of increasing their general wellbeing, their health, their ability to sleep and more.
Since the country was hit by the pandemic, people have understandably placed a growing importance on looking after their health – whilst also struggling to look after it effectively due to being unable to exercise as freely or order healthy meals cooked in restaurants.
As a result, multivitamins have been one of the most in-demand items online ever since.
Take a look at how much demand increased for the search term "multivitamins" in Google in the UK recently: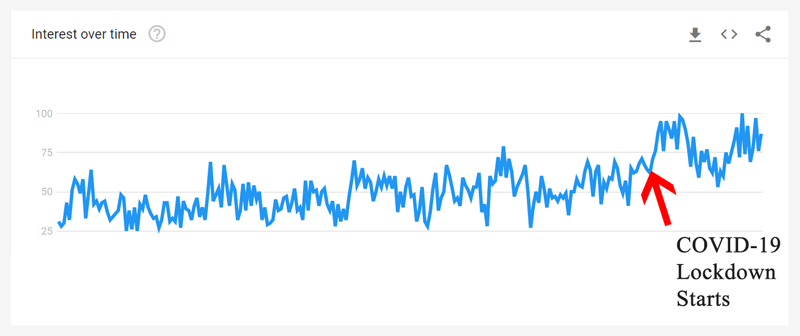 Whether you are young and fit or more mature, it is important to do anything you can to look after your general health.
The problem with health and fitness is that there are so many competing schools of thought regarding what we should eat, how much we should sleep, what kind of exercise to do, and so on.
However one thing is clear: the need for a range of vitamins and minerals to help support your body's natural function.
Taking multivitamins can be a quick and easy way to get your daily allowance of all the nutrients you need, and it can be done easily as part of a morning or evening routine.
When it comes to the best multivitamin for men, there is a wide range of options and we took it upon ourselves to review and compare them. Here we break down our favourite options when people ask us for a recommendation on the best vitamins for men in the UK.
We use affiliate links to keep our website free forever.
Best Men's Multivitamins UK Reviews
When it came to selecting our favourite multivitamins for men in the UK, the most important factor we looked at was whether they provided a balance range of nutrition to men aged 18+. We also took additional benefits, organic ingredients and our own opinion on value-for-money at the time of writing into consideration.
Specifically designed with men in mind, Naturelo Whole Food Multivitamin has a range of vitamins to help make it one of the best multivitamin for men UK.
These supplements contain one of the largest ranges of vitamins available in UK supplements, all specifically sourced from whole foods rather than cheaper alternatives. After all, what's the point in having a healthy and natural diet if your tablets are synthetic? Naturelo uses only organic ingredients to help make their product one of the best supplements for men who are concerned about what they are putting into their bodies.
Optimum Nutrition supplements have the benefit of being specifically formulated with gender in mind.
As a phytocomplex (combining both fruit and vegetables), Opti-Men contains not only key nutrients for optimum health, but also contains essential amino acids, botanical extracts and enzymes to help with digestion. This mix of natural ingredients is designed to help those with active lifestyles, with over 39 components which each help your body to stay at its best. In this way it is ideal to take with each of your three meals each day, to help support a regular workout routine, no matter how intense.
These tablets should pose no problem to any diet and sports regimen, with an emphasis on quality ingredients.
Quickly becoming a household name, Centrum Advance Multivitamins, whilst not exclusively for men, contain everything a man could need.
Containing over 20 essential nutrients used daily by your body, these tablets help to support natural energy release throughout your day.
Additionally, Centrum tablets can be a great way to help boost your immune system, helping you to stay healthy even during flu season.
A potential downside to these tablets includes the fact that they do contain 'E' numbers, though it is unlikely that you will find a multivitamin that does not.
Whilst perhaps not as organic or well-sourced as other vitamins, Centrum will do the job and help keep your body up to date with its nutritional needs.
One of the major difficulties which men face in the modern age is a strain on their time. It is not always easy to eat as healthily as you might want to, and that is where Innopure MultiVitamins shine. Containing key nutrients recognised by the European Commission, these tablets are specially formulated to support men in every aspect of their health.
As a simple, holistic tablet, Innopure helps to support steady energy release, reproductive organs, eyes, heart health and more, allowing you to get about your day without having to worry about getting the right balance of macro and micronutrients.
Although these tablets do not contain quite as many vitamins as other products available, there is no denying that if you are looking for a quick way to get your daily dose each day, Innopure is one of the best vitamins for men on the market.
A more traditional approach to multivitamins, Solgar Male Multiple Tablets are gender specific.
Having first started in 1947, this has allowed Solgar over 70 years in which to perfect their blend of phytonutrient tablets. Containing a range of ingredients to help with increasing energy levels throughout the day, these tablets have evolved well to help fuel the busy lifestyles most men lead.
With 98% of customers recommending Solgar, the areas of the body supported by the supplements include mental agility, cardiovascular health, healthy joints, skin and bones, and many more.
Another aspect to note regarding these tablets is that they contain no yeast, wheat or dairy, and are suitable for both vegetarians and vegans.
Vitabiotics is a very well-known supplement brand in the UK, and for good reason. With David Gandy as their poster boy, their brand has become recognisable across the country due to their large range of vitamins for different situations.
One of the more recognised sub-products include their Wellman and Wellwoman vitamins, which like many are designed with specificity in mind.
One of the things which makes Wellman a little different from the rest, however, are some of the ingredients it includes. Rather than just stuff the tablet with the A-Z vitamins, Vitabiotics has also added Co-Q10, L-Carnitine, and Siberian ginseng to its formula. Based on a large array of clinical research, this formulation aids the immune system, helps give you energy for sport and exercise, and can help maintain good men's reproductive health.
As one of the number one supplements in the country, Wellman provides consistent nutritional benefits for all your daily needs.
Another Centrum product, Centrum Performance not only specifically focuses on maintaining consistent energy release, but has also been formulated for sports and exercise. These tablets help to do this through specifically allowing slow energy release from the food you eat, helping you to get the most out of a balanced diet. On top of this, Centrum Performance is designed with high activity in mind, allowing you to use this not only to maintain day-to-day health but also as a sports supplement.
Another, often overlooked, aspect of sport is the mental endurance required for a long and tiring workout. Centrum Performance also has you covered here. With ingredients such as ginkgo biloba, iron, and zinc, your mental and physical endurance will be boosted to ensure that both your body and mind are ready to push yourself to the next fitness goal.
It may sometimes be concerning to not get enough of the vast array of vitamins, nutrients and natural compounds that you need. Fortunately, that is where Inessa Advanced Multivitamin has you covered. Packing an enormous amount of different vitamins into one daily tablet, these supplements are designed to be incredibly absorbable, to ensure you get as much benefit as possible from the vitamins you take.
Additionally Inessa is another tablet that favours using natural ingredients. A majority of the vitamins and compounds within the supplement are in the natural forms as found in the food we eat. Not only do the tablets contain a lot of nutrients which any man needs, they have specifically made the dosage to match with our recommended daily allowances.
Although vegan and free from a number of artificial additives, they do still contain some chemicals which you may want to look out for, but overall this is a prime example of what UK manufactured vitamins can do.
Although perhaps a lesser known brand name, Sanatogen A-Z may be last on our list but is by no means least.
For those of us who want to keep things simple, Sanatogen may be one of the best tablets available. Although it does not contain as wide a variety of minerals and vitamins as other supplements on this list, it contains the key A-Z vitamins to help support your health over a long period of time.
With no artificial flavours or preservatives, Sanatogen is a quick and easy way to make sure you are consuming the vitamins you need.
Buyer's Guide
To find the best supplements for men there are a few tips and tricks to always keep in mind:
Consider which vitamins you need
The most common vitamins in which men are deficient include vitamin D and iron. Maybe you have been told by your GP that you are lacking in a certain mineral, and this may be having negative effects on your day-to-day life. If so, listen to your body and consider which you need to ensure they are included in whichever supplement you take.
How much is in each tablet?
Almost all vitamins will tell you what percentage of your recommended daily intake they contain. This will allow you to plan your diet around the tablet, to ensure that you are taking in a wide variety of nutrients and minerals from different sources.
What do you want to improve?
Every man has different goals for their health. Maybe you are trying to lose weight, or maybe you want to put on muscle. Perhaps you want to feel less tired or are simply trying to look after your immune system. Doing some research into which vitamins you need to achieve your goal will pay huge dividends in the long run.
Are the tablets natural?
One downside to supplements is that, at their core, they are artificial. They are certainly no substitute for obtaining the minerals your body needs naturally from food and drink. However with as many as 10% of the UK population being deficient in at least one vitamin (according to a study done by the University of Cambridge), it may be a case of quantity over quality.
If getting your levels of nutrients back into acceptable ranges is your main goal, then obtaining the vitamins you need via supplements may be a preferable alternative to sometimes very debilitating symptoms.
Conclusion
One thing this list makes clear is that there are a large number of different vitamins on the market, with a range of different unique properties. Any number of issues may be a key selling point for you. Whether price, quality, or simply keeping things simple is your priority, there are plenty of vitamins which should suit your needs.
Read Next: The Best Probiotics in the UK