Best Oil-Filled Radiators – A UK Buyer's Guide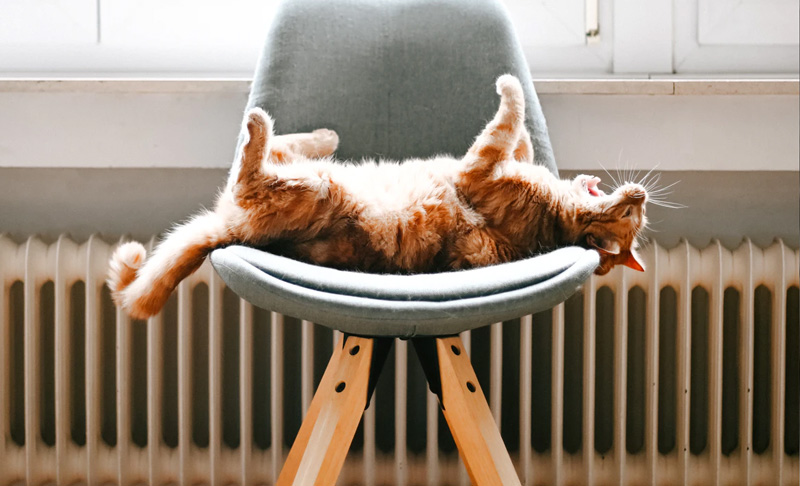 If you need extra heating in your home, oil-filled radiators can be just what you need. These handy devices are known for providing warmth to a room safely and efficiently. Plus they're pretty compact and portable, too, making them ideal for moving around in cramped spaces.
Today, we'll take a look at some of the best oil filled radiators you can buy in the UK. We'll also discuss how to buy a radiator that's a perfect fit for your living space, so you end up using your money wisely.
Best Oil Filled Radiators UK
Power Output: 2500W
Dimensions: 50 x 24 x 62 cm
Adjustable Heat: 3 settings (1000 / 1500 / 2500)
Timer: 24 hours
The PureMate 2500W is a fantastic oil-filled radiator that combines heating power and compactness at an affordable price point. The dimensions mean it's best suited for small to mid-size rooms or office spaces.
One of the better features of the PureMate is the adjustable power output, which can go up to a maximum of 2500W. But don't worry, you can easily maintain the proper temperature of the room with the built-in thermostat.
When measured using a thermal scanner, this radiator can reach temperatures of 95C, definitely hot enough to warm a room. The start-up time is impressive, too, with it radiating heat within a minute or two of booting up.
The amazing thing, though, is that the fins themselves are warm enough to touch. This tells you how effective it is at heating up the surrounding air.
The PureMate also has a 24-hour timer, divided into 96 time slots of 15-minute intervals, so that you can pre-set the radiator to turn on and off at certain times; for example, you might want to run it at night then shut it off during the day when you're out of the house.
Overall, the PureMate is perfect for continuously heating a room for extended periods without costing you an arm and a leg. We recommend this as a supplementary heater during unusually cold winters.
Pros
Has a built-in thermostat
24-hour timer
Heats up fast even when turned on cold
Cons
Rating: 4.6 / 5.0
Power Output: 600W
Dimensions: 40 x 25 x 14 cm
Adjustable Heat: Variable thermostat
Timer: None
If you're looking for a budget oil filled radiator, the Donyer Power 600W is a good one to try. It might be small, but it still packs quite a punch. It is powerful enough to heat up a smaller room, or as a supplementary heater to a larger or medium-sized one.
The unit heats up super quick, which is attributed to its smaller structure. The thermostat is easy and straightforward enough to adjust. Unfortunately, there is no temperature or wattage indicator in the thermostat dial. Everything is arbitrary, with just 'high' and 'low' max settings. Not very intuitive, so you'll have to do a little trial and error on this one, but works like a charm once it is set.
This Donyer unit is exceptionally quiet, and can be used in a little one's nursery, as it is a smaller room, so the power output and size is just right. There's also an automatic tip-over shut-off feature, so there's some safety in mind there.
Other than that, though, there's not much going on for the Donyer. Sadly, it doesn't have a timer built-in, which is unfortunate since it's such a vital feature of oil-filled radiators, in our opinion.
But, there really is not much to complain about, either. The Donyer Power is so cheap that it can fit any budget. We recommend using this in an office setting, as a supplementary heater for bigger rooms, or as your heater of choice when the days aren't too cold.
Pros
Variable thermostat
Small size for flexible placement
Heats up fast
Cons
Rating: 4.3 / 5.0
Power Output: 2300W
Dimensions: 64 x 28 x 52 cm
Adjustable Heat: 3 settings (1000W / 1300W / 2300W)
Timer: 24 hours
The Ansio Oil Filled Radiator is one of our favourite premium heaters because it's jam-packed with so many features. It brings value despite the higher price tag.
First, the Ansio's power output is at 2,300W, and it's powerful enough to heat most medium to large rooms in the middle of winter. It takes around 15 minutes for this unit to heat up a medium-sized bedroom, and that is just using the 2nd setting. This can definitely be your go-to heating solution at home.
Secondly, it's also easy to use. The Ansio is available with three power settings, giving you a bit of leeway on how hot you want your room to be. A digital thermostat clearly displays the ambient temperature, which is useful information. It also has a memory function, so you can save and bring up past settings, so you don't need to manually adjust it again. Definitely convenient.
The good thing is that it has a built-in feature to avoid overheating, so there is no risk if you choose a higher setting. It also has the usual safety features such as accidental tip-over protection and child lock. The latter is great if you have children freely wandering in your home.
Then there's the timer, which allows you to turn the unit on and off for up to 24 hours. And did we mention that this comes with a remote controller?
The icing on the cake is the long three-year warranty. It's definitely longer than most and is one of the factors that could influence your purchase. Great longevity overall.
So, if you want to splurge a bit on a quality oil-filled radiator, the Ansio is highly recommended. It is a powerful and feature-packed unit which will fit any environment, be it in your home or office.
Pros
Powerful power output for larger rooms
Digital thermostat and heat control features
Safety features like child lock and tip-over shutoff
Remote controller
Cons
Rating: 4.7 / 5.0
Power Output: 500W
Dimensions: 17.3 x 38.5 x 34 cm
Adjustable Heat: 6-setting variable thermostat
Timer: None
De'Longhi is renowned for producing some gorgeous looking appliances, and it's the same with their oil-filled radiators. This particular model isn't only stylish, but it's functional as well. It features predominantly rounded edges with no sharp corners for safety. The design also has a larger surface area to promote better heat distribution.
This De'Longhi is built for portability and for use with small to medium-sized rooms, with its 500W power output. It does pack a punch and can easily warm up a 14 square metre living room even in the middle of December. That's impressive coming from such a small package.
We also liked the fact that it's very portable and can fit virtually any environment, even in a motorhome, as it keeps the interior up to 12 degrees warmer inside compared to the outside temperature.
The radiator provides up to six settings for heat control, which automatically maintain the room temperature via a thermostat. It uses De'Longhi's Real Energy technology, so it delivers maximum heat without wasting any electricity. That's what makes this unit so energy efficient.
The De'Longhi oil-filled radiator is pretty straightforward, so don't expect any bells and whistles with it. It doesn't have a built-in timer, so you'll have to manually turn it on and off. Despite this, though, it does come at a higher price tag.
But if you want a portable oil-filled radiator that's effective at heating up a room, this De'Longhi unit is a good buy.
Pros
Can heat up a medium-sized room despite its smaller size
Variable heating with six settings
Aesthetically-pleasing design
Cons
Rating: 4.4 / 5.0
Power Output: 1500W
Dimensions: 34.8 x 22.9 x 62 cm
Adjustable Heat: Variable thermostat
Timer: 12 hours
The Honeywell HZ-789 is our top pick for the most silent oil-filled radiator in the market. Not only that, but we also think it has the best-looking control panel of the bunch. It tells you a lot of useful information such as the ambient temperature, timer settings, and even the energy usage of the radiator.
Many brands boast about how silent their oil-filled radiators are, but the Honeywell HZ-789 means it. You really can't tell if it's in the room or not, apart from the heat it's emitting. If you want to heat up a room that's meant to be quiet like a nursery or a study, there's nothing better.
It also fits into the 1,500W power output of the HZ-789. It's great for smaller to medium-sized rooms. The unit also has a thermostat with energy efficiency in mind, turning the unit on and off smartly at key times to conserve electricity. Heat output wise, it's satisfactory for most environments.
Setting the timer is also easy at a single press of a button, and you can clearly see the settings via an indicator in the panel.
Safety is also a good area of the HZ-789. It features every precaution used in the industry – tip-over protection, an anti-overheat failsafe, and a 3-prong grounded plug with heavy-duty wire.
The one drawback most users report is the base and plastic wheels, which are not so durable. In the end, however, the Honeywell HZ-789 is still a good, solid performer, especially if you're looking for a silent option.
Pros
Virtually silent operation
Visually pleasing and informative control panel
Lots of safety features
Cons
The timer only comes in at 2-hour increments
Plastic wheels are not as durable
Rating: 4.2 / 5.0
Power Output: 3000W
Dimensions: 25 x 62 x 61.5 cm
Adjustable Heat: 3 settings (1000W / 2000W / 3000W)
Timer: None
If you're looking for something a little bit more powerful in terms of heat output, this AMOS 13-fin oil-filled radiator is one of the best you can buy.
It has a maximum power output of 3,000W, which gives it more than enough oomph to heat up large rooms, or medium-sized rooms in the coldest parts of winter. Indeed, this is our heater of choice for the living room, the largest area of the house. Even if it is freezing outside, this unit can manage to make everything nice and cosy inside.
And thanks to all that power, the AMOS radiator heats up quickly, too. The power consumption can be checked using a smart meter which will show it to be very energy efficient. So it won't put a significant dent on your bill.
The AMOS is portable and easy to carry despite its power. You can easily cart it around your house with the buttery smooth castor wheels on its base, or carry it in between floors using the carry handle. It's not light, but it's manageable.
The one con that keeps this from being the perfect radiator is the lack of a timer. Nevertheless, the thermostat does work really well, so you'll have no trouble keeping this on throughout the night.
Overall, the AMOS oil-filled radiator is a compact unit that packs a lot of heat. It's a great option if you like to really warm your house up.
Pros
Affordable cost especially with the high wattage
Anti-overheat safety feature
Portable and easy to carry around
Cons
Rating: 4.6 / 5.0
Power Output: 2000W
Dimensions: 40 x 25 x 14 cm
Adjustable Heat: 3 settings (800W / 1200W / 2000W)
Timer: None; has an alternative Day/Night Program
The Mill Oil-Filled Radiator can lay claim to being one of the most stylish heaters to date.
This radiator has a pleasing glossy white finish and black panels, which is more reminiscent of an Apple product than a heater. The design of the Mill is also compact, making it a very portable unit. The oil-filled fins that you would normally associate with radiators are hidden inside. But if you think it limits the heat output of the Mill, you'd be wrong.
The radiator uses what the manufacturer dubs as Mill Heat Boost technology. The enclosed design forces the hot air to flow faster through the fins, quickly heating the air up to 29% faster and making this unit incredibly efficient. The base of the Mill raises the unit from the surface, promoting healthy airflow around the radiator.
The Mill also features a gorgeous LED panel that perfectly complements its aesthetics. It features minimalistic buttons that give you control over the radiator's operation.
While the Mill doesn't have a timer, it does have an alternative: Advanced Day and Night mode. This feature allows you to tell the unit when to power down (ideally at night). This helps you save electricity by up to 25%.
In the end, The Mill oil-filled radiator is more than just style. It's a functional heater with a performance that's up to par with others in the market. Unfortunately, it is quite expensive.
Pros
Stylish design and LED panel
More efficient at heating a room with Mill Heat Boost technology
Day/Night Mode for energy efficiency
Cons
The timer isn't as straightforward to use
Rating: 4.4 / 5.0
Power Output: 2500W
Dimensions: 48 x 24 x 62.8 cm
Adjustable Heat: 3 Settings (1000W / 1500W / 2500W) with adjustable thermostat
Timer: 24 hours
The VonHaus gets our vote for the best oil-filled radiator on this list. What makes it stand out is the fine level of control it gives you, plus the excellent price point you can buy it at.
This radiator gives you two ways to control your heat: via the power output dial, and the thermostat. While it's not as straightforward as setting a temperature, it does allow you to fine-tune your room temperature and power usage to a degree.
For example, you can set the thermostat to help reach your desired room temperature, then increase or lower the wattage to help make it more power-efficient. Overall heat output is fantastic, great for medium to large spaces of up to 28 square metres.
The timer can also be tightly controlled, giving you complete freedom of when the radiator will turn on or off during the day. Once set, you simply leave it be, and it will trigger every day.
You also have the usual safety features like a tip-over switch and overheat protection in the unlikely event the radiator heats up to dangerous levels.
A disadvantage of this unit is the noisy operation. Nevertheless, if you're looking for a powerful oil-filled radiator that you can control, this VonHaus unit is the perfect fit. You get it for a reasonable price, too!
Pros
The fine level of control with both power and thermostat dials
24-hour timer
Excellent heat output
Safety features
Good price
Cons
Rating: 4.7 / 5.0
Why Do You Need an Oil Filled Radiator?
Oil-filled radiators are one of the more cost efficient heating solutions you can have for your home. To find out why it's useful to take a quick look at how they work.
Contrary to what most people think, oil-filled radiators don't actually burn oil to generate heat. Instead, the heat comes from an electric heating element submerged in the oil. The oil, in turn, retains and diffuses this heat to the walls of the radiator, and out into the air.
These devices use a special kind of oil, called a diathermic oil which has a very high boiling point and heat capacity. This makes it a fantastic medium for heat transfer.
Almost all the electricity used by the radiator gets turned into heat. Even after you turn them off, the oil from the radiator will continue to radiate stored heat. Hence, these machines are very efficient in terms of electrical consumption.
Oil-filled radiators feature a fin structure, which creates more surface area for the air to pass through. This optimized structure gradually releases heat and creates a very comfortable and warm environment.
Oil-filled radiators are also silent operators as they don't have any noisy moving parts like air-based heaters do. They're the heater of choice in bedrooms and nurseries because of this.
However, you should know that being energy efficient doesn't mean that oil-filled radiators don't consume a lot of electricity. In fact, these machines are very energy-hungry, that's why they're best when used in smaller rooms. It's by no means a replacement for your home's heating system; rather, it should be used as a supplement to it.
What to Look for in an Oil Filled Radiator
Buying an oil-filled radiator should be a simple, straightforward process. However, there are a few key points that you need to consider if you want to buy the right one for your needs and budget.
Power Output
An oil-filled radiator's heating power is measured by its power output rating, indicated in watts (W). The typical watt rating of these machines ranges from 400 W on the lower end, up to 3,000 watts on the larger radiators.
The higher the watt rating of the radiator, the more heat it can produce. In turn, this means it can cover larger rooms. That's why it's best to look at the size of the room you wish to heat when trying to determine the watt rating of your radiator.
A rule of thumb is 100 watts per square metre of floor area for the typical well-insulated house. Of course, if your house has a higher ceiling, then you need to take this into account as well and get a higher wattage. Also, if your house has exceptional insulation, then you can get away with a smaller watt rating, around 60 watts per square metre.
It's also useful to opt for an oil filled radiator that will give you the option of choosing different wattage outputs. This is great if you want to heat different sized rooms around your house with just one unit. It's also efficient to run the radiator at max power to quickly heat up a room, then lower it down to maintain the warmth.
Radiator Size
The radiator's size is directly proportional to the heat and power it can produce. However, this isn't always the case.
In a nutshell, larger radiators are preferable because they're more efficient. That's because they have more oil capacity, which means they can radiate a higher amount of heat. The higher surface area also makes heating a room faster with less energy consumption. Since they rely on their size to create lots of heat, they're very straightforward to use.
Of course, you can't always go for larger radiators, especially if you don't have space for one. Fortunately, some compact radiators have very high watt ratings like 2,500W. With their smaller frame, however, they tend to be less efficient. That's why these radiators tend to have more advanced features to match the efficiency of larger models.
Portability
Oil-filled radiators can be very unwieldy, heavy machines. That's why they have features that make transporting them around the house easy. The most common feature is caster wheels, and you should look into them if you move the radiator around your house frequently.
It's no coincidence that the wheels are one of the first things to break down in an oil-filled radiator. If you move the unit around a lot, try investing in one with more durable wheels, preferably not made with plastic.
Other radiators also have carrying handles to make lifting them around a cinch. This is useful if you have a two-storey house and you want to move the machine in between floors.
Safety Features
Any machine that deals with hot oil and electricity sounds like a dangerous combination. Fortunately, most modern oil filled radiators are fitted with safety features that make handling them less risky.
First, don't worry about handling the hot oil inside these radiators. These are always contained inside the machine, so you won't ever need to get into contact with it. Plus, the oil usually lasts a very long time, so there really is no need to replace the oil yourself.
Several oil-filled radiators have an overheat protection feature, which shuts the unit off when it gets too hot. While unlikely, it's nice to have for better peace of mind.
Another useful feature is an auto-shutoff. Most have tilt protection that turns the unit off automatically should it tip over, for safety purposes. Some radiators also shut down on their own when the temperature gets too high to prevent overheating.
Temperature Control Features
A good oil filled radiator will give you plenty of options for controlling it. The easiest and most convenient way is through a remote controller. It allows you to easily switch the radiator on or off, plus adjust the heat output to match your desired room temperature.
One of the most useful features we especially love is thermostatic control. Instead of selecting a power output, you instead select your desired room temperature, and the heater will adjust its power output to maintain that. It's a much more intuitive way to control your room's warmth (you're better able to visualize '20C' rather than '500W').
Timers
Timers are a vital feature in oil-filled radiators. With it, you can set the radiator to turn off automatically during scheduled periods. For example, you might want to turn it off if you're out of the house or during the day when the temperature is warmer.
The key thing you need to consider with timers is the range and interval. Range tells you how far in advance you can schedule the unit to turn on or off. The ideal is 24 hours.
Interval tells you if you can set your timer to go on or off hourly or some other increment. Hourly intervals are the best as they give you the best level of control.