Best Peanut Butter in the UK: Review & Guide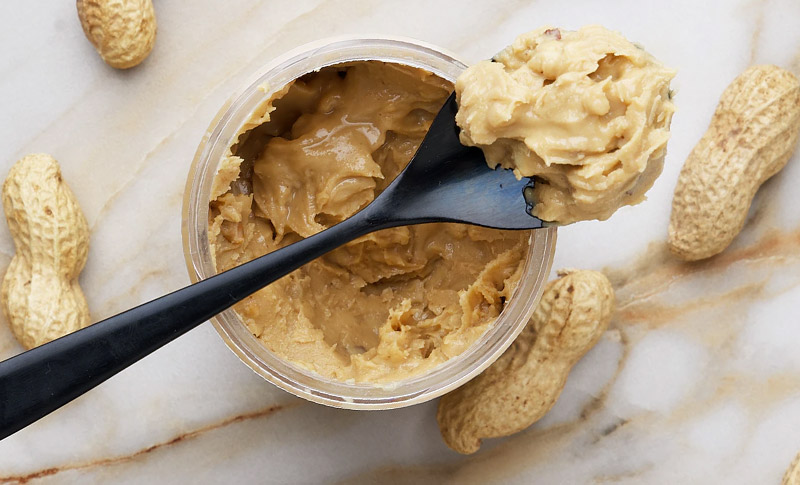 Peanut butter is fast becoming the spread of choice in many of UK households, and surprisingly, it is about to surpass margarine and fruit jam, which are traditional leaders in the spread market.
The tastiest peanut butter will give your toasts, cookies and smoothies a pleasant nutty taste. It's also full of proteins, healthy fats and fibre, all of which are required by your body daily.
There are several types of peanut butters, some unique low-calorie powders and others with fun favours. Here is a review of the best peanut butter in the UK, their features, advantages, and disadvantages.
Whole Earth has prepared peanut butter that is full of fibre and proteins. It has added palm oil from sustainable sources. The sunflower and flax seeds provide omega three fats and are healthy sources of the right proteins. On the other hand, pumpkin seeds provide a wide range of proteins, unsaturated fats and minerals such as selenium, zinc, iron and calcium. It is a peanut butter brand that is packed with lots of great nutrients and no added sugar.
A serving of 100g contains just 56.4 g of calories and 0.9 g of sugar content. Therefore, it is a perfect choice for people who are looking for a healthy spread. On the downside, the product a slightly gritty texture. Therefore, if you love smooth spreads, it might not be a good choice. It is sold in a glass container of around 340g.
Pros
Has several natural protein and oil sources
Does not contain any artificial flavours or sugar
Has an excellent package with a wide mouth for ease of reaching the butter
Easy to spread
Cons
Slightly gritty and chewy
Includes palm oil which is bad for wildlife
Our Rating: 4.8/5
Skippy has been marketing itself as a family brand and is popular with most kids. It is one of the cheapest peanut butter brands in the market, making it a choice for most people on a stringent budget.
To ensure that their butter is creamy, Zippy has added some hydrogenated palm oil. It has also enhanced the taste of the peanut butter and added some sugar to it. Therefore, it might not be the healthiest option in the market.
It has a sugar content of about 10.9 g and 51.6g calories per 100g serving. It is sold in a 340g plastic container that is easy to open and close. Despite marketing itself as a smooth peanut, you will still fund chunky pieces as you spread.
Pros
Sweet taste is popular with kids
One of the cheapest brands in the market
Easy to spread on bread, cookies and serve with porridge
Can be incorporated in various dishes
Cons
Uses palm oil which encourages deforestation – bad for wild animals
Includes added sugar
It is not entirely smooth
Our Rating: 4.6/5
Unlike the two brands discussed above, PBfitis sold in powder form in a package of two cans that weigh a total of 225 g. It is packaged in glass jars with a convenient lip for ease of opening. The low-fat and low calorie butter boasts of just three ingredients: salt, coconut palm sugar and peanuts. To reconstitute the butter, you need to mix two teaspoons of powder to 1.5 teaspoons of water. You can also use the powder as it is to make your pastries, smoothies and when preparing your dough.
Given the low-calorie content, this is perfect peanut butter for people looking to lose weight without losing the sweet taste of peanut butter. In a serving of 100g, it contains just 13g of calories and 14g of sugar content. It does not contain any palm oil.
Pros
In powder form, it can be incorporated in many dishes
It is a low-calorie product for people who are watching their weight
Does not have any added oil, which may appeal to most of users
Yummy natural taste with no added colours or flavours
Cons
It has added sugar at around 14g per 100g serving
The peanut butter is quite expensive compared to others in the list
Our Rating: 4.8/5
Just as the name suggests, Marmite Crunchy Peanut butter brings a nice crunchy and munchy addition to your dish. You can use it in a wide variety of dishes that include your snacks, cookies, toast, porridge and pastry. The product is made from peanut oil to ensure that it remains as natural as possible. This may cause it to separate a little. Therefore, you may need to stir it if it has been sitting for a little while.
The product does not have added oils or sugars, which makes it a vegetarian-friendly product. However, it is blended with a yeast extract to give it a unique flavour that is somewhat bold. Marmite Crunchy Peanut Butter contains 45g of calories and just 5g of sugar content in 100g serving. The product is also rich in Vitamin B and proteins.
Pros
No added sugar or palm oil like many popular brands
Smooth consistency, which makes it a great spread even when in a hurry
Healthy, natural product for people keen on lowering their sugar intake
Cons
There is usually some settling and you might need to stir the butter before using it
It is quite runny at room temperature
Some users complain that it is too salty
It tastes like Marmite. Only you can decide if this is a negative!
Our Rating: 4.5/5
Meridian claims to make peanut butter by roasting the peanuts with their natural skins. Then the roasted beans are ground to a velvety spread. This gives the peanut butter a rather thick feel, allowing you to enjoy all the nutritional benefits of the peanut that you may not find in just the inner part. The product does not have any added sugars, salt, or palm oil. Therefore, it is an ideal product for those looking for all-natural peanut butter.
This product has a smooth consistency. However, due to its thickness, you may have to add some oil into the mixture so that you are able to spread consistently. Most chefs like the thick butter for adding to various dishes, including porridge and pastries.
Pros
Natural product with a thick consistency
Peanuts are roasted with their skins – offering the best nutrition
It has a great natural taste
Cons
Quite hard to spread

May have to stir before use due to separation
Our Rating: 4.9/5
Biona Organic is marketed as healthy, vegan-friendly peanut butter. The creamy peanut spread is made from two ingredients, a pinch of sea salt and roasted peanuts. There are no emulsifiers, palm oil, or sugar. The manufacturer goes a step ahead to ensure that the peanuts are sourced from organic farms that do not use chemicals and only high-quality organic additions. This makes it an excellent product for people who are looking for a natural, protein-rich product. It has also sourced the packaging from Jokey.com, which makes recyclable cans with the aim of protecting the environment.
Each spread has a smooth consistency and remains in a pretty good state even during the colder seasons. You also do not have to put it in a refrigerator once opened. You can put it in a cold dark place (except during very hot summers), but you will need to stir it a little bit before using it.
Pros
Nice consistency

Natural product without added sugars and oils

Spreads out without a problem
Cons
Not very crunchy compared to similar brands that sell as crunchy
Quite plain tasting

Quite salty
Our Rating: 4.7/5
Pip and Nut sources its peanut butter from Argentinian organic farms. These peanuts are sweet without any additions. Therefore, if looking for natural peanut butter without a bland taste, this is the product to pick. The manufacture adds just a pinch of salt. Therefore, there is no added sugar, palm oil, or artificial flavours in the package. It is packaged in a recyclable container to take care of the environment.
Another plus is that the product has a perfect consistency. It is not as thick as most of the natural peanut butters and not as runny as others in this list. This is vegetarian-friendly peanut butter. However, peanuts are not low-calorie foods, and therefore, not ideal for people cutting weight.
Pros
All-natural product without any added sugars, oil or flavours
Easy to spread, especially for people who are always in a hurry
It has a nice tab that allows you to access the butter with ease
Cons
May settle and become runny if left still for an extended period
Sold in plastic tubs, which are not BPA-fee
Our Rating: 4.7/5