The Best Soundbar Under £100 in the UK 2021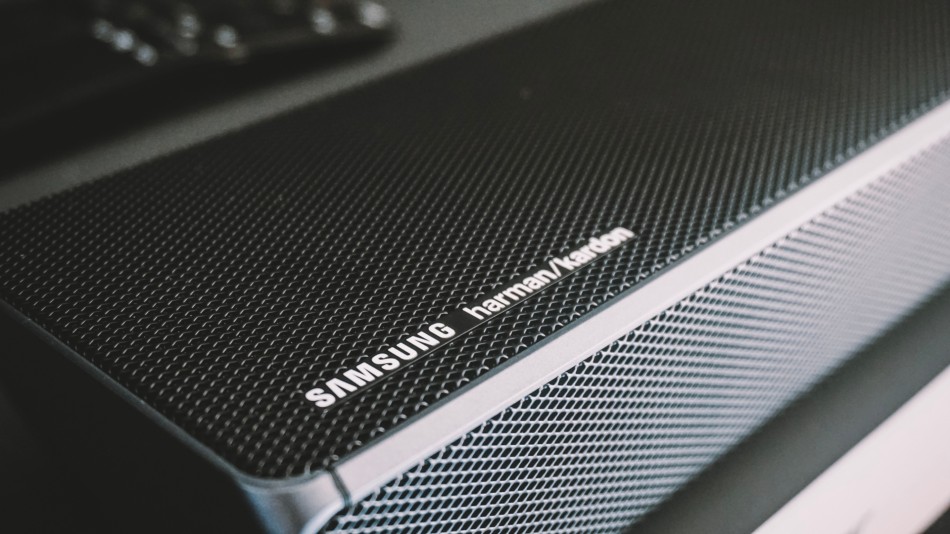 TVs are increasing in size and image quality year after year. It wasn't too long ago that HD seemed like a big deal. Then, it was 4K. Now, next generation gaming consoles are already capable of 8K image quality.
Unfortunately, TV speakers haven't managed to advance at the same level. In fact, they often seem to be getting worse.
To get an immersive, cinematic experience, you need high quality audio.
Many people say that audio is more important to them than image quality – they could watch a lower-quality video with good audio, but couldn't watch a high quality video which sounded bar.
To dramatically improve your TVs audio quality, you could get yourself a soundbar.
Not everyone can afford an expensive home cinema system. In contrast, the best soundbars under £100 are pretty good – a dramatic improvement on your regular TV audio – and they don't take up much space. They look cool, too.
In this guide, we're going to show you our top picks for the best soundbar under £100 that you can get this year.
We use affiliate links to keep our website free forever.
The Best Soundbars Under £100
A good soundbar, first and foremost, has amazing audio quality. That is by far the most important factor to consider. After that, other things to look at are the connectivity options it has (e.g. does it have Bluetooth, or does it use a 3.5mm cable?), how many channels it has, the quality of the materials used, and the size. These are all things we considered in our selections for the best soundbar under £100 that you can get in the UK.
Output: 20W
Connection Options: Bluetooth, 3.5mm jack, optical
Dimensions: 7.89 x 64.99 x 8.89 cm
Weight: 2 kg
The LG SK1 is a compact all-in-one soundbar with a very minimalist feel. It's actually very inconspicuous, and you'll be hard-pressed to notice it at first glance.
The main connectivity option of the SK1 is Bluetooth. Streaming from our mobile phone using Spotify proved to be flawless, and the connection was instant and stable. This feature alone makes the SK1 double as a Bluetooth speaker you can use in your room. It can even remain in standby mode until you send in audio from your Bluetooth device, at which point it will start up automatically.
The sound quality is exceptional, which is surprising coming from this very discreet speaker unit. Compared side by side with the TV speaker, the SK1 produced clearer audio that remained that way even at lower volumes.
The built-in Dolby Digital processing technology does a great job of upping the quality of the audio. The bass response is nonexistent, so you should pair it up with a powerful subwoofer for best results.
The size of the LG SK1 makes it suitable with television sets that are 32" wide or more. It's a good complement to an LG TV, where you can connect it and make use of LG Sound Sync. It's also lightweight, so you can easily mount it on a wall. The controls are simplistic, and there is no display. There's no support for HDMI either.
Overall, the LG SK1 is a budget soundbar that gets the basics right. Its audio quality isn't huge, nor does it have many features. Yet it manages to deliver decent audio at affordable prices. If you don't plan on buying this for your television, at least consider it as a Bluetooth music speaker.
Pros
Compact and lightweight
Excellent sound from Dolby Digital technology
Bluetooth connection
Cons
Bass response is terrible
No connection wire included
Our Rating: 4.3 / 5.0
Output: 150W
Connection Options: HDMI, Bluetooth, digital optical audio, 3.5mm AUX
Dimensions: 6 x 95 x 6 cm
Weight: 1.5 kg
For a budget soundbar, the Sharp HT-SB140 is a fantastic option. For one, it has support for HDMI, so you can hook it up to your Smart TV and expect high-resolution sound. This also opens up a whole host of features like allowing you to control the soundbar volume using your TV's remote control. The HT-SB140 is actually one of the cheapest soundbars you can get that supports HDMI ARC.
Bluetooth connectivity is another plus with the HT-SB140. Using our smartphone, connecting with the speaker wasn't a problem at all. it provided stable streaming which didn't drop out once for the whole afternoon we were using it.
Sound-wise, it's excellent but not mind-blowing, which is expected (actually, even surprising) for this price range. The audio quality leans more toward the bass end of the spectrum, so at least you'll get some definition without a subwoofer. It includes three presets for bass control, which is limiting. One positive point is that the voice quality is well defined with this soundbar, much better (at least for ours) than the built-in speaker of our Samsung Smart TV.
The HT-SB140 is generally well constructed. Design is classic minimalistic with a good solid feel. It's reasonably slim at just 60mm, so it shouldn't be a problem fitting this into your TV shelf. Setup is also quick.
One issue we have is with the remote. It's simply too small, and the labels are hard to read. The layout isn't too fantastic, either.
But for the money, the Sharp HT-SB140 delivers. It's a good all-rounder, with punchy bass and overall good sound quality. At near the lower end of the budget price range, it's a steal.
Pros
Minimalistic and slim design
Supports HDMI ARC
Good audio with nice bass definition
Cons
Our Rating: 4.4 / 5.0
Output: 50W
Channels: 2.1 (left, right, subwoofer)
Connection Options: Bluetooth, optical, RCA, AUX, USB
Weight: 599g
Majority Bowfell is a compact and slim soundbar at just 38.8 cm. This makes it a good fit for smaller TV sets, or possibly even for your laptop.
Despite the slim design, the Bowfell managed to sneak a subwoofer into this unit. The result is some bass definition, but honestly not nearly enough to compare it to a true external subwoofer, or even the bass definition of a sound base. But, it's a built-in bonus, so really not much to complain here.
The good news is that the Bowfell gives you plenty of room to tweak the sound quality. The included remote allows you to adjust the EQ on the fly. Making adjustments to the bass and treble can help enhance the audio output if you find it lacks high or low range. Or, you can just pick from any of the preset equaliser settings for complete sound customisation.
On average, we would describe the audio characteristic of the Majority Bowfell as rich and balanced.
The Bowfell includes plenty of connection options but sadly doesn't support HDMI. You can use the RCA port to connect to your TV. The USB or AUX is useful for playing audio files directly from a USB drive or device.
But the simplest way is to just use Bluetooth connectivity and stream songs straight from your smartphone using an app like Spotify. Wireless is the way to go with the Bowfell.
Overall, this is a good budget offering that gives above-average sound quality. The many connection options should expand the versatility of the Majority Bowfell somewhat. Good value for money, in our opinion.
Pros
The compact and slim speaker makes mounting easy
EQ controls for tweaking the sound output
A built-in subwoofer adds a slightly rich definition to the sound
Amazing price
Cons
Bass definition, while better than the TV speaker, is still lacking
Our Rating: 4.5 / 5.0
Output: 80W
Connection Options: Bluetooth, digital audio input
Dimensions: 12 x 75 x 6.5 cm
Weight: 2 kg
The Panasonic SC-HTB8EB is one of the best value soundbars in the UK. Once you've used it a few times, you'll agree that it's seriously underpriced for the amount of value this product gives you.
This soundbar is a solid performer that doesn't have the bells and whistles of other items on this list. The 80-watt power output of the SC-HTB8EB gives the sound a dynamic richness. There is depth to the sound, and the high notes don't sound tinny. It doesn't do well at higher volumes, but with the clarity it gives you, you shouldn't need to do so often.
This Panasonic soundbar is designed to be used with TV sets that are 32 – 43 inches in width. But you can also use this as a standalone Bluetooth speaker, and it's actually one of the biggest selling points of this product. You can easily connect your smartphone and other devices and stream music directly. You can also use Panasonic's Music Streaming app with this soundbar.
Installing this unit is easy, thanks to the mountable wall feature. This versatile attachment gives you the freedom to place this soundbar anywhere, even with a wall-mounted TV. One nifty thing you can do with the wall mount is to change the direction of the sound from 0 to 90 degrees, which acts as a virtual surround sound.
The SC-HTB8EB is a low profile and compact soundbar. At just 30 inches, it doesn't eat up much space at all. But at the same time, the sound quality you can expect from this unit is surprising for its size.
Overall, this is another contender for the best budget soundbar. The Panasonic SC-HTB8EB potentially gives you a grand cinematic experience in the comfort of your own home.
Pros
Small size footprint
80 watts give great sound quality
Bluetooth connection
Cons
Our Rating: 4.6 / 5.0
Output: 30W
Channels: 2
Connection Options: HDMI, Bluetooth, USB
Dimensions: 8.8 x 90 x 6.4 cm
Weight: 2.4 kg
The Sony HT-SF150 barely makes it into the budget price range with a price tag of just under £100 at the time of writing. Because it's at the more expensive side, you'd expect this soundbar to have better features and bells and whistles. In some ways, it does deliver a better experience.
One of its chief advantages is that it supports HDMI ARC. Too often, budget soundbars will not have this feature, but thankfully the HT-SF150 has. If you have a modern smart TV and want to take advantage of the high-resolution sound that ARC makes possible, you have to splurge a bit and get the HT-SF150.
Another thing the higher price tag buys is the S-Force Surround Technology of the HT-SF150. This is essentially a way to mimic surround sound with just a front speaker. It kind of works and you get a sense of the sound coming from various directions. Although it's not up to par with a real surround system, of course. Still, plus points here for the HT-SF150.
This soundbar's Bass Reflex Speaker attempts to boost bass response while still keeping the audio crisp and clear. In our experience of using this product, the bass is very light and barely noticeable.
And this about summarizes the sound quality of the Sony HT-SF150. It's not meant to recreate the booming sound a good bass output gives you. The HT-SF150 simply excels at amplifying the volume of your TV shows and movies.
Connections are limited to jut Bluetooth and USB.
Overall, this is a high-performance soundbar that's just below the £100 mark. The sound quality is ramped up nicely when combined with the unique Sony technologies of the HT-SF150.
Pros
Virtual surround sound effect
Reproduces sound clearly with more vibrancy
HDMI ARC support
Cons
More on the expensive side
Our Rating: 4.9 / 5.0
Output: 60W
Connection Options: Bluetooth, AUX, Optical, Coaxial
Dimensions: 90 x 7.59 x 7.59
Weight: 2.6 kg
Paiyda is one of the best soundbars under £100 you've probably never heard of (yet). That's unfortunate if you haven't, because their soundbars can match up to the offerings by the bigger players in the market.
Let's start with the sound output, naturally. The Paiyda has 4 built-in speakers with a power of 15W each. That's 60W total, a far cry from the usual 20W of most speakers in its price class. The speakers also include a subwoofer, and two full-range drivers providing much of the power from the speakers.
The result is a brilliant, rich, 105 dB sound with a nice bass definition that, personally, feels deeper than most soundbars with subwoofers. The dialogue is extra clear and isn't drowned out by the thumping bass. Our Paiyda speakers filled the room quite nicely.
The unit also allows you to further customise the sound by way of three equaliser modes. Using DSP technology, you can select any preset or adjust manually depending if you're watching a big action movie, a dialogue-forward TV show, the latest pop music, or the evening news.
The Paiyda provides lots of connection options, and chief among them is Bluetooth. With a working range of 33ft, we were easily able to connect and change the music anywhere in the house. For your TV connection, you can pick between AUX, optical, or coaxial (we recommend going for the optical, as it has the best sound quality). Among these three options, you can connect any device you can think of beyond your TV, like game consoles, projectors, or computers.
Visually, we love the modern design of the Paiyda. The front grill of the unit is a luxurious black iron mesh, which slants backwards gracefully. The minimalistic control panel sits on the side of the speakers and can be controlled by the included remote controller. The controller itself is minimalist as well and reflects the same elegance as the main unit.
As it stands, the Paiyda Soundar certainly delivers awesome quality at a surprisingly low price point. Don't let the unknown brand name fool you. It's easy to use, has a big, booming sound, and is pleasing on the eyes to boot. Great value for money and highly recommended
Pros
Exceptional sound quality with rich, deep bass
Easy to connect with various options
Three equalizer modes
Elegant design
Cons
Doesn't support HDMI ARC.
Our Rating: 4.7 / 5.0
Output: 150W
Channel: 2.1
Connection Options: Bluetooth, Aux 3.5mm, optical, USB
Dimensions: 88 x 6.5 x 6.5 cm
Weight: 5.4 kg
The BOMAKER 2.1 soundbar might be on the more expensive side in budget land, but it has a pretty big reason for being there. This model delivers a powerful 150W sound output. If you're looking for a big, room-filling soundbar at a relatively affordable price point, this is the soundbar for you.
The soundbar is equipped with 4 full-range speakers and 2 tweeters, delivering rich, booming sounds delivered at max levels of up 120 dB, with a minimum (0.5%) harmonic distortion.
BOMAKER has veered away from a built-in subwoofer, instead opting for a separate unit that delivers a much more powerful, defined bass response. The unit is connected wirelessly, so you have much more freedom to find that perfect spot to achieve true stereo 3D sound.
All of this combines into a soundbar that delivers defined sounds even at higher volumes. The bass feels big and booming, but vocal audio is clear at the same time. We can finally watch those big blockbuster action films and actually hear what they were saying!
To further customise the sound output, you can use any of the 4 audio modes pre-installed into the BOMAKER. These presets fit the EQ settings based on what you're watching. "Voice", for example, is great for the nightly news. You can also set it up with one click, or adjust it yourself manually if you want to.
The BOMAKER provides the standard connection options expected of soundbars at this price point. Bluetooth, of course, is the more popular and allows quick interfacing with your mobile devices in as little as 3 seconds. The connection is secure and stable and delivers full audio fidelity that you never thought your phone was capable of.
Other ways to connect include the standard AUX 3.5mm, with an included RCA and optical cable. For modern TVs, this delivers the best results. If you have an older set, the coaxial cable option is a welcome addition.
Visually, the BOMAKER soundbar sports an elegant design with round edges and sleek black colours. The surface is scratch-resistant, so it will maintain its look for much longer. The front LED display gives a visual cue of the mode and sound while looking quite cool. Setup and adjustments can be made using the radial control panel on the soundbar, or via the included remote controller.
The BOMAKER 2.1 Soundbar can certainly give other more expensive models a run for their money. While it may cost twice that of other budget soundbars, you'll get more than double the value in terms of big sound quality and visual appeal. For those with a bigger budget, this comes highly recommended.
Pros
Powerful 150W sound output
Separate wireless subwoofer for freedom of placement
Robust EQ controls and presets
Visually pleasing design
Cons
Doesn't support HDMI
On the more expensive end of this budget price range
Our Rating: 4.7 / 5.0
Output: 20W
Channel: 2.1
Connection Options: Bluetooth, AUX-in, Optical, HDMI ARC, USB
Dimensions: 55 x 7.8 x 7 cm
Weight: 1.2 kg
If you owned a PC back in the '90s, you might have heard of the Creative brand. We do, and it powered everything from our desktop's CD player and, of course, the speakers.
Fast forward to this year, and they have the Creative Stage 2.1 Soundbar. Never forgetting their PC roots, this soundbar can be used for both your TV or computer monitor, where it tucks nicely underneath. Both the main soundbar and the included subwoofer are slim and unassuming, designed for more discreet placement.
The soundbar is composed of two custom mid-range drivers, which deliver clear and crisp audio. The dialogue is clearly expressed with this unit, although we felt that the high notes are a bit lacking.
The Creative speaker set also comes with a separate wireless, long-throw subwoofer for deep, booming bass response. And despite being compact, the low notes produced by it are pretty convincing.
All in all, you'll be surprised at just how much sound output and rumbling can come out of this unit. And that's the point – it was designed to deliver good audio as unobtrusively as it can.
The Creative Soundbar also gives you some pretty robust EQ options. You can select from any of the presets for common situations like movie, news, music, or gaming. Or you can adjust bass and treble manually.
Everything from EQ and volume can be conveniently controlled from the included remote controller. Compared to the slim visual design of the soundbar and subwoofer, we weren't that keen on the remote design too much. It's got an "old school," 90's controller look that some might probably find nostalgic, that we just think is outdated.
But nitpicking aside, the Creative Soundbar is a solid performer in our book. You'll appreciate it even more because of its affordable price, which is around the mid-point in the budget range. Flexible and versatile, it's a nice little soundbar to buy.
Pros
Works for both PC and TV
Slim and compact, so you can place it anywhere
Solid 160W sound output
Flexible EQ controls
Supports HDMI ARC
Cons
Our Rating: 4.5 / 5.0
Output: 20W
Connection Options: USB, Bluetooth, 3.5mm Aux-in
Dimensions: 41 x 7.0 x 7.8 cm
Weight: 910g
If you checked the Creative Stage 2.1 Soundbar review above, then the Creative Air is its portable little brother. The soundbar was made with portability in mind.
Firstly, we should point out that this is predominantly made for a computer or mobile device. You can certainly connect it to your TV set or any analogue appliance using the 3.5mm Aux-in jack.
It is battery-powered, and can optionally be connected to a USB for wired power. Unplugged, it has an average operating time of around 6 hours of continuous use. The Bluetooth connection also allows you to use it with your mobile device, doubling as convenient travel speakers.
It can even be a portable music player. The USB port can accept a flash drive containing your audio files, eliminating the need for a separate player entirely.
The sound output is great for its size. Bass is substantial, but understandably limited with a soundbar this compact.
Overall, if you're looking for a secondary soundbar for your computer, or simply want to have a Bluetooth speaker to take around with you, the Creative Air is a good, super cheap buy.
Pros
Works for both PC and TV
Slim and compact, so you can place it anywhere
Decent 20W sound output
6 hours of battery life
Cons
No easy, direct connection to your TV
Our Rating: 4.3 / 5.0
What to Look for in a Soundbar
Soundbars might seem like simple purchases, but there are plenty of options and features that it can become overwhelming. Like anything else, you simply need to know which features matter to you, and which don't.
Here are a few notable things you need to consider when picking up a sound base
Soundbar vs Soundbase
While you're shopping around for a soundbar, you might also have encountered a few sound bases. Maybe a friend or a sales advisor has suggested it to you.
A sound base is similar to a soundbar in that it's a slim and compact speaker for your TV. Soundbases, however, are typically wider and bigger than a soundbar (but still not as large as conventional speakers). They're also designed to sit underneath your TV as a base, hence the name.
The larger size of sound bases means they have much more room for amplification, hence a better sound and bigger bass output. It often eliminates the need to get a separate subwoofer (though it won't hurt!).
So if they're bigger and sound better, why not choose them over a soundbar? Well, for one, they don't do well on stereo sound, because their speakers are not spread far apart compared to a soundbar. Soundbases are also less flexible in placement and might be ideal for wall-mounted TVs with no shelf underneath.
Soundbases are also following the trend of TVs in that they're becoming slimmer and slimmer. It will come to a point where their small size won't become a benefit anymore, sound-wise. So, in this case, a soundbar will be the better purchase.
Active vs Passive
Soundbars, or any speaker for that matter, can be one of two types: active or passive. The difference lies in whether they need external amplification to work.
Active Soundbars have a built-in amplifier and can basically power themselves. They can process all of their channels on their own without the need for an external receiver. Active speakers are "all-in" and "plug and play" ready devices – just hook them up to a sound source, and you're good to go.
Passive Soundbars, on the other hand, can't work independently. These speakers need to be connected to an amplifier or receiver. Generally, though, passive speakers have much better sound output and generally cost more than active speakers.
So how do you pick one over the other? For most users who simply want to improve the sound output of your TV, pick an active soundbar. They're less expensive and are easier to install without having to buy anything extra. The sound quality will be miles better than the TV's speaker, despite it being active.
If you want to make your soundbar part of a home theatre or Dolby Atmos system, a passive soundbar is your ticket.
Size
The size of the soundbar matters much more with aesthetics than it does the sound performance of the unit. Ideally, you don't want your soundbar to be much wider than your TV set.
Some TVs will have soundbars from the same manufacturer that are roughly the same width. This certainly eliminates the need for you to measure it manually.
Number of Channels
Channels refer to the number of sound sources (or speakers) in a traditional home theatre setup. Most modern movie and home setups will have a 5-channel system. That means there are five individual speakers: one in the centre, two on either side in front of you (left and right), and two in the rear (left rear and right rear).
Multiple channels create a more immersive sound experience by spreading the sources of sound around you, giving the illusion that you're right inside the show or movie you're watching.
In soundbars, all of the channels are contained into one single unit and recreated digitally.
When shopping around, you'll see channels as a set of two numbers, such as 5.1 or 3.0. The first number tells you the number of speakers in the channel, while the second number tells you whether there is a subwoofer (1) or not (0).
If a channel has three sets of numbers, that means it supports Dolby Atmos. This is an ultra-immersive sound system where there's a set of speakers that direct sound upwards and over you, creating a true 360 soundstage in your room. The third number indicates how many of the speaker drives are dedicated to Dolby Atmos.
One thing to remember with channels is that more is always better. However, if you're on a tight budget, the bare minimum to go for is three channels (centre, left, and right). This will give you good surround sound with the centre channel for clearer voice clarity.
Connection Type
Our recommendation for connection type is simple: buy the soundbar with the most connections that you can afford. Doing this will give your soundbar much flexibility and can often serve as your home's centralised, de facto speaker.
At the minimum, your soundbar should have a connection type that's compatible with your TV. The best way being an HDMI cable connected to your TV's audio return channel (ARC) port.
HDMI ARC is fantastic for soundbars that have multiple channels. It's the only connection that supports advanced surround sound like Dolby Atmos and DTS:X
HDMI also supports a two-way connection. Signals can run from the soundbar to the TV. This allows you to control the TV and soundbar using a single remote. Some soundbars can even stream video to your TV.
If you want to connect an older TV set that doesn't support HDMI, you can try connecting the soundbar using an optical port. It's one of the more reliable connections available, but it can't recreate the sound fidelity needed for 5.1 surround sound.
Almost all modern soundbars will also support wireless connections. A Bluetooth connection allows you to play music from your computer, mobile phone, or music device directly to the soundbar. Wi-FI connection gives your soundbar the ability to connect to your wireless network and play music off the Internet using apps like Spotify, etc.
Subwoofer
One important factor to consider is whether you'll be getting a subwoofer together with your soundbar. A basic soundbar setup will already provide vast improvement over your TV speaker, but adding a subwoofer will take that even further.
Because they're slim and compact, most soundbars lack the mass necessary to recreate those booming, rumbling sounds. That's where subwoofers come in. They add what most soundbars lack – bass response.
The decision of whether to get a subwoofer or not boils down to what type of shows you watch or music you listen to. Action movies or big blockbuster superhero films really shine with a subwoofer. They give you that big, rumbling sound definition that you get in cinemas. Certain bass-heavy genres of music, like hip hop or electronic dance, also do well with a subwoofer
A lot of soundbars in the market today have a subwoofer bundled in, which is convenient. However, it's much better if you purchase it separately. That way, you'll have more options and flexibility in choosing the best subwoofer. Just make sure your soundbar has a subwoofer output or wireless connection option.
Dialogue Enhancement
Personally, one of the big reasons we opted for a soundbar is that it's hard to clearly hear dialogue using just the TV speaker alone. We're not big fans of reading sub titles the entire time because it directs our eyes away from the important parts of the scene.
If you're like us, you will want to invest in a soundbar with a Dialog Enhancement feature, which can isolate the frequencies associated with dialogue and process them so that they can stand out from all the other audio like background music or sound effects. The result is clearer spoken words.
Equalisation (EQ)
As soundbars are flexible, you have complete freedom on where to place them. Often, this changes the way the speaker sounds. If you're very picky about this (or just want to tweak to your heart's content), get a soundbar with equalisation (EQ) features.
With EQ, you can tune your soundbar to help compensate for placement. It usually has presets you can choose from. Some will allow manual adjustment, if you know what you're doing or feeling adventurous.
However, don't confuse EQ with room correction technology, a feature that enhances the audio based on the room's characteristics. It's usually only seen in higher-priced models, so we won't be covering them much here.

Why Do You Need A Soundbar?
Soundbars are an inexpensive way to improve the sound output of just about any device, but the most common pairing is with your TV.
As we mentioned in this intro, modern televisions are getting slimmer and slimmer while becoming much more high definition and vivid. To achieve this, a few corners needed to be cut. And this corner just happened to be sound. Because audio systems always rely on size due to acoustics ("bigger is better" is true here), there just isn't room in a paper-thin 4K TV to produce fantastic sound output.
That's why it's almost always a good idea to add external speakers to your television. It just makes the listening experience that much better.
The best option is to go for a home theatre with surround speakers, an amplifier, and a subwoofer. These achieve the most exceptional experience possible.
Of course, this isn't always possible. It might be beyond your budget, or you might have limited space in your living room.
The answer is to use soundbars. Their slim, compact size means that they take very little space, so they're easy to place near your television. They're also flexible that you can place them under your TV or mount them on top.
Soundbars are inexpensive. A high-end priced model will cost a fraction of that of a full-blown home theatre system. But even then, they are way, way better than your TV's built-in speaker.
Soundbars are an excellent purchase for any TV, but more-so with older models. If you're looking to jazz up that 5-year old TV set, you really can't do anything about the picture quality, but you sure can ramp up the sound.
Most soundbars will also have many connection options, like WiFI or Bluetooth. This allows you to use them with your mobile phone or music device, further improving their value.