Best Soup Maker in the UK 2021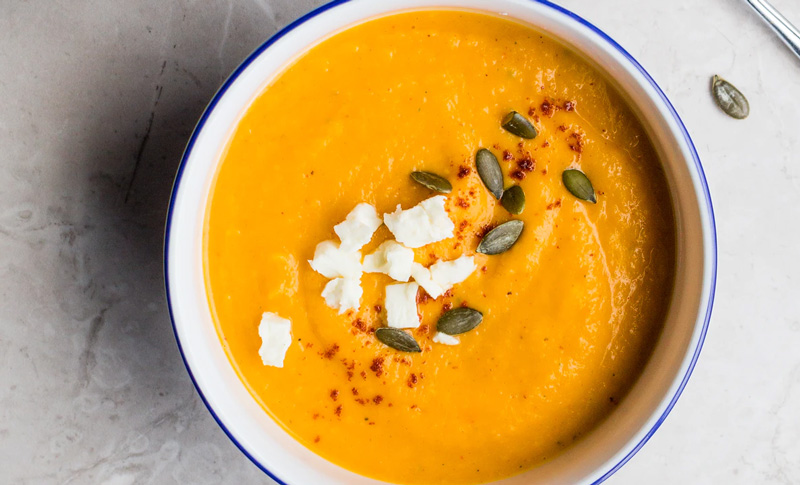 Soup makers can be some of the most time-saving appliances to ever hit your kitchen. Indeed, they have taken UK home cooks by storm!
Who can complain about an appliance that both cooks and blends ingredients together to produce tasty, hearty, piping hot soups? And it does all of this with minimal supervision. You simply press the button and wait for it to cook.
You might be eyeing up a soup maker for your kitchen, and so that's why we're featuring them in this post. We'll look at some of the best soup makers you can buy, plus the features that make them so great.
The Best Soup Makers
Type: Kettle
Capacity: 1.6 litres
Heating Power: 1000W
Cooking Time: 21 minutes (smooth), 28 minutes (chunky)
Saute Function: Yes
Blend Modes: smooth, chunky, manual
Morphy Richards was one of the early innovators to introduce soup makers to the world, and they continue their proud tradition with the 501014. This is their classic model that improves upon its predecessors and makes the soup making experience that much more memorable.
For one, you'll love the sauté function, which is a new addition to the 501014. It allows you to pre-cook ingredients like bacon or onions for maximum flavour. However, it won't be able to replace your sauté pan entirely, as you're limited by the number of ingredients you can use the sauté function with – only up to 100g of meat. You also can't sauté for longer than 10 minutes.
The other useful feature of the 501014 is the Pause Function. The soup maker will pause the cooking when you lift the lid. This is great if you want to fine-tune your seasoning, or if you just forgot to add an ingredient or two. Once you close the lid, the cook will continue as normal.
You also get two different blend types – smooth and chunky. If you don't like the consistency these two give you, you can also use the Blend button to do it manually and fine-tune the thickness just to your requirement. You can also use this to make smoothies and juices, by the way.
The capacity is generous, in our opinion. 1.6 litres seems like a perfect sweet spot that can make a hearty soup for up to four people.
Clean-up is easy too, as the interior is non-stick. Some starches present in ingredients have the risk of sticking, but it's nothing a good splash of stock won't fix.
Overall, Morphy Richards 501014 is an excellent example of what a soup maker should have. It combines many essential features that are integral to making hearty, homemade soups as easy and quickly as possible.
Pros
Lots of control over consistency, including smooth, thick, and manual blend modes
The pause function is great for correcting your soup on the fly
Generous 1.9-litre capacity
Cons
Sauté is only limited to 10 minutes max
Rating: 4.7 / 5.0
Type: Kettle
Capacity: 1.6 litres
Average Cooking Time: 20 minutes (smooth), 25 minutes (chunky)
Sauté Function: No
Drew and Cole Soup Maker Essential is a good option if you're looking for something friendlier on your wallet. It has all the, well, essential soup-making features with a price point well below what most brands charge.
On the surface, all the plusses are there. The 1.6 litres is generous and gives plenty of volume per batch. It has both a chunky mode or smooth mode. The soup maker uses Drew and Cole's Wave Blade Technology to pulse soups to perfection. It can even make a pumpkin soup with virtually no lumps, and lovely and smooth throughout.
If you want even more control over the thickness, you can simply use the Smooth+ button, and it will blitz the soup with each push. It's also great for making smoothies and cold soups like gazpacho.
The Drew and Cole also has its own pause feature, which it calls Memory function. You can lift the lid, add in ingredients or seasonings, then close the lid again to continue the cooking process.
The only things missing are the sauté and keep warm functions, but this is understandable for a cheaper model like this.
Nevertheless, the Drew and Cole Soup Maker Essential is still a good solid pick if you're looking for your first soup maker to try out.
Pros
1.6-litre sweet spot capacity
Reasonable price point
Gives you good control over soup's consistency
Cooks soup slightly faster than average
Cons
No sauté function
No keep warm function
Rating: 4.5 / 5.0
Type: Kettle
Capacity: 1.6 litres
Heating Power: 1000W
Blend Modes: chunky, puree, manual blend
Average Cooking Time: 20 – 30 minutes
Sauté Function: No
Salter is a well-known British brand of quality home appliances, and here it extends its expertise into the soup maker line. The EK1548 is its affordable, entry-level model that has all the basics covered to help you make great soup.
The EK1548 has an intelligent cooking technology that maintains the cook of the soup exceptionally well. The result is that you can leave the soup maker and know that it will not overcook your broth. Indeed, we had yet to find signs of burning, no matter how thick the soup we cook is. It also helps prevent boil-overs that can be a pain to clean.
Speaking of clean up, the EK1548's soup jug can be detached from the main body, so you can give it a full rinse. Not that you need to exert much effort, though, as the non-stick nature of the jug makes your ingredients less likely to cling on the surface.
You can control the soup's thickness by picking either chunky or puree before you start the cooking process. Or, you can just pick chunky and use the manual blend button to dial in your desired consistency.
The one thing to note is that the EK1548 lacks the beneficial sauté function, which somewhat limits the "one-pot wonder" status of this soup maker. Despite that, it's not much of a deal breaker, and the Salter EK1548 is still one of the better soup makers out there.
Pros
Removable soup jug for easy cleaning
Cooks soup precisely with no burns or boil overs
Reasonable control over your soup's consistency
Cons
Rating: 4.7 / 5.0
Type: Blender
Capacity: 1.4 L for hot liquids, 1.75L for cold liquids
Heating Element: 1000W
Blending Modes:
Sauté Function: Yes
The Cuisinart Soup Maker Plus is a premium model for the discerning home cook. It gives you plenty of functions that you can use to cook recipes beyond just soup.
This is a blender type soup maker, which uses a thick thermal glass for the jar. This works exceptionally well for keeping your soup warm, not to mention allowing you a glimpse into the cooking process. You can also clearly see your soup's volume and top-up as necessary.
The Cuisinart's sauté function is fantastic as well, and generally allows more ingredients and longer cooking time than most other soup makers in the market.
The Soup Maker Plus's blending options are what makes this soup maker so versatile. It has the standard smooth and chunky modes to make any soup of whatever consistency you desire.
But where the Cuisinart really shines is the slow stirring option. This mixes the soup ever so gently as if you're stirring it yourself in a pan. One of the best recipes you can use this with is a risotto. Yes, risotto on auto is a chef's dream come true. You can sauté the ingredients using the sauté function, then turn on the slow stir option and add the stock as you would in a pan. Consistent stirring makes for fantastic results, and you can finally conquer the notorious risotto with ease.
The blend function can also be used as an easy clean function. Fill the soup maker with soapy water and blend to thoroughly clean the jug.
All this functionality comes at a price, however. The Cuisinart is a pretty expensive soup maker. Nevertheless, the Soup Maker Plus is well worth the price as it can replace a number of your appliances and makes cooking that much easier.
Pros
A thermal jug helps maintain heat
The versatile slow stirring feature helps you make a variety of dishes with ease
Easy to clean
Cons
Rating: 4.8 / 5.0
Capacity: 1 L
Motor Power: 2.3 HP / 1700W
Cooking Time: 7 minutes
Sauté Function: No
The Nutribullet is a well-known brand of personal blenders that use travel-friendly jugs you can take with you on the go. That same approach is used in the Rx, only this time, it can make soups as well.
What sets the Rx apart is its SouperBlast Mode, which heats the contents of the Nutribullet for approximately seven minutes. This cooks the soup up quite nicely. We also like that the jug is in the form of a hearty mug for that homey, rustic feel.
The only drawback, though, is that since the Nutribullet is technically a heated blender, you can only make smooth soups with it. Chunky, hearty style soups are sadly out of the question.
The Nutribullet is easy to use and has famously no controls or speed adjusters. Instead, it relies on smart technology to blend the soup or smoothie at the right amount and length of time. It's convenient, for sure, but it does give you less control over the final output.
The Rx also inherits one big flaw of the Nutribullet – noise. It can create quite a racket when it's turned on which some people could be annoyed by.
Ultimately the Nutribullet Rx is a fantastic way to create healthy and fresh veggie-based soups in just a few minutes that you can take with you anywhere you go.
Pros
Personalized 1L capacity
Easy to use
Can be used to make single-serving smoothies as well
Cons
Limited only to making blended smooth soups
Noisy
Rating: 4.5 / 5.0
Capacity: 1.2 litres
Heating Power: 1000W
Cooking Time: 23 minutes (smooth), 25 minutes (chunky)
Blend Modes: creamy, chunky, compote, manual blend
Saute Function: No
The Tefal Easy Soup Maker is designed to be everything but complicated. Everything from the pristine inviting look to the easy to understand control panel speaks as to how beginner-friendly this soup maker is.
For being a basic soup maker, it does have the essential features you need. There are your standard blend modes, of course, where you get to pick from creamy (smooth) to chunky, and manual mode for everything else in between. It also has a compote mode, which is a non-heat option for making that dish.
The auto warm feature is also an excellent addition, so you'll be sure to get piping hot soup for up to 40 minutes after it's done cooking.
This Tefal soup maker is essentially a hands-off cooking appliance, which means it doesn't give you much control over the process. You can't suspend the cooking process like other soup makers allow you to do. You can't adjust seasonings or add ingredients later on.
This limitation severely limits your creative options. For example, you can't extend cooking times if you find your soup to be undercooked. For this reason, 'tougher' ingredients that need extended cooking times might not be suitable for this soup maker.
Nevertheless, if you're looking for an easy to use and straightforward soup maker, the Tefal Easy Soup Maker is a fantastic option.
Pros
Got the essential functions and blend modes covered
Auto warm feature
Easy to use
Cons
Rating: 4.4 / 5.0
Do You Need A Soup Maker?
Soup makers are convenient appliances if you love hearty, homemade soups but don't have the time to make them. They save you a lot of time by combining two essential devices into one – a kettle and a blender.
You place all of your roughly chopped ingredients into the soup maker, then pick your desired consistency (from chunky soups to smooth). You then press start, and the soup maker automatically cooks and blends your soup according to the thickness you selected. Optionally, some soup makers will allow you to sauté the ingredients first.
A soup maker is a perfect appliance for anyone too busy to cook a good meal. You don't need to hover over a pot and watch it while it cooks. It's a "set it and forget it" appliance. Even if you have the time to cook at home regularly, a soup maker will still benefit you as it frees you up to focus on other dishes.
Soup makers also help you with clean up. There's no need to wash multiple pots and pans. Most have non-stick surfaces that are very easy to clean. Some even have self-clean modes.
Things to Look for in a Soup Maker
Type
There are two main categories of soup makers: kettle or blender.
Kettle style soup makers are the most common type available in the market. They resemble Thermos jugs and actually work roughly the same way as far as heating is concerned. The only difference, of course, is the added blender blades in the lid of a soup maker kettle.
These types of kettles are usually cheaper, costing less than £100 on average. They're attractive to home cooks because they're easy to use and clean. Most feature non-stick interiors, so a simple rinse and wash usually do the trick.
Blender style soup makers, on the other hand, resemble a blender and operate precisely like one. The only difference is the addition of heating elements at the base of the jug to cook the contents. Alternatively, heat can be produced from the action of the spinning blades. A lot of these types of soup makers also double as traditional blenders, allowing you to create shakes and smoothies.
Blender soup makers are great because they have a transparent jug, so you can see the soup cooking in action. They tend to be more expensive, though, with the cheapest price point at around £60.
Capacity
Capacity is the all-important consideration, as with any cookware that you plan on buying. It will dictate how many servings you can whip up for every batch you do.
A rule of thumb is that 1 litre of capacity can feed roughly 2 – 3 people. This is an approximation, of course, and it will depend on their real appetites. Larger capacities of 1.8 L or more is suitable for 4 – 5 people.
Bigger capacities are also appealing if you're hosting the occasional small party or gathering. Generally speaking, if there's even the remotest possibility that you'll be doing this in the future, a bigger soup maker is a good investment.
Also, remember that some soup makers will have a minimum quantity, so keep this in mind as well.
Cooking Time
On average, it takes around 20 – 30 minutes for soups to cook in the average soup maker. Note that smooth soups and chunkier soups have different cook times, with the latter taking longer. Usually, the cooking time listed in soup maker specs will be the shorter one.
Sauté Feature
Sauteeing is a fantastic technique when making soups. In fact, it's a method often used in many recipes. Browning and searing the ingredients this way helps develop a lot of exquisite flavours that lends delicious complexity to the finished product.
Some soup makers will allow you to do the sauté step in the soup maker itself instead of using a separate pan. Not only is it a convenient and time-saving option, but it also saves you from the effort of having to clean up that pan later on.
Note, however, that most sauté functions will be very limited. They often won't allow you to sauté a lot of ingredients, or not for a very long time. Luckily, most soup recipes don't require this.
Consistency
All soup makers will allow you to blend your soup according to the consistency that you want, from chunky (unblended) to a smooth soup. You usually get options in the opposite extremes. In short, you'll either produce a very chunky soup or a smooth one.
If you want a more exceptional level of control over your soup's consistency, look for soup makers with a manual blend button. With each push, you activate the soup maker's blades and gradually blitz your soup. This allows you to gradually adjust the thickness to your liking.
Pause Function
Soup makers that have a Pause Function will automatically pause the cooking process when you open the lid. This is useful for tweaking your soup's seasoning, or if you decide to add another ingredient later on. The suspended cooking ensures the soup maker doesn't start from the beginning when you do this.
Keep Warm Function
The Keep Warm function will continue to heat your soup on low, even after it's finished cooking. This is handy for when you're not ready to eat just yet, or you're busy cooking other dishes. Note that the keep warm feature will only be turned on for a set period (usually around 40 minutes).
Not all soup makers have it, and it's not a terribly crucial feature, but it's useful if you happen to have it.
Multiple Functions
Soup makers have the potential of replacing some of your kitchen appliances. They can double as blenders or even steamers. If you live in a house with minimal kitchen space, you might be better off with a soup maker that has multiple functions. You get to save a lot of space (and even time) when doing so.
Easy Cleaning
Some blenders have an easy cleaning mode, which is simply where the blades spin on a low setting, with no heat. You then add in soapy water, and the soup maker basically scrubs itself clean, which when combined with the non-stick surfaces of most soup maker jugs, you'll see why these appliances take next to no effort to clean.
If your soup maker has no easy clean function, there's a workaround. You can achieve the same thing by running your soup maker in juice or blender mode.
Read Next: The Best Air Fryers in the UK