What's the Best Treadmill? UK Buyer's Guide & Review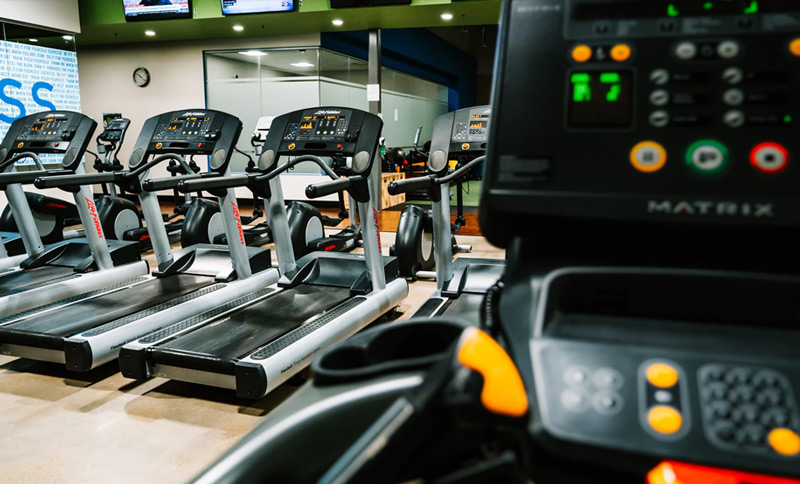 Treadmills are one of the best ways to get fit daily no matter what the weather is. After all, it's much easier to hop on a treadmill in your living room than it is to drag yourself outdoors to run!
What's not easy, though, is finding the perfect treadmill for your needs. There are lots of models that look similar, confusing specs, and subpar options to deal with. How do you even start?
To get you started, here are some of our recommendations on the best treadmills in the UK you can get.
Best Treadmill in the UK
Speed: 0.3 km/h – 18 km/h
Belt Size: 47" (length) x 16" width
Max Weight: 120 kg
Incline Levels: 20
Motor Power: 2.5 CHP
The JLL T350 is one of the best compact treadmills to have when space is a big concern in your home. Despite the size, it delivers a good jogging experience with ample motor power and plenty of bells and whistles.
The JLL T350 is an exceptional treadmill for serious runners because of its excellent cushion system. It's made up of 16 points that do a superb job of absorbing shocks and impacts even during intense running. The treadmill also has 20 incline levels for adding an extra challenge to your workouts.
The control panel is also a standout feature, with a bright LED display and touch-sensitive buttons. These buttons aren't physical buttons at all so they don't wear out as quickly. The workout programs are also nice and even includes advanced ones for experienced marathoners.
As for portability, the JLL T350 can be easily folded/unfolded with the hydraulic arms that use Soft Drop Technology. This treadmill is also surprisingly light and can be easily hauled from room to room thanks to the built-in wheels at the base.
The only issue with this treadmill is also its most significant advantage: its compactness. Unfortunately, the running space is sacrificed with a smaller than average belt size. Thus, we recommend the JLL T350 for intense running only by experienced users. It's not really suitable if you're taller than the average person; at most, you can only use it for brisk walking or light jogging.
Nevertheless, the JLL T350 is a fantastic treadmill with all the essential features at a budget-friendly price. Perfect for the runner who needs to train even with limited space at home.
Pros
Easily folds into a compact shape
Good speed and incline range
Wide range of workout programs
Cons
Our Rating: 4.7 / 5.0
Max Speed: 17 km/h
Belt Size: 49" (length) x 17" width
Max Weight: 130 kg
Incline Levels: 15
Motor Power: 3.5 CHP
The Branx Fitness Cardio Pro is another excellent foldable treadmill that has a slightly larger belt size than the competition. It's almost near the standard length of 50", making it ideal as a walking treadmill for seniors or those recovering from injury.
But it's more than just for light walking. The Cardio Pro can keep up with more intense running as well. You can thank the motor for that, which has a beefy 3.5 CHP rating. It's exceptionally durable and can withstand a lot of wear and tear even if you use it regularly at top speeds.
And the top speed isn't a pushover, either. You can run up to 17 km/h on this treadmill, with your choice of 15 incline levels. That way, you get plenty of challenge and resistance to keep your workouts at peak levels. The running belt is thicker as well, with excellent shock absorption.
Best of all, there isn't a lot of assembly required. You can have it up and running in a good 10 – 15 minutes after you get it out of the box. Storage is a cinch too as it folds neatly in place with Soft Drop hydraulic systems.
It also has a heart rate monitor, but these are handgrip sensors which aren't nearly as accurate. You might be better off getting a separate heart rate monitor. Still, the Branx Fitness Cardio Pro is a still a hardworking compact treadmill to get that can match your intensity pretty well. Oh, and the price isn't bad, either!
Pros
Minimal assembly required
Powerful motor reduces wear and tear even when running at max speed
Slightly larger running space compared to other compact treadmills
Cons
Handgrip heart rate monitors aren't that accurate
Our Rating: 4.7 / 5.0
Speed: 1.0 km/h – 6 km/h
Belt Size: 45" (length) x 16" width
Max Weight: 100 kg
Incline Levels: None
Motor Power: 1.5 CHP
The Citysports WP1 is an ultra-compact walking treadmill that's great if you want to hop on in a quick session anytime. It stores neatly in your closet so you can workout easily whenever you feel the need to. It's super quiet as well, so you can sneak in a few workout routines in the middle of the night without waking the whole house.
First off, this is strictly a walking treadmill that's built for brisk walking at best. The speed range is probably a dead giveaway, which can only reach 6 km/h. The motor is also gentle at only 1.5 CHP. It also doesn't have an incline and can only support 100 kg of max weight.
In short, this is a treadmill that can't take a beating.
However, what it has going on for it is the compact shape. It's as minimal as it gets. There is no handrail or LED console; just the running belt itself. The LED is located at the end of the running belt, which forces you to look down. It's very rudimentary but does display the essential info like distance, calories, speed, and total workout time. The digits are also larger, so it's not hard to read even at a glance.
The only minor drawback is that the WP1 can be a bit heavy, which can be a hassle for some people.
Overall, the Citysports WP1 is one of the best walking treadmills in its class. It's bared down to the basics, so you only get the essential features out of it without paying a premium.
Pros
Super portable and minimalistic
Clear LED display
Quiet operation
Cons
Our Rating: 4.9 / 5.0
Speed: up to 20 km/h
Belt Size: 63" (length) x 22.8" width
Max Weight: 200 kg
Incline Levels: up to 18%
Motor Power: 5 HP peak
If you're looking for a professional-level treadmill that can give the ones at your local gym a run for its money, the Sportstech F75 can fit the bill. This is a powerful model designed for elite runners.
For one, the F75 gives you quite a bit of challenge. It can let you run at top speeds of up to 20 km/h, thanks to its powerful 5 HP motor. Despite that, however, this treadmill is surprisingly quiet. You also have incline levels of up to 18% available to you to give your workouts a little resistance.
The running space is also one of the most generous we've ever come across on a high-end treadmill at 63" x 22.8". This gives plenty of breathing room while jogging. The damping system also helps cushion the blow, making it very comfortable to run on. Plus, it can support up to 200 kg of weight for a wide variety of body types.
Another pro is the included heart rate belt. Since it's wearable, it's much more accurate compared to the grip monitors of some models. If you use other Sportstech equipment, then you'll be glad to know that the monitor is compatible with those, too.
The F75 also comes with an Android-powered, WiFi-ready display console so you can watch YouTube and Netflix when you're working out. It can be rather slow at times, though. It's also limited in that you can't install third-party apps on it, which is unusual for an Android device.
Another thing with the F75 is that it's extremely heavy, which is understandable given all that power. This is something that's best placed on the first floor, as carrying it upstairs is a huge challenge.
Despite these minor hiccups, the Sportstech F75 is a powerhouse treadmill. If you're looking for a professional option with all the elite features you'll ever need, this is the model for you.
Pros
Exceptionally powerful motor
Wearable heart rate monitor
20 km/h top speeds with a high incline.
Cons
Extremely heavy
Media console can be slow
Our Rating: 4.6 / 5.0
Speed: 1 km/h – 10 km/h
Belt Size: 39.3" (length) x 13.3" width
Max Weight: 100 kg
Incline Levels: 3 (0.70%, 3.49%, and 6.12%)
The Fit4Home JK-04 is a lightweight yet durable treadmill that's perfect for beginners. Despite this, it's actually feature-packed so you can use it for quite some time into your fitness journey.
For one, the JK-04 is a well-built unit. The materials used are light and compact. Combined with how foldable and movable this is (thanks to the wheels on the base), it's ideal running equipment for tighter spaces. The frame itself is durable as well and can last for long periods of continuous use.
The JK-04 can achieve running speeds of up to 10 km/h. While it's on the lower end of the spectrum, we find it's enough for those just starting. Walking is also pretty enjoyable with this treadmill, and the incline option gives some added low-impact challenge. Too bad you have to adjust it manually.
The treadmill also has a multi-functional LCD screen where you can control and monitor your workout session. With it, you can check things like calories burned or distance covered. The treadmill also has grip heart rate monitors that are reasonably accurate. In other words, the JK-04 covers all the basics pretty well.
However, the treadmill does have its limitations. As a compact unit, the running space had to be sacrificed. Hence, it can be harder to run more intensely with the JK-04.
The bottom line is that the Fit4Home JK-04 is an excellent value treadmill for beginners and low-intensity users. The low top speed and small running space might turn off some more experienced runners, however.
Pros
Very lightweight and easy to store
LCD console covers all the basics
Treadmill is well-built
Cons
Our Rating: 4.3 / 5.0
Speed: 0.5 – 6 km/h max
Belt Size: 47" (length) x 16" width
Max Weight: 120 kg
Incline Levels: none
The WalkSlim 630 WalkingPad is a stylish-looking, compact walking treadmill that you can whip out and use anywhere and anytime. That's because it just weighs around 28 kg and is easily foldable.
Compared to your typical treadmill, the design of the WalkSlim 360 is one of the better ones. It's sleek and minimalist with its dark grey hue. It's as enjoyable to look at as it is to use.
The treadmill does a fantastic job of making it easy to use in the absence of a console or controls. The 630 Walkpad offers two running modes, manual and automatic. Automatic mode allows you to run at your own pace, and the unit's adaptive speed control will automatically adjust its speed to match. For more control, you can choose to run in manual mode. The handheld remote controller makes it equally easy to adjust the speed in a moment's notice.
For monitoring, you can gaze down at the large LCD screen and check on calories burned or speed. Alternatively, if you don't like bending your head down, you can connect your smartphone via Bluetooth and monitor your session via an app. The latter option also allows you to track your progress through multiple sessions.
For a compact treadmill, the smaller walking space is relatively generous, and the top lower top speed is reasonable (this is a walking treadmill, after all). The only drawback is that it's pricier compared to most walking pads or even a decent mid-range treadmill.
Nevertheless, if you want to incorporate walking into your daily routine easily, the WalkSlim 630 WalkingPad is one of the best you can buy.
Pros
Adaptive speed control mode
Compact and easy to store
Sleek and minimalistic design
Cons
More expensive compared to similar walking treadmills
Our Rating: 4.8 / 5.0
Things to Consider Before Buying a Treadmill
The process of buying a treadmill starts before you even hit Amazon. You first need to do your homework and decide on some preliminary factors:
The space in your home
A treadmill can take a significant amount of space in your home, so you need to plan and figure out where you'll place it. Once you've decided on a spot, measure its dimensions. You'll have an easier time shopping if you have measurements on hand since you can eliminate from the get-go the larger models that don't fit your space.
When looking at size, you can consider the treadmill's actual dimensions. But it's equally important to check the belt size. It's a significant factor to watch out for since it will influence who can run on the treadmill, and how fast.
Standard treadmill belt widths range from 20" to 22". The broader sizes (22" and above) are ideal for runners as it gives them a bigger space to work with. Narrower belts are more suitable for walking.
Belt length is the other factor to consider, which ranges from 50" to 60". Longer belts give you more running space and time to disembark safely. You can get away with shorter lengths if you're just doing some light jogging.
You also should allow for clearance, at least to the side and back of the treadmill. The larger, the better. The recommendation is 3 feet on either side and 8 feet at the back, so you have ample room to safely get on/off the treadmill without bumping into an obstacle.
Your fitness goals
There are a wide variety of treadmills available, each catering to a specific fitness goal. You, therefore, need to figure out what you need out of your treadmill before buying it. This will not only save you money but also prolong the life of your machine. A budget treadmill, for instance, will be severely underpowered and will likely break down against the needs of a high-performance athlete.
While your fitness goal will be highly personalized, we've roughly generalized it into these categories as a guide:
Beginners
These are people who have low activity levels and have never actively worked out before. Contrary to what most people think, it's actually counterproductive for beginners to buy a budget treadmill (unless it's durable). That's because they're subconsciously planning to quit in their heads if they buy a cheaper treadmill that won't last into their fitness journey.
Instead, beginners should look for a mid-range treadmill that offers a good variety of features and workout programs. Durability is also essential to keep up with the person as he or she progresses.
Active Runners
These are people who already incorporate running into their exercise regimen. They can be regular folks who just enjoy running or athletes who use it to supplement their training. Regardless, they are all classified as active runners.
A mid to high-end treadmill is ideal for these runners. These machines usually offer more challenging workout programs to improve their performance. They are also much more durable with extended warranties. On average, you're looking at a price range of around £1,000 to £1,500.
Marathon Runners
These describe the most serious runners who are regularly put in distances of more than 80 kilometres a week. While they often prefer outdoor running, weather or circumstances can prevent them from doing it during certain times of the year. A treadmill can help them run and train consistently.
A light commercial treadmill in the £1,500 to £2,000 range is just the thing these marathon runners need. They are some of the most durable treadmills one can ever buy for their home.
Recovering from Injuries
Athletes or people who are recovering from injuries can limit their fitness ability. They thus need a treadmill that can keep up. Mid-priced models around £1,000 have better cushioning so that the impact isn't as hard.
Seniors
Seniors typically use a treadmill as a way to maintain their health during their advanced years. They often jog instead of running, as balancing is critical. Shock absorption and cushioning are also essential. Slow speeds are recommended, with an incline option for an added challenge.
As such, budget treadmills in the £500 to £1,000 range are a good fit for the needs of a senior. The mid-range options also have excellent cushioning to help reduce impact with each step.
Height and Weight Considerations
Generally, treadmills are designed for average users, meaning a height of fewer than 6 feet with an average weight not exceeding 130 kg. If you don't fit either of these criteria, you need to make sure your treadmill can accommodate you.
People who are taller than 6 feet, for example, will need a longer belt (at least 60") in their treadmill to be able to run comfortably. Most treadmill manufacturers will also have specialized models for heavier weights up to 180 kg.
Essential Features of Treadmills
Once you've done your initial homework, you then need to look at the more essential features of a treadmill:
Motor Power
The power of your treadmill's motor is essential since it's the one actually running your machine. If you get a weaker motor that can't keep up with your workout intensity, it will wear out much faster and lead to costly repairs.
Like any motor, you'll see your treadmill's power measured in horsepower, or HP. However, due to the nature of a treadmill, it's much more useful to look at its continuous horsepower, or CHP, rather than its peak power. Most treadmills will have a CHP rating from 2.25 to 4.25.
Rather than get the most powerful motor, however, it's much more economical to look at your body weight plus the types of exercises you plan to do. A rule of thumb is to go for a motor with 2.5 CHP for a person who weighs 90 kg or less and plans just to do light jogging. Add another 0.5 CHP if you see yourself running more often, and another 0.5 CHP if you weigh more than 90 kg.
Treadmill Speed
The maximum speed that your treadmill can achieve is all a matter of personal preference and your own fitness needs. On average, max speeds of 15 km/h are more than enough for the average user. Endurance runners preparing for a race might need a more demanding challenge, at which case a 20 km/h top speed is ideal. For those solely walking, a max speed of 6 km/h is just right.
Incline
Most treadmills have an incline feature, and it's an easy way to add challenge to your workout and burn more calories in the process. It's especially ideal for seniors or those with injuries, as it's considered a low impact workout compared to increasing the treadmill's speed.
Incline range is the main thing to look out for here. Most models can go up to 15% incline, which is great for regular users. High-performance individuals who want to up the challenge can go for models with up to 40% incline.
Workout Programs
Some mid-range to high-end treadmills feature automated programs to take the guesswork out of your routine. You can select from a variety of programs depending on your goals (for example, weight loss) or a simulated environment (like climbing a hill). The program will then automatically change the treadmill's speed, intensity, and incline as your progress through the session.
Programs are great if your workout disciple needs some work. It will assist you in finishing a routine without being tempted to slow down or lower the intensity prematurely. Note that cheaper treadmills don't usually have this feature and only run in manual mode.
Safety Key
This is an important safety feature that every treadmill should have. It's a small key that inserts into the treadmill, with the other end tethered to your clothes. In case you slip off and fall from the treadmill, you will yank the key with you. This stops the treadmill to prevent further injury.
Heart Rate Monitor
Heart rate monitors are an optional but useful feature in mid-range to high-end treadmills. It allows you to monitor the intensity of your workout based on your heart rate.
Cheaper, mid-range treadmills will have a handgrip heart rate monitor which measures it via your hands. While inexpensive, it's very inaccurate and might give you false information to base your workout decisions on. It also requires you to continually hold the handlebars to get a reading, which is hard to do especially if you're in the middle of an intense run.
Instead, it's best to go with treadmills that have a wireless chest strap monitor. They measure your heartbeat directly, so it makes them much more reliable. They're also wireless, so you get consistent and convenient measurements.
Entertainment Features
Some high-end treadmills will have entertainment features to help runners stave off a little boredom while they're in the middle of a workout. The variety here is endless and mostly depends on how you want to be entertained while you're running.
The simplest is a speaker or audio jack, where you can play your favourite music or audiobook while running. Of course, you've seen treadmills with built-in TV screens for watching shows. Others might also have a stand so you can catch up on your reading.
Mobile Apps
Treadmills that offer a companion smartphone app is always helpful for your fitness plan. They can track your progress by measuring how much you ran, at what intensity, and the estimated calories you burned during a session. You can even schedule your weekly routines so the app can remind you when it's time to hit the treadmill.