The Best Wireless Doorbell 2021 – A UK Buyer's Guide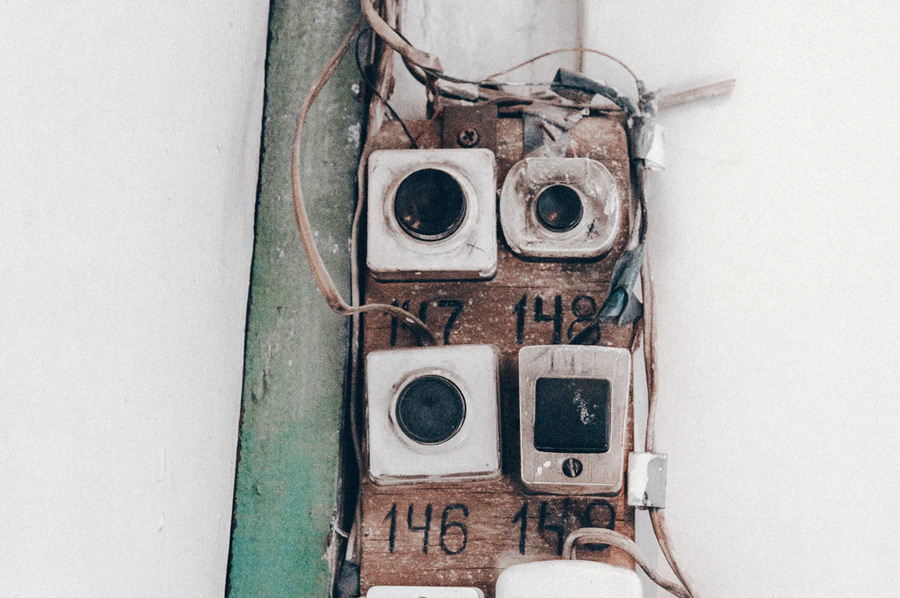 Doorbells are one of the more overlooked items we use in our house. For the most part, you don't notice even them. That is until you've missed a couple of important deliveries because you didn't hear the doorbell ringing!
Having a functional, solid doorbell is vital to be responsive to visitors and packages to your home. Luckily, it's easier than ever with the wireless doorbells available in today's market.
As the name suggests, you don't need to worry about wiring and power with these doorbells. Simply pop in a battery, mount them in your door, and you're good to go.
But how do you go about actually buying one? In today's post, we'll discuss the best wireless doorbells you can buy, plus some tips to make sure you get the right one for your home.
If you want to upgrade your wired doorbell at home, read on!
The Best Wireless Doorbell 2021
Specs:
Maximum Door Thickness: 34 – 55 mm
Camera FOV: 155 degrees horizontal
Video Quality: 1080p HD
WiFi Connection: 2.4 GHz
The Ring Door View Cam is one of the best wireless video doorbells in the UK, but it's much more than just a doorbell.
This model includes many smart and connectivity features, far more than you'll see in your usual doorbells.
Unlike your standard wireless doorbell, this one doesn't have a receiver. Instead, it connects to your home's Wi-Fi network. You can then use the free Ring app to get notified if someone is ringing the doorbell on your front door. It can even work with Alexa, which will inform you of any visitors.
The Ring Door View Cam is a replacement for your door's peephole, which also takes the role of a doorbell. It has several advanced features as well, so you'll get notified of any visitors coming in. It has both knock and motion detectors, so you'll know when someone is approaching even before they ring your doorbell. It also has a two-way talk feature, so you can speak with visitors conveniently without even needing to stand up.
Visually, the Ring Door View Cam is sleek and compact. The minimalistic black and silver design easily fits any house style, be it modern or classic.
The Ring Door View Cam also has an optional subscription plan called Ring Protect. This service automatically records and saves footage from your Ring Door View Cam online for up to 30 days.
Overall, the Ring Door View Cam is a fantastic addition to your home security and is one of the best wireless doorbell cameras in the UK.
Pros:
HD video camera for viewing your front door
Advanced motion and knock detection
Easy to install
Connects to Wi-Fi and Alexa
Cons:
Requires a smartphone
Needs to be installed as a peephole (if you don't have one on your door, you'll need to drill a hole)
Rating: 5.0 / 5.0
Specs:
Range: 100 metres
Weather Resistance: IP44
Sound Options: 8
Type: Battery Powered
As the name suggests, the Byron Sentry BY301 wireless doorbell system's main selling point is the extra high volume output. This might seem annoying, but if you live in a very noisy house, or have residents who are hearing impaired, then that extra volume is a godsend.
First, it's completely portable, so there's no reason for anyone not to hear the BY301 when someone is ringing it on your front door.
But just how loud is the extra loud chime of the Byron Sentry BY301? We tried it out while watching Saturday morning TV with an energetic 3-year old and a three-month-old baby that just wouldn't stop bawling. Even in that cacophony, we managed to hear the delivery guy ringing the BY301.
So, yes, it's pretty loud! If you have normal hearing, it might even get to the point of being irritating. on the plus side, the BY301 has eight different tunes you can choose from, so you can at least find the most pleasant sound for your doorbell.
The unit also has some strobing lights that accompany the booming volume of the BY301, which is excellent for those who have severe hearing difficulties.
The doorbell unit is easy to install and can be set up in as little as 30 minutes. The switch units are IP44 rated, so it can definitely stand up to the occasionally harsh British winter.
So if your mother-in-law has been missing out on mail deliveries due to poor hearing, the Byron Sentry BY301 is the perfect solution. Trust us, this wireless doorbell system is hard to ignore!
Pros:
Decent range
Extra loud sound and strobe lights
IP44 rated
Cons:
Can be very annoying for people with normal hearing
Rating: 4.6 / 5.0
Specs:
Operating Range: 300 metres (150 metres when obstructed)
Volume Range: 25 dB – 110 dB
Weather Resistance: IP55
Type: Plug-In
The Topop Wireless Doorbell system is a fantastic balance of range, volume, and price. It's also one of the best waterproof wireless doorbells in the UK, with an IP55 rating and temperature range of -20 C to 50 C.
This wireless doorbell also has the best range you can buy at this price range. It can cover houses up to 300 metres in size. In reality, though, interference comes into play, so the effective range is more around 150 metres. It's still pretty long, nonetheless.
The Topop doorbell has a maximum volume of 110 dB, loud enough for most houses and people with normal hearing. It has four levels of volume control to give you limited control to fine-tune the loudness of the doorbell sound. It also comes jam-packed with 52 different tunes, although excessive choices can create a bit of stress for some people!
Visually, the Topop wireless doorbell sports a sleek white design that's like any other modern electronic device. The package comes with two switch transmitters, which should be enough for your typical house. Installation is easy as well.
The best bit about the Topop Wireless Doorbell is the price. You're looking at a model that's below £15! It's definitely a steal! In exchange, you get a wireless doorbell that performs exceptionally well with a few bells and whistles thrown in.
Pros:
Exceptional operating range
IP55 rating
Good volume range
Leave a message feature
Cons:
Installing/removing the battery is a pain
Rating: 4.7 / 5.0
Specs:
Operating Range: 200 metres
Volume Range: 90 dB max (estimated 100 metres of audible distance)
Type: Plug-In
The Honeywell Home DC917NG is a high-end wireless doorbell system that has some added bells and whistles you might find useful.
Let's start with the downsides first, though. This unit is more expensive than the other wireless doorbell systems with comparable specs. Honeywell is one of the more recognisable home consumer brands, so you at least get a quality name behind the higher price tag.
With that out of the way, the DC917NG is actually a quality product right out of the box. We especially love the gorgeous modern design of this doorbell system, which should fit right into your home's décor with no issues.
You'll get a long 200 metre range with the DC917NG, which is great for most medium to semi-large homes. However, the Honeywell has a unique feature where you can link two doorbells together to extend the operating range up to 400 metres.
The volume output of the DC917NG is 90 dB which, while not as loud as some cheaper doorbells on this list, is nevertheless good enough. You'll be able to hear it clearly from up to 100 metres out.
The DC917NG receiver can either be carried around wirelessly or plugged into a wall socket.
Some nifty features of the DC917NG include the programmable Halo strobe lights. You can assign one of seven colours to any transmitter, so you'll know right away which doorbell is ringing. You can even use your own MP3 files to play custom doorbell tunes (15 seconds max), which can also be paired to a transmitter.
One feature of the DC917NG we like is the sleep function. It allows you to mute the doorbell in set times (in 3-hour increments, up to 12 hours max), great for a disturbance-free sleep at night!
The DC917NG also integrates well with a Honeywell Alarm System through its ActivLinkTM connectivity feature. If you use this one in your home, it's more than enough reason to get the DC917NG.
Pros:
5-year battery life
Long operating range
Programmable Halo lights
Customizable doorbell tunes
Cons:
Rating: 4.4 / 5.0
Specs:
Operating Range: 150 metres
Volume Range: 50 – 80 dB
Type: Self-Powered
Sound Options: 58
Operating Temperatures: -20 C to 60 C
The esLife is one of the best wireless doorbells UK in 2021 that has a unique feature – the ability to power itself!
That's right – this doorbell doesn't need any battery power to run. Instead, the switch transmitters are fitted with a small generator that converts mechanical energy into electrical energy. Basically, every time you press the button, electricity is generated.
That makes esLife a true 'set it and forget it' doorbell that requires zero maintenance. Plus, it is also IP55 rated, which gives superb protection from water and dust.
Even though it's not battery-powered, this wireless doorbell still manages a decent 150 metre range. You can also extend the range with multiple esLife doorbell units linked together.
The maximum sound output of the esLife is 80 dB, which is slightly less than the 90 dB of a typical doorbell. The receiver does have a visible light function if the doorbell sound is too soft.
One of the drawbacks of the esLife is that some users report that it's not as easy to install as the manufacturer would have you think. The instructions are not clear on this, so it can create some frustration when the esLife isn't working, and you can't figure it out.
But once you've passed that hurdle, the esLife Self-Powered Wireless Doorbell is a good solid choice at a fantastic price point.
Pros:
Battery-less operation
58 different tunes
Good operating range
Cons:
Not as straightforward to sync and set up
Rating: 4.4 / 5.0
Specs:
Range: 100 metres
Volume Range: 25 dB – 110 dB
Temperature Range: -4 F to 120 F
Type: Battery Powered
The 1byone Easy Chime is an ultra-portable and easy to use wireless doorbell system. It's also by far the best budget option you'll get.
No need to muck around with wires – the receiver is battery powered and pocket-sized so that you can take it around the house with you. The switch comes with a powerful adhesive, so it should adhere to any surface with no problem.
If you've had problems with wireless doorbells you barely hear in the past, then you'll be happy with the 1byone, which is loud at around 85+ dB. Even when the receiver is located at the other end of a typically sized house, you can easily hear this one at max volume. Fortunately, the volume can be toned down if you prefer to operate it more on the quiet side. The only downside is that the volume only has three levels of adjustment, so it can be hard to fine-tune.
The operating range of the 1byone is a decent 100m, which isn't long compared to other wireless doorbells. For most houses, however, we find that it's more than enough.
The 1byone also comes with 36 different doorbell tunes, so you'll knock yourself out picking the best one. Aside from the familiar chime, you also have some pretty hilarious tones, including a Christmas-themed one.
This wireless doorbell unit is also resistant to interference, thanks to the 1 million group codes installed in its memory. Basically, what this means is that it can pick out the unique code of its included switches, and nothing else.
The wireless receiver has visual light indicators for people who are hearing impaired. You can also pair each individual light indicator to a switch, so you'll know right away which transmitter is being pressed.
Overall, the 1byone is a straightforward and affordable wireless doorbell system. It's great if you want a portable option that has a clear volume output.
Pros:
Affordable price range
Decent operating range
Lots of tunes to choose from
Cons:
Rating: 4.5 / 5.0
Why Get A Wireless Doorbell?
In a word – convenience.
Doorbells are one of those instances where getting the wireless version is almost always the better choice. It has all the upsides, with minimal disadvantages over the wired version.
But first, a quick rundown on how it works.
The principle behind it is simple. There are two components to a wireless doorbell system, namely the switch and the receiver. The switch is the visible button that visitors see in a traditional doorbell setup. When someone presses that button, a signal is sent to the receiver. It's the receiver that plays the 'chime' sound and alerts you that there's someone outside your house.
The wireless options are superior simply because there are no wires! Setting it up is easy, and anyone can do it. You don't need to worry about routing cables or drilling holes. Simply attach the switches to the desired part of your house, plug in the receiver, and that's it.
A wireless doorbell system is also much easier to scale. You can simply add or remove switches as needed. They're also portable, which is useful when you're moving to a new house.
There's also not a lot of price difference between a wired and a wireless doorbell system, so it's a no brainer to buy one. The only reason you wouldn't need one is if your current wired system is working just fine.
Bottom line – wireless doorbells are always best!
Things to Look For When Buying a Wireless Doorbell
Buying a wireless doorbell in the UK isn't always a cut and dry process. You need to consider a lot of things before you purchase. And don't ever make the mistake of blindly buying the most expensive one. A higher price doesn't necessarily equate to better features.
One of the essential pieces of information you need to gather is the layout and size of your house (both in terms of floor area and height). The most important features of a wireless doorbell take this into account.
To get the best chance of buying the right wireless doorbell for your home, here are a few guidelines:
Range
This is hands down, the number one thing you should look at in a wireless doorbell. Range simply defines how far the switches can be from the receiver until they stop working. The bigger your house, the further apart your wireless doorbell system will be. Hence, you'll need a more significant range.
A wireless doorbell's range can vary anywhere from 30 metres for the cheaper models, to 500 metres for the higher end ones. Most mid-range options you'll find in the market have a 200-metre range, so it's an excellent place to start.
The key with range is simple: measure your house, and look for a wireless doorbell with an operating range that can comfortably cover that area. Going for an extensive range for a small home might be playing it safe, but it's going to cost you more than you need to spend.
Aside from the house area, you also need to consider the layout as well. Consider this – does your house have too many walls? If it does, they can interfere with the wireless doorbell's signal, effectively lowering its range. Thick walls can block signals even further.
We recommend going for a slightly more extensive range to compensate for wall interference, especially if your house has plenty of rooms.
Volume
The point of doorbells is that you can hear them clearly, anywhere in your house. If the volume of the receiver is way too low, then it might not be serving its purpose.
As with range, the bigger the house or the more walls it has, the more volume you need. Wireless doorbells measure the volume in decibels (dB) as with any other sound equipment.
We recommend getting a wireless doorbell with volume control so you can adjust it as needed. In terms of maximum dB, we find that 40 dB is suitable for medium houses, while 80-90 dB is more than enough for larger homes.
Also, test your wireless doorbell a few times once you've installed it. Have someone press the switch while you go around the house and have a listen (start with the rooms furthest away from the receiver). Is it clear? Adjust the volume as necessary.
Sound Options
While most people are satisfied with the traditional chime sound of doorbells, some want a little more variety and spice for when a visitor rings. It's actually where the fun of having a wireless doorbell is, after all! If you belong to this latter camp, you might want to look into the tune options of your wireless doorbell.
A lot of wireless doorbells will have different kinds of tunes pre-installed which you can choose from. Some more expensive models even let you customise your doorbell tune by playing your music file.
Power Options
Wireless doorbell systems come in two types: battery-powered or plug-in. Note that this distinction refers only to the receiver base. The switches are almost always battery powered (or they wouldn't be a true wireless device, now, would they?)
In a plug-in system, the receiver is plugged into a wall socket like any other electrical device. For most houses, it offers the convenience of 'setting it and forgetting it' – plug it in, and it will work.
In a battery-powered system, the receiver runs on batteries. It's a great option if you want to move the receiver around the house. For example, you might not want to disturb someone sleeping, so you move it somewhere else at night. However, the drawback is that the battery needs to be changed every now and then.
What you pick will boil down to what you value more – portability or convenience.
Weatherproof
Since the switches of a wireless doorbell are mostly outside, they get exposed to the elements. That's why a lot of doorbell systems should be weatherproof. They need to be resistant to rain and snow, and the occasional moisture build-up during humid days.
When buying a wireless doorbell, look for one with an IP44 rating, which is the gold standard of weatherproofness in devices. Some cheaper units will be water-resistant as opposed to weatherproof. These offer limited protection from moisture, but it is better than nothing.
Support for Hearing-Impaired Individuals
If you have someone in the family that has impaired hearing, they might not be able to respond to regular wireless doorbell. In this case, your unit should have other ways of alerting them.
Some wireless doorbells have tunes that are specially designed for people who are not entirely deaf but have difficulty hearing, like the elderly. It's a feature you might want to consider.
Some wireless doorbell receivers will have blinking light indicators, aside from the chime sound it produces. This feature is useful if someone in your house is entirely deaf, and they might not hear when someone is ringing the doorbell. By having a visual alert on the receiver, that person can still be notified of the doorbell ringing, and attend to it accordingly.
Extra Features
Beyond the basic functionality, there are some useful features you might want to consider when buying wireless doorbells. The most common you'll see is a video camera. These function like digital peepholes or security cameras, allowing you to see the visitor without having to go to the door physically.
Some wireless doorbells also have smart features like motion or knock detectors. These are great for anticipating people as they're approaching your door. Definitely great for detecting potential undesirables (who, of course, won't bother ringing your doorbell!)